Get Lifted! Mindfulness Activity Book Vol. 1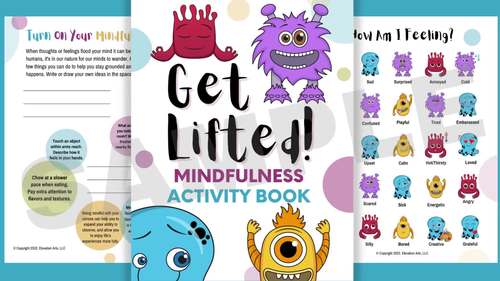 ;
Description
This Get Lifted! Mindfulness Activity Book Vol. 1 includes 12 mindfulness posters and 11 mindfulness activities that teach important social emotional skills and mindfulness practices to help build self-awareness, self-regulation and focus. These fun and engaging lessons are perfect for quick classroom lessons or even family time activities.
What is Mindfulness?
Mindfulness means being present in the moment with your thoughts and feelings without judging if those thoughts and feelings are good or bad. Its noticing what is going on around you and within but not allowing it to overwhelm you.
When you tap into mindfulness, you are better able to regulate your emotions and focus on the now.
BOTH Print & Digital Versions Included
A digital version is included that can be opened and completed right in Google Slides! To access it, just open the PDF with 'Digital' in the title and click on the blue link in the top half of the page.
Why Is Mindfulness Important?
Research shows that there are positive outcomes from practicing mindfulness and the more students practice, the better they will get at being aware of how they feel and managing their emotions.
Table of Contents
Mindfulness Senses Poster
Check Your Senses Activity
Turn On Your Mindful Senses Poster & Activity
Mindfulness Acceptance Poster
Live In The Moment Poster & Activity
Mindfulness is for Everyone Poster
Love Yourself Poster
What I Like About Me Activity
The Benefits of Mindfulness Poster
Mindfulness Breathing Techniques Poster
Five Finger Breathing Poster & Activity
Mindful Mornings Poster
I Can Be Mindful When... Activity
Positive Affirmations Activity 1
Positive Affirmations Activity 2
Positive Affirmations Activity 3
Gratefulness is Mindfulness Activity
How am I Feeling? Poster
How am I Feeling? Activity
Coping Strategies Poster
12 posters and 11 activities that teach the basics of Mindfulness!
Click Here to see and follow the Get Lifted! Elevation Arts Store
- - - - - - - - - - Terms of Use - - - - - - - - - -
IMPORTANT: Each license purchased is for one educator to share with their students/class/caseload. Sharing, utilizing or posting this resource link without downloading from the Elevation Arts, LLC Get Lifted! Store is a copyright violation according to the DMCA (Digital Millennium Copyright Act) and is against the Elevation Arts terms of use.
Unauthorized Usage:
You this resource printed or digital with other educators or students not in your classroom without purchasing additional licenses. You this resource on an open access website where it can be found in an internet search.
Authorized Usage:
You may print this for use with your students, assign the file to your students in Google Classroom or send through email.
Copyright. All Rights Reserved. Elevation Arts, LLC
Report this resource to TPT