Get To Know You Activity Ice Breaker Speech Therapy Connect with Others SUMMER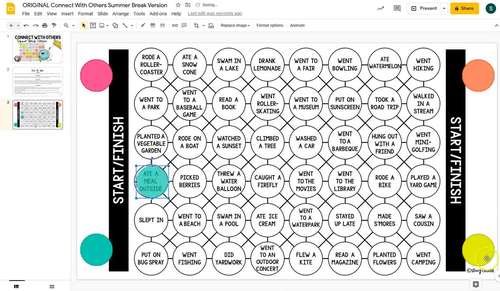 ;
Zip

Google Apps™
1 PDF game board + link to version for Google Slides + Easel activity
Includes Google Apps™
The Teacher-Author indicated this resource includes assets from Google Workspace (e.g. docs, slides, etc.).
Easel Activity Included
This resource includes a ready-to-use interactive activity students can complete on any device. 
Easel by TPT is free to use!
Learn more
.
What educators are saying
My students were very engaged when using this resource. It was great to use at the beginning of the school year.
I have used other themes/versions of this activity and my students have loved it! This was great for a back to school activity to get to know new students and catch up with students I already know!
Also included in
Out with traditional ice breakers, and in with a NEW activity to get to know, build rapport with your students, and recap school breaks while targeting language skills at the same time! This BUNDLE of 3 simple and versatile games for older students can be printed or used digitally in Google Slides

Price $6.00

Original Price $7.50

Save $1.50
Description
This activity is your new go-to way to recap summer break with your students, while still targeting language skills at the same time! This simple and versatile game for older students can be printed or used digitally in Google Slides or Easel.
The game allows you to target tons of language and pragmatic goals within a functional activity, including:
✅ Asking and answering questions using appropriate syntax
✅ Engaging in back-and-forth conversation
✅ Asking follow-up questions
✅ Maintaining topic of conversation
✅ Providing sufficient details
✅ Organizing and telling narratives
✅ Making inferences
This activity incorporates several elements that are perfect for older students, including giving choices, personalizing the activity, and the use of strategy.
Use this one game across your older student caseload. It's structured to keep students on task, while still encouraging and guiding them to converse with one another.
How To Play:
Players take turns asking each other questions or sharing something about the summer break topics within the circles. The goal is to make a "path" across the page/slide by starting on a circle at one end, and marking circles all the way to the opposite end of the game board. Moves may go to any circle that's connected by a straight or diagonal line to the current circle.
This game is great to play...
with pairs of students
in a small group
with an SLP/teacher and an individual student
on the first day of school or speech therapy
as homework for carryover
This resource includes the following formats/versions:
A PRINTABLE PDF that can be used with markers, crayons, colored pencils, bingo daubers, tokens, etc. to mark spaces.
A DIGITAL VERSION FOR GOOGLE SLIDES™ that includes movable "chips".... perfect for teletherapy or a smart board!
An EASEL Activity
⭐BUNDLE & SAVE on more activities like this⭐
Total Pages
1 PDF game board + link to version for Google Slides + Easel activity
Report this resource to TPT