Ghost Story Tessellations | Creative Halloween Writing and Craft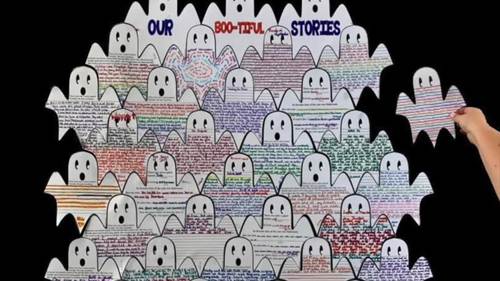 ;
What educators are saying
A spooktacular resource. Thank you so much for this! Everything you do is so well thought out and creative. We ended up with wonderful storyboards of ghost displays.
I always love a project from this seller! This ghost tessellation activity hit both reading and math standards.
Description
This project is the perfect community-building activity for your class in October. This project connects the individual with the group using tessellations, and it has a ton of "wow factor" when complete. It's fun for kids and easy for you as the teacher, and it has a lot of options.
I've done everything I can to make this a successful project—I've even made a teaching video!
Students will review story elements and write ghost stories on their ghost tessellation piece.
Once their individual piece is finished, it will get cut out and assembled into a tessellation mural/poster/bulletin board display/door decoration with their classmates.
Regardless of where you hang it, you'll have a display of spooky ghost stories that all tessellate together!
My tessellation projects are fun, unique, and creative projects. I've tried to make them as easy as possible. I recommend watching the preview video and looking through the preview document to learn all about this resource.
OTHER TESSELLATION COLLABORATION PROJECTS:
Students will a ghost story using story elements (character, setting, plot, conflict, and resolution).
Students will their ghost stories on the individual ghost tessellation piece you select and then add to their ghosts.
Once their individual piece is finished, they will it out. 
The individual ghost pieces will be with their classmates to create a stunning display of ghosts!
:
Written instructions (with photographs)
Tessellation teaching video (let me teach the kids!)
2 sets of tessellation designs (explained below)—each tessellation piece fits on regular 8.5" x 11" copy paper.
Blank tessellation pieces (customize any way you like)
Display title pieces (lots of options—see below).
Story element tessellation pieces (character, setting, plot, conflict, resolution).
Story plan pages. I have include 2 pages to use with your students to help them plan their story before they write it on the final ghost tessellation piece. Use one or both pages—depending on your students' needs.
: I have included 2 sets of tessellation designs
Tessellation set #1 There are 4 different pieces in this set. These pages have various line types, so you can give students the lines they need—larger for young students and smaller for older students. I have included a piece with no eyes and only lines in case your students write a lot and want to continue their story on a second page. I have also included a blank piece (with no lines). DESIGNED FOR OLDER STUDENTS
Tessellation set #2 Depending on the age of your students and their abilities, you might want to differentiate for your students to help them all be successful. For that reason, I have included 4 ghost tessellation pieces where your students can finish the stories. I have included fill-in-the-blanks/short answer, finish the story, and a story starter page. DESIGNED FOR YOUNGER STUDENTS
Blank Designs: I have also included two "blank" designs without
any lines or designs so you can completely customize this project to fit your needs.
Display Title: I have included some tessellation pieces to include a title on your final display. I have included the pieces; our, ghost, boo-tiful, stories, and writing. If you'd like to use these pages in your final display, print the 3 pages you need to create a title such as…
OUR BOO-TIFUL WRITING
OUR BOO-TIFUL STORIES
OUR GHOST STORIES
Use what you like or make your own combination of them—or use the blank design I have included and write anything you'd like!
TEACHING VIDEO:
Before you start this project, you could show my TESSELLATION TEACHING VIDEO to your students. In this video, I give your students a basic introduction to tessellation (so you don't have to). I also explain to your students how this project works. Then you take it from there! Once you purchase this resource, you'll have access to this video to either stream from YouTube or download from Dropbox.
Thank you for supporting creativity in your classroom. I wish you and your students all the best.
Jenny K.
Sign up to get FREEBIES to your email from Art with Jenny K.
***********************************************************************
Let's Connect
**********************************************************************
TERMS OF USE:
The purchase of this product is for one license and is for PERSONAL USE ONLY.
© Copyright 2019 Art with Jenny K.® ALL RIGHTS RESERVED. Permission is granted to copy pages specifically designed for student or teacher use by original purchaser or licensee. The reproduction of any part of this product is strictly prohibited. Copying any part of this product and/or placing it on the Internet in any form (even a personal/classroom website) is strictly forbidden. Doing so is a violation of the Digital Millennium Copyright Act (DMCA).
Purchase extra licenses for others to use this resource at a discounted price.
Photo credit: @maryannpeik
Teaching Duration
2 hours
Report this resource to TPT