Gingerbread Craft Christmas Around the World Gingerbread House Christmas Craft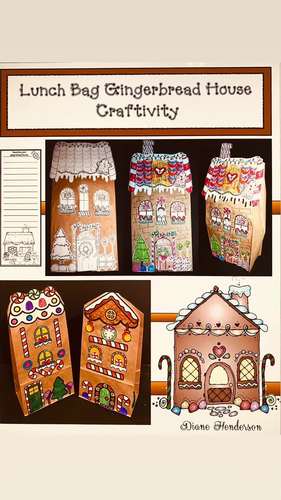 ;
What educators are saying
These were super cute! I liked that there were options better suited for younger kids' cutting abilities.
This was a cute and creative way to build gingerbread houses without the mess. My students loved making the "gingerbags."
Description
"Wonderful idea! Inexpensive and creative way to have kids create an art activity for the holidays. It's a time saver!"
"My students just loved completing these!! They turned out so cute! I can't wait to do them again this next school year! Thank you so much for such a fun resource!"
"Such a cute and not overly complicated craft to make before Christmas! I love how creative the students can get with their gingerbread house and then write about their creation. Great way to have fun with creative writing too!"
Let's make a "Gingerbag" the original paper lunch bag Gingerbread House! These are perfect for that last energized week before break too.
This non-messy gingerbread house, is a quick, easy & fun craftivity as an alternative to the gooey graham cracker creations that often fall apart.
Need a craft for your Christmas Around the World travels? This is perfect for Germany & other countries where gingerbread houses are very popular.
"I LOVE this resource and my students did too! I use this along with our Christmas Around the World and it was fantastic!"
There are 11 pages of candy, cakes and ice-cream trimmings, chimneys, doors, and windows, that your kiddos can choose to decorate their paper bag gingerbread house with.
"This was a favorite activity for my students at Christmas time - they loved how creative they could get with the many different options. Will do this every year now."
"This set gives tons of options for making your own custom gingerbread house. I loved seeing all the different designs my students made."
Face the bag towards you so that the bottom of the bag is at the top, and looks like a flap. This is the perfect place to glue the "candy roof" and chimney on, OR...
other teachers say they use this as a gift bag to send student-made gifts or ornaments home in, so the base of the bag is the bottom of the gingerbread house.
"My students decorated a gingerbread bag house and stuffed their parent gift inside. So easy for the students to make. It also made for such a cute presentation."
Students cut out whatever pieces they want to glue to the front of their house.
They arrange the pieces 'til they are satisfied with the look, and then glue them down. Children then color the trimmings with crayons or markers.
As an easy-peasy alternative for younger kiddos, I've also included two, single page patterns, with just a few decorations on, so they are working with just one page of trim.
For that finishing touch, glue a child's photo in one of the windows.
You can also spritz the "gingerbags" with some cinnamon scent.
For writing practice, I've included 2 worksheets where students their gingerbread house.
"Loved this activity... so cute and able to turn into a creative writing project as well!"
These make a cute bulletin board too.
"Mr(s.) _____________'s kindergartners are wishing you a sweet and cozy Christmas." OR…. "From our house to yours, we're wishing you a yummy New Year."
"This was such a cute and easy activity for students to do during the last day before holiday break."
"This was a great resource for my classroom holiday party! Easy to use and the kids loved it."
Be sure & check the PREVIEW for samples.
I'm Diane from Teach With Me, wishing you a crafty little Christmas, frosted with fun.
Click here to see more Gingerbread activities.
Click here to see more Christmas activities
Come join the fun on Facebook for my exclusive FREEBIES & Monthly Giveaways.
Check out my educational Pinterest boards.
Don't forget that all of my new products are 40% off for 48 hours.
Click this LINK to follow my shop & you'll be notified of these huge savings.
Report this resource to TPT