Girls Self Esteem Small Group Bundle | Girls Group | Friendship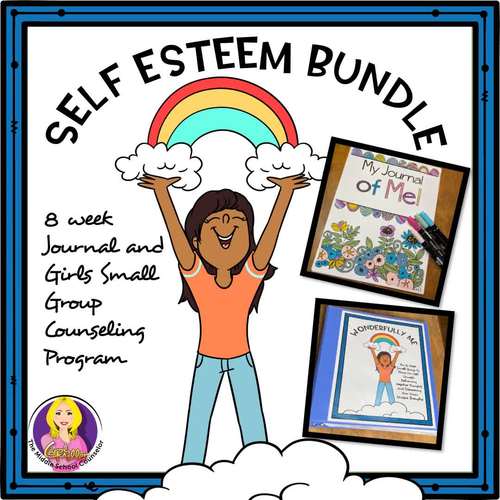 ;
Products in this Bundle (2)
Description
Do you need a way to help students who talk badly about themselves, have poor peer relationships and lack self esteem? Wonderfully Me Girls Self Esteem Small Group Bundle is an 8 week journal and small group counseling program that uses cognitive behavioral therapy to help students think more positively about themselves.
●●● The Wonderfully Me girls curriculum is an 8 week girls small group counseling curriculum that uses cognitive behavioral therapy to help students think more positively about themselves. Girls will look at their strengths, their ideal vs their real selves, perceptions and stereotypes, reframing negative thoughts, stress management, and mindfulness activities.
►► This curriculum has everything:
✅ Scripted Lesson Plans
✅ Data Collection Sheets
✅ Alignment with ASCA Mindsets and Behaviors
✅ Parent Letters and Forms
✅ Teacher Referral and Follow Up Forms
✅ Pre and Post Test
✅ Group Evaluation Form
✅ Session Exit Slips
✅ Worksheets
✅ Posters
✅ Certificate of Completion
✅ Icebreakers
✅ Color and Black and White Versions
●●● Help students build a habit of talking to themselves as a friend. The 8 week journal is perfect for take home work to help reinforce positive self talk and can increase a student's ability to see their positive strengths and unique abilities as well as incorporate gratitude into their lifestyle. Doodles, quotes, mazes and daily questions help destress and uplift.
▶▶ This journal includes:
✅ 8 week daily journal
✅ 34 pages of journal prompts with mazes, quotes and coloring zen tangles.
❤️ Be sure to check out the preview to see everything that is included in the bundle!❤️
▶▶ How to use this bundle:
Use the small group Wonderfully Me curriculum to build students' self-esteem, friendship, and confidence.
Use the journal and curriculum in individual counseling sessions with students who are working on self esteem, coping skills, or anxiety.
Use the journal with any friendship, self esteem or confidence curriculum as a daily supplement to their learning.
Use the journal morning bell work.
❤️ ❤️
⭐️⭐️⭐️⭐️⭐️ ❝Love this resource! It is easy prep work and I am able to use it both for individual and group sessions.❞ ~ Raquel L.
⭐️⭐️⭐️⭐️⭐️ ❝This is huge! and a great amount of resources for groups, or resources for individual use with students.❞ ~Cara H.
⭐️⭐️⭐️⭐️⭐️ ❝I am starting a girls self esteem group in a couple of weeks and this is exactly what I was looking for! I thought about creating my own, but time is short and this has absolutely everything that I need to run a successful group. I cannot wait to implement! Thank you for creating this and making it very affordable!❞ ~Amy B.
………………………………………………………………………………………………………………………………………………………………………
► Need additional small group materials? Check these out:
………………………………………………………………………………………………………………………………………………………………………
▶ Don't forget to follow along!
© Carol Miller - Counseling Essentials
Report this resource to TPT