Glitter Shapes Clip Art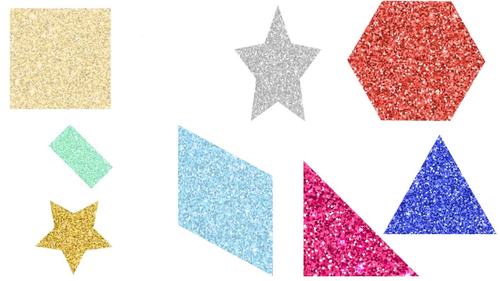 ;
Description
These gorgeous glitter shapes will add some sparkle to your own resources and your classroom!
These (still/not moving) shapes have been saved as a high-quality PNG with a transparent background, making it easy for you to upload and resize each one to create posters, tasks, projects...you name it!
Included in this fabulous resource:
x8 Glitter Squares
x8 Glitter Rectangles
x8 Glitter Triangles
x8 Glitter Right-Angled Triangles
x8 Glitter Stars
x8 Glitter Quadrilaterals
x8 Glitter Hexagons
Each shape includes the following colours: dark silver, gold, pink, green, purple, red, light blue and dark blue.
I hope you have fun creating new products and classroom resources with this resource!
Head on over to my Instagram account @_miss_carlee_ and follow me to see regular classroom inspo, resources and teacher wellbeing!
I am also on Facebook and post my new products and videos there too!
P.S. Don't forget to tag me in on your creations @_miss_carlee_ as I would love to see how you've used this resource!
A QUICK TIP FOR YOU...
Did you know that you can earn TpT credits to use for future purchases? Go to your 'My Purchases' page and next to each product that you've already purchased, you will notice a 'Provide Feedback' button. Click on it and take a minute to provide some positive feedback! Every time you do this, TpT rewards you with credits, which you can use as a deduction toward future purchases!
I highly value your feedback and comments. It not only warms my heart, but it helps me to determine which resources are most valuable for teachers. I always look forward to creating new products and supporting you in the classroom!
Report this resource to TPT