Global Communities: Grade 2 Ontario Social Studies PRINT & DIGITAL Slides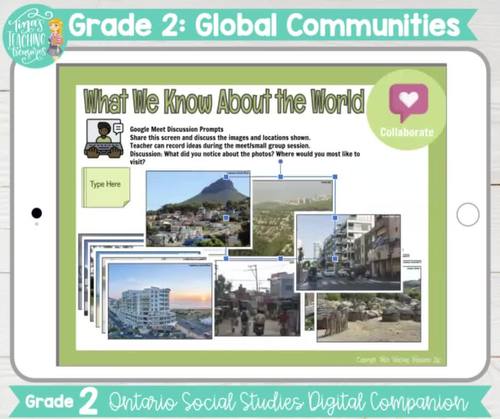 ;
PDF

Google Apps™
Includes Google Apps™
The Teacher-Author indicated this resource includes assets from Google Workspace (e.g. docs, slides, etc.).
Description
Global Communities for Grade 2 Ontario social studies curriculum (People and Envirnoments)! Printable (PDF) and Digital Force Copy Link for Google Slides included!
This unit is designed to help your young learners begin using the inquiry approach. The research and inquiry aspects are guided and prompted (more open-ended options are also included!) to help young learners find success with the inquiry model. (New updates! More straightforward options and several reading passages provided to support students this year in completing a more structured 'research' option- see "suitcase craft project')

DID SOMEONE SAY *DIGITAL*! Newly updated!! Select student pages are now included for use with Google Slides! 100 Interactive Slides to help with virtual learning! Check out the preview VIDEO for digital samples and details. (Please note, some pages, teachers notes and others are only available in the PDF). Student ready (locked text) and Editable (unlocked where allowed/possible) options provided. DIGITAL UPDATE NOW FINISHED redownload to get the goodies!

Included:
★ Intro activities:
-4 anchor chart headers with question prompts
-16 photos for discussion (2 per continent, 4 for Asia)
★ Continents, Countries and Oceans
-Anchor Charts (x5)
-Matching activity/game (2 pages + answer key)
-Student response sheet
★ Mapping and Location
-Anchor Chart
-Game/Classroom signs
-Student response sheet
★ Location, Physical Features and Climate
- Anchor Chart
-Conversation cubes (x2)
-Student response sheet
-Google Earth Activity
★ Learning About Countries
**NEW**
UPDATED READING PASSAGES & PHOTO PAGES
-6 One Page Reading passages (Japan, Brazil, Kenya, Germany, USA, Australia)
-3 One page simplified reading passages for lower readers (France, Mexico, India)
-Full pages of photos (12-15 photos each) for each of the 9 countries
-Cute "tourist" craftivity to consolidate learning about the countries
-Checklist for assessment of Craftivity
★ Research Project
-Anchor Charts (x9)
-Guided/prompted Research Sheets (with questions on each
page to help your students focus their research)- 4 sheets (see preview for sample!)
Additional research sheets (blank, sample provided to allow for deeper inquiry or differentiation) – 6 sheets
-Website suggestions (National Geographic Kids) with student friendly information
★ Presenting Research Findings
-Instructions and pictures of Research Kiosk Final project
-Guided/Prompted Foldies with questions provided- 11 sheets
Blank Foldies (for differentiation or deeper inquiry/focus)- 6 sheets
-Brochure Template (2 pages)
-Brochure & Kiosk Checklist for assessment
**NEW**
SIMPLIFIED OPTION INCLUDED!! Need a faster or more straightforward project this year or maybe for a small group?
-Adorable suitcase craft that can be answered with the readings provided to share info and make connections in a meaningful and simplified way.
★ Passport for Student Reflection
For Student reflection after viewing presentation kiosks.
-Title page
-Identification page
-Community info page
-Student reflection page
-Stamps page
-Passport checklist for assessment
★ Word Wall
-18 terms
-Mini Dictionary cover and definition page
★ Big Ideas and Framing Questions
-Full page Anchor charts (3 big ideas + 4 framing questions)
-One page written response pages (one for each
framing question from curriculum)- 4 sheets
-Checklist for assessment
Check out the preview to see a detailed overview of all the pieces, activities, photos and student resources available!
Note: Inquiry anchor charts and research model same content as grade 3 (14 pages) and some same organizers (blank ones), clipart and backgrounds changed to match theme of this unit.
Note: Internet required to access the suggested webpages included National Geographic Kids, YouTube and Google Earth.
Looking for the other strand? Click here for Grade 2 Changing Family and Community Traditions
Grade 3 Social Studies units also available for the new Ontario Curriculum in my TPT store!
Please ask any and all questions before purchasing by using the Q&A feature or emailing at tinasteachingtreasures@gmail.com
I try to update my items as quickly as possible when I can, but I cannot commit to unlimited lifetime updates of units. I will do my best, but I am a full-time teacher and mom to a young child. Please note that the purchase is for the CURRENT curriculum (as of Sept 2021). If future updates are made they will be added as a 'bonus', but I cannot commit to lifetime updates. Thank you for understanding :)
Report this resource to TPT