Global Warming Lab (pg704)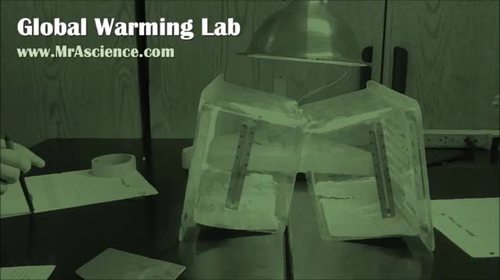 ;
Also included in
This is a bundle of all of the lessons, labs, PowerPoints, and worksheets for Unit 7: Environmental Science. The bundle also includes the Unit 7 Test and its answer key. For a walkthrough of the unit, including pictures and videos, please click here.

Price $14.99

Original Price $23.00

Save $8.01

This bundle includes an entire year's worth of material. It includes lessons, labs, projects, tests and more. The seven units include are as follows:Unit 1 - Forces and MotionUnit 2 - ChemistryUnit 3 - GeneticsUnit 4 - EvolutionUnit 5- AstronomyUnit 6 - Earth's SystemsUnit 7 - Environmental ScienceT

Price $100.00

Original Price $139.00

Save $39.00
Description
After learning about global warming yesterday, we did an experiment today that simulated the process. Students worked in groups of four and each group was the owner of two clear, plastic boxes. Each box represented an Earth, complete with land, water, ice caps, and a thermometer to measure the Earth's temperature. We also used a light to simulate the sun and we kept track of the temperature of each Earth as time passed.
Every two minutes, students would read one of the lab's event cards, do what it said, and then wait for the temperature of their Earths to adjust. Then they would read the thermometer and move on to the next event card. At first, the two Earth's showed the same pattern; students put the the lid on, began to cover some of the holes with tape, and the temperature of the boxes rose. But toward the end of the lab, the path of Earth #2 diverged. They stopped covering the holes with tape. They prevented the melting of the ice caps. They stopped polluting. And Earth #2 had a different ending. It actually cooled down! I'm hoping this lab gave students a more hopeful outlook after yesterday's doom and gloom. But at the very least, it is a nice simulation of the greenhouse effect. Let us hope that we're living on Earth #2. (To see a video of the experiment, please click here.)
*If you don't have access to clear, plastic boxes, try a cardboard box. You can cut some large holes on one side and cover the top in saran wrap (to let the light in).
Teaching Duration
45 minutes
Report this resource to TPT
Standards
to see state-specific standards (only available in the US).
Analyze and interpret data on natural hazards to forecast future catastrophic events and inform the development of technologies to mitigate their effects. Emphasis is on how some natural hazards, such as volcanic eruptions and severe weather, are preceded by phenomena that allow for reliable predictions, but others, such as earthquakes, occur suddenly and with no notice, and thus are not yet predictable. Examples of natural hazards can be taken from interior processes (such as earthquakes and volcanic eruptions), surface processes (such as mass wasting and tsunamis), or severe weather events (such as hurricanes, tornadoes, and floods). Examples of data can include the locations, magnitudes, and frequencies of the natural hazards. Examples of technologies can be global (such as satellite systems to monitor hurricanes or forest fires) or local (such as building basements in tornado-prone regions or reservoirs to mitigate droughts).
Construct a scientific explanation based on evidence for how the uneven distributions of Earth's mineral, energy, and groundwater resources are the result of past and current geoscience processes. Emphasis is on how these resources are limited and typically non-renewable, and how their distributions are significantly changing as a result of removal by humans. Examples of uneven distributions of resources as a result of past processes include but are not limited to petroleum (locations of the burial of organic marine sediments and subsequent geologic traps), metal ores (locations of past volcanic and hydrothermal activity associated with subduction zones), and soil (locations of active weathering and/or deposition of rock).
Ask questions to clarify evidence of the factors that have caused the rise in global temperatures over the past century. Examples of factors include human activities (such as fossil fuel combustion, cement production, and agricultural activity) and natural processes (such as changes in incoming solar radiation or volcanic activity). Examples of evidence can include tables, graphs, and maps of global and regional temperatures, atmospheric levels of gases such as carbon dioxide and methane, and the rates of human activities. Emphasis is on the major role that human activities play in causing the rise in global temperatures.
Construct an argument supported by evidence for how increases in human population and per-capita consumption of natural resources impact Earth's systems. Examples of evidence include grade-appropriate databases on human populations and the rates of consumption of food and natural resources (such as freshwater, mineral, and energy). Examples of impacts can include changes to the appearance, composition, and structure of Earth's systems as well as the rates at which they change. The consequences of increases in human populations and consumption of natural resources are described by science, but science does not make the decisions for the actions society takes.
Apply scientific principles to design a method for monitoring and minimizing a human impact on the environment. Examples of the design process include examining human environmental impacts, assessing the kinds of solutions that are feasible, and designing and evaluating solutions that could reduce that impact. Examples of human impacts can include water usage (such as the withdrawal of water from streams and aquifers or the construction of dams and levees), land usage (such as urban development, agriculture, or the removal of wetlands), and pollution (such as of the air, water, or land).