GoTalk Now: a visual guide to getting started (+ more)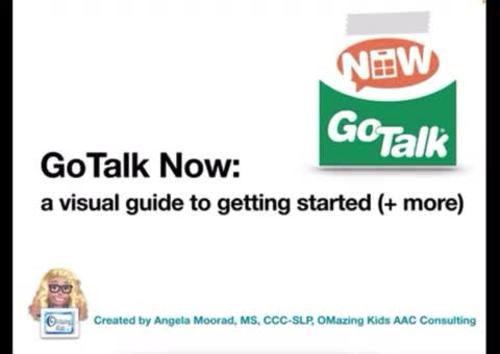 ;
60 page PDF & several unlisted YouTube videos
Description
This visual guide walks you through the initial set up and customization process for the GoTalk Now AAC app (+ more)
*** There is one topic per page with visuals ***
It is perfect for those who are brand new to the app and want screenshots for every step in the initial set up and also has more in-depth info for those who want to see examples of ways to use the app, info about switch scanning access, and much more…
This app has several features that could be helpful for Gestalt Language Processors.
————————————-
Want more specific details about this product?
It is a 60 page PDF that covers the following areas:
Setting the course
Presume Potential
Multimodal Communication
Involving the child to foster ownership
Core & Fringe Vocabulary
Importance of having access to a keyboard area
Begin with the end in mind
The screens that will be seen during set up and as you begin making things in the app
Tips for choosing a grid size
Choosing a voice
Different versions of the app
Extra symbol libraries
Other ways to find images to use
Premade Communication Books available for download within the app
How to create a bilingual setup on a button
Ways to use the app for communication, adapted leisure, early literacy, visual scenes, cause & effect, switch scanning, interactive videos, teaching steps in tasks, etc.
How to find the Online Gallery
Share Codes that will allow you to download 4 premade items from my private area on the Online Gallery:

a book companion
an interactive video
a video modeling sequence for completing a task
a set of three pages from the robust communication book that I created (Sensory, Emotional Regulation, Emotions Scale with self regulation strategies)
Switch interfaces that work well with the app
How to set up the Blue2 Bluetooth Switch for use in GoTalk Now
Factors to consider when setting up switch access and links to several webinars
How to find the in-app User's Guide
How to create a template
How to upload a template to the Online Gallery
How to download templates from the Online Gallery
Settings within the app
Options for backing up and sharing
Areas on the screen in Page Editor mode
Areas on the screen in Player mode
GoTalk Now AAC & GoVisual Scene Apps - Ideas and Sharing Facebook group: https://www.facebook.com/groups/gotalknowaacideasandsharing
Attainment Company's YouTube Channel and other good recorded webinars or videos for this app
Info about what features are not available in this app that would make it fully robust and things to include when programming in order to make fairly robust communication books
The last page has the link to an unlisted YouTube video (32:10) that's provided as a mini recorded webinar to supplement this resource
If you want links to be clickable, please view the PDF in the free Xodo app (https://bit.ly/XodoApp), Books/iBooks app or other PDF viewer.
.
NOTE: This resource is intended to be used in Easel
———————————-
Have questions? The best way to reach me with any questions is via messaging on the OMazing Kids Facebook page: https://www.facebook.com/OMazingKidsAAC/. That way messages don't get lost among the spam in my e-mail.
——————————-
Thanks for purchasing this product from my TPT store!
Angela Moorad, MS, CCC-SLP, Founder of OMazing Kids, LLC,
OMazing Kids AAC Consulting
Teachers Pay Teachers Store: https://www.teacherspayteachers.com/Store/Omazing-Kids-Aac-Consulting
Terms of Use: This handout was the sole idea and creation of Angela Moorad, MS, CCC-SLP, OMazing Kids AAC Consulting, OMazing Kids, LLC, all rights reserved. © 2021 and beyond. Feel free to use it in your work. If you are an SLP or SLT, you may share it with those that you support directly for AAC (AAC users, parents, teachers, aides) but please do not forward it to other SLPs / SLTs. If you are a teacher, please don't share with other teachers. If you are an OT or AT specialist, please don't share with others in that same field. It's fine to show this resource in a workshop/webinar/training but each professional participant needs to have a purchased copy. You may not copy any part of this (including the content, layout, format, ideas or design) and reproduce it or distribute it as your own work. Please do not copy/paste this info onto blogs or save this PDF in any online groups or files.
Total Pages
60 page PDF & several unlisted YouTube videos
Report this resource to TPT