Goodnight Moon Book Companion Toddlers & Preschoolers Speech Therapy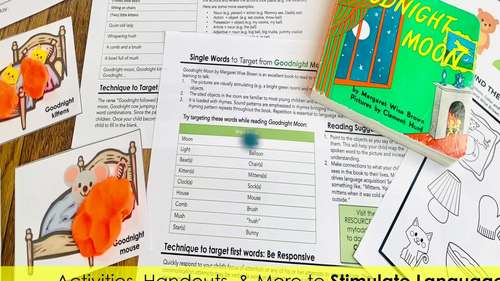 ;
Also included in
Do you love using the books Goodnight Moon and Goodnight Goon in your therapy sessions to target various speech and language goals? This bundle includes book companions for BOTH of these books!By purchasing this bundle – you buy both of my companions to Goodnight Moon and Goodnight Goon - AND save m

Price $4.40

Original Price $6.75

Save $2.35

Speech Therapy Book Companions for Toddlers and Preschoolers! Are you looking for some versatile and useful book companions for your young students, clients, or children? Then, you'll LOVE this GROWING BUNDLE book companion that has been specifically created for Toddlers and Preschoolers!These book

Price $13.50

Original Price $18.49

Save $4.99
Description
This book companion to Goodnight Moon was created for toddlers and preschoolers who are learning to talk!
Goodnight Moon is a classic board book. It's also an incredible book to use with toddlers, preschoolers, and young school aged children. This is a perfect book to target many different expressive and receptive language goals. 
This book companion has several handouts and activities to further expose your child or student to common vocabulary that is playfully featured in this book. The included activities are interactive, fun, and hands-on!
Disclaimer: Please know my product is not affiliated with the author or the publishers of Goodnight Moon. This product was designed to be used as a companion for Goodnight Moon.
UPDATED on 2/5/21 WITH NEWLY DESIGNED HANDOUTS AND A NEW SEARCH AND FIND ACTIVITY SHEET
***************************************************************************
What's included?
Parent Handouts
Lists of single words and early word combinations to target during reading, repeated readings, and doing the included activities in this packet! Share these informative handouts with parents so they can learn how to encourage single words and early word combinations while reading Goodnight Moon and performing the activities in this book.
In COLOR and BLACK AND WHITE – your preference! 
Thematic Vocabulary Cards
Colorful picture cards of some of the vocabulary words included in the book. Hide these cards in a sensory bin or somewhere in your house and have your child try to find them. Scavenger hunts are so much FUN! You can also work on improving your child's ability to listen and follow directions by asking your child to listen to your directions. For instance, "The mouse is on the table" The moon is under the couch" Or "The kitten is in the basket.
Puzzle Cards
Large puzzle cards that you and your child can put together while saying the words. Print pages 12 to 15 on card stock and laminate for extra durability. Help your child put these puzzles together while naming the pictured objects or animals. Use self-talk and parallel-talk while putting the puzzles together. See the cheat sheet in the resource library at www.mytoddlertalks.com for more language elicitation and modeling techniques. 
Play dough Activity Cards
*Play dough is NOT included in this activity 
Print and laminate each sheet. Then, cut out each card. Shuffle the cards and place in a pile with the pictures facing down. Have the child turn over a card. Encourage the child say to "Good night, _________(and the name of the item) while tucking it in with a pretend blanket made from play dough.
Say, Color, and Display Coloring Sheets - PRINT AND GO
These coloring sheets contain pictures of the target words for your child, student, or client to color. They are unique because there is a visual cue for the first sound of the pictured word. For instance, the lips are together for the picture of the mouse. This cues children to say the word by putting their lips together. Such visuals can help your toddler see how to make the first sound in the word. Coloring these pictures is a wonderful way to intentionally target the vocabulary in the book.
Search and Find Activity Sheet - PRINT AND GO
A fun and simple way to interact with the vocabulary words. Available in black and white and in color.
Thank you! I hope you enjoy this resource :)
***************************************************************************
Related resources? Check these out:
***************************************************************************
About the SLP:
Kimberly Scanlon, MA, CCC-SLP is an ASHA certified Speech-Language Pathologist and has earned 4 awards for continuing education (ACE). She is also the author of the best selling book, "My Toddler Talks: Strategies and Activities to Promote Your Child's Language Development", the interactive picture book, "Learning to Read is a Ball", and "My Toddler's First Words: A Step-By-Step Guide to Jump-Start, Track, and Expand Your Toddler's Language".
Follow me for updates, giveaways, freebies, inspiration, and fun therapy ideas!
★ ★ ★ ★ ★★
Report this resource to TPT