Google Slides Templates Daily Agenda Slides | Summer Camping Theme Ice Cream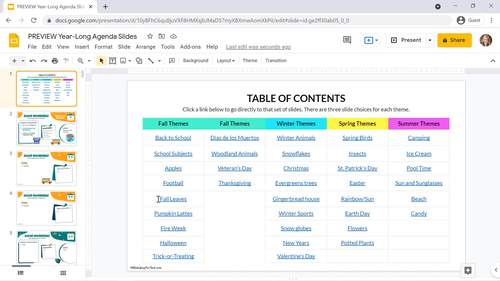 ;
PDF

Google Apps™
Includes Google Apps™
The Teacher-Author indicated this resource includes assets from Google Workspace (e.g. docs, slides, etc.).
What educators are saying
Loved the Daily Agenda with themes! The students enjoyed seeing a different picture each day with their agenda on it.
Also included in
Get $145 worth of free products with our entire year bundle! 50+ activities and resources in Google Slides to use with your 2nd grade students. Back to School activities, agenda slides, vocabulary digital notebook, biography report templates, parent teacher conference slides, graphic organizers, cou

Price $149.00

Original Price $290.50

Save $141.50

Get $125 worth of FREE products with this entire year bundle! 40+ activities and resources in Google Slides to use with your 3rd grade students. Back to school activities, digital agenda slides, parent teacher conference slides, holidays around the world, graphic organizers, multiplication mystery p

Price $129.00

Original Price $253.50

Save $124.50

No more "What do I do now?" questions from students! These slides will eliminate so many student questions while keeping you and your students organized for the day and week. Spice up your daily agenda slide templates or morning meeting slides with these EDITABLE everyday, seasonal, holiday, and ret

Price $21.00

Original Price $29.00

Save $8.00
Description
36 EDITABLE Holiday and Seasonal themed agenda slides to spice up your daily agenda slide templates or morning meeting slides during the year. Halloween Agenda Slides, Dias de los Muertos, Veterans Day, Christmas, and more! No more "What do I do now?" questions from students! These slides will eliminate so many student questions while keeping you and your students organized for the day. Use them for any subject.
▶️ Click the VIDEO PREVIEW to see the slides up close.
Yes! These slides come as a Google Slides presentation but work with PowerPoint, too.
Welcoming students each morning
Listing morning work and bell ringer instructions
Organizing your morning meeting
Sharing assignments and "When You're Finished" instructions
Giving directions
Sharing and projecting anchor charts
Showing homework assignments
Listing what materials students will need
Managing work time with the included timers
Displaying the focus or standard you're working on
Listing students by groups
Any way you want!
Grab our Assignment and Agenda Slides ENTIRE YEAR BUNDLE (Includes our EVERYDAY slides, too!)
Daily Agenda slides for 36 different holidays and special school days 
3 editable layouts for each theme (total of 112 slides)
8 Different Timers (1, 5, 10, 15, 20, 30, 45, 60min, + instructions to add a different timer)
Clickable Table of Contents to quickly access the theme you want
Step-by-step instructions for editing, adding links, videos, anchor charts, Bitmojis, and images to slides
Video directions for sharing the presentation with students in Google Classroom (You can also use these for online assignments!)
These are the holidays/special days I included: 
Fall Themes
Back to School
School Subjects
Apples
Football
Fall Leaves
Pumpkin Lattes
Fire Week
Halloween 
Trick-or-Treating
Días de los Muertos 
Woodland Animals
Veteran's Day
Thanksgiving
Winter Themes
Winter Animals
Snowflakes
Christmas
Evergreen Trees
Gingerbread Houses
Winter Sports
Snow Globes
New Years
Valentine's Day
Spring Themes
Spring Birds 
Insects
St. Patrick's Day
Easter
Rainbow/Sun
Earth Day
Flowers
Potted Plants
Summer Themes (Great for your end of the year theme days, too!)
Camping
Ice Cream
Pool Time
Sun and Sunglasses
Beach
Candy
YES! One of the best features is that you can easily customize the slides so they fit your classroom.
ALL of the text is editable. Just click and type!
Edit any of the headings and subheadings on the slides
Add the learning target, objective, date, materials needed, timer, or your own text in the corner
Modify or delete our formatted boxes and typing areas
Easily change all the fonts
All digital stickers can be moved around or deleted
*NOTE: When you purchase this product, the license can be used for one classroom, not an entire grade level or school. Please purchase multiple licenses if it will be used by more than one teacher. Thank you.
Kathryn Averkamp - kat@makewayfortech.com
Google Certified Educator
Master's degree in Educational Technology
Taught each grade K-4 over the past 11 years
Awarded Teacher of the Year for the 2019-2020 school year
♥ Don't forget you can earn TpT credits by leaving a review after you purchase products.
----------------------------------------------------------------------------------------------------------------------------
⭐⭐⭐⭐⭐More Google Activities ⭐⭐⭐⭐⭐
Beginning of the Year
•Back to School Night/Open House/Meet the Teacher Presentation
•Top 5 Picks of Summer Collaborative Class Activity
•9Back to School Google Activities
•All About Me Collaborative Slideshow - Class Introductions
•Back to School Forms for Parents and Students
•Digital Newsletters for the Entire Year
•Assignment and Agenda Slides with Timers
•Digital Stickers: Improvement Needed + Motivational
•Student of the Day/Week Digital Posters & Class Book
•Printable Growth Mindset and Inspirational Quote Posters
•Back to School BUNDLE (Save 40%)
All Year Resources
•Virtual Parent Teacher Conferences
•Entire Year Ultimate Google Slides BUNDLE (Growth Mindset, Reading  Logs, Sharing Projects, more)
•The Great Kindness Challenge Activities in Google Slides
•Digital Growth Mindset Poster Activity
Google Jamboards
•Writer's Workshop Anchor Chart/Class Mini-Lesson Jamboards
•Math Mats and Manipulatives Jamboards
•Reading Response Jamboard Templates
•Valentine's Day Class Jamboard Activity
•January and February Discussion Jamboards
•March and April Discussion Jamboards
•May/June End of the Year Jamboards (includes Autograph + Countdown activities)
•Jamboard Templates BUNDLE (GET THEM ALL)
Learn Google Classroom for Teachers
•FREE PDF Guide to Google Classroom
•The Ultimate Video Course for Using Google in Your Classroom
Start mastering Google Classroom and creating interactive Google Slides activities and self-grading assessments in Google Forms. This complete video course will teach you everything you need to know about using Google accounts in your classroom. You'll get instant access to more than 35 easy-to-follow videos that I created specifically for beginners
Writing/Reading
•Host a Poetry Writing Celebration! (Virtual or In-Class)
•Animal Research Report in Google Slides
•Biography Report Template in Google Slides
•Distance Learning Writing Prompt Journal "My At-Home Adventure."
•Digital Reading Logs and Graphic Organizers
•Digital Vocabulary Notebook For Any Subject
•Digital Stickers: Improvement Needed + Motivational
•Mother's Day Cards in Google Slides
Math
•Add and Subtract within 20 Word Problems (Great for review/assessment)
•Repeated Addition, Arrays, Equal Groups (Great for review/assessment)
•Entire Year Digital Multiplication Mystery Pictures in Google Slides
•Counting Coins and Bills Activities and Assessment
•Subtraction - Regroup or Not?
•Subtraction with Regrouping Word Problems Review (Topic 6 Envision)
Social Studies
•Me on a Map Digital Flipbook + Landforms Digital Flipbook
•Google Slides Sharing Projects (Timelines, Family Traditions, Community Workers Current Events)
End of the Year Activities
•End of the Year Memory Slideshow (Great for parent celebrations/Open House)
•End of the Year Student Awards
•End of the Year Autograph Party
•Summer Multiplication Mystery Pictures in Google Slides
•Thank Your Classroom Volunteers - Slideshow in Google Slides
•Communities: Rural, Urban, and Suburban in Google Slides (+ Google Earth!)
Report this resource to TPT