Gossip and Rumors Activity and Lesson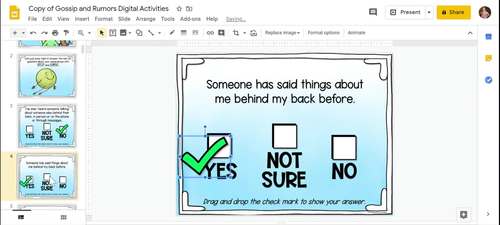 ;
What educators are saying
This resource was great way to teach older elementary students about what we should avoid when trying to make friends. This lesson is a fantastic way to be proactive about student problems!
Our 5th graders really needed this lesson. They were receptive, engaged, and really enjoyed talking through the examples.
Also included in
Teaching, modeling, and practicing positive communication skills with students helps everyone – less conflict, stronger friendships, and kiddos are more prepared for the real world. This resource bundles five of my positive communication lessons for a complete guidance lesson unit or group counselin

Price $12.00

Original Price $15.00

Save $3.00

This is a ginormous set of SEL lessons bundled together to save you time and money (over 25% off!). Lessons cover things like:Positive communicationConflict resolutionShowing respect to self and othersResponsibilityMental wellness⭐This isn't just character education - this is research and skills bas

Price $70.00

Original Price $96.50

Save $26.50
Description
When your upper elementary or lower middle school students turn your school into a rumor mill… use this activity to help them squash the gossip! It's also a great companion activity to Julia Cook's "Rumor Has It", Madonna's "Mr. Peabody's Apples", or Liz Rosenberg's "What James Said" (specific discussion questions included for each of these stories). It's an SEL lesson or guidance lesson filled with relevant scenarios!
This resource includes a set of 20 "What would you do?" gossip/rumor scenarios. You can use them for "Pick a card!", "Scatter", or "Mingle-Partner-Chat"; all awesome cooperative learning structures. Directions are included for all three activities (see more details in the preview!). An interactive Google Slides (TM) version is also included.
Scenarios are meant for students to practice:
• Minding their own business.
• Not believing something just because someone else said it.
• Choosing not to gossip.
This resource also includes 3 different exit tickets and a "words of wisdom" sign to leave behind in classrooms (or hang in your office). This lesson is ASCA and CASEL aligned and a complete lesson plan is included.
*************************************************************************************************************
✨Glowing Praise for This Resource✨
"IF YOU DON'T HAVE THIS, YOU NEED IT. Plain & simple. I loved it! I teach an SEL class once a week and my students, both in person and my virtual class, loved it!! Must buy!" ~Valeria S.
"I used this with a 3rd grade group, per teacher request. […] The students were attentive and liked the 'raise your hand if' activity as well as the group work. Easy, low prep, engaging content to support the book!" ~Brooke S.
*************************************************************************************************************
★Open the preview for more details!★
Report this resource to TPT