Government & Civics Paired Passages & Writing Prompt - Student Uniforms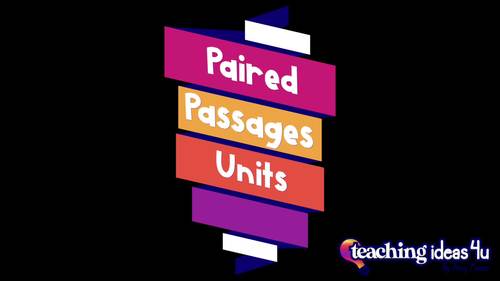 ;
Zip

Google Apps™
Includes Google Apps™
The Teacher-Author indicated this resource includes assets from Google Workspace (e.g. docs, slides, etc.).
What educators are saying
I am always looking for social studies passages to supplement our curriculum and use during my literacy block! Thank you!
This resource had so much in it!! It was all very helpful. My 4th graders responded very well to it. I hardly had to plan at all.
Also included in
U.S. Civics & Government and Language Arts Resource Bundle SetThis integrated bundle has everything you need to teach U.S. Civics & Government and language arts skills at the same time! The bundle includes 5 separate resources that include a nonfiction/informational texts unit on civics and

Price $25.60

Original Price $32.00

Save $6.40

American History Paired Reading Passages Bundle: Informational & Opinion/Argumentative WritingThis bundle of 7 paired passages units focuses on topics in American History from U.S. geography through westward expansion (1860s.) The bundle includes 4 informational writing units and 3 opinion writi

Price $38.00

Original Price $47.50

Save $9.50

Are you struggling to cover all your standards due to a lack of time? Save your time and energy with this ELA and American History Integrated Bundle. These resources combine language arts and social studies standards for you to use in your 4th, 5th, & 6th grade classrooms. These integrated units

Price $165.00

Original Price $226.25

Save $61.25
Description
School Uniforms & Freedom of Speech: Paired Passages & Opinion Writing - Digital & PDF
This is set of leveled paired passages or texts with reading comprehension tests, short response questions, and extended writing prompts. This unit can be used in reading, writing, or social studies. Teachers can use the passages to answer a more general opinion question (Should your school adopt a uniform policy?) or a civics-focused writing prompt on freedom of speech (Do school uniforms' limit students' freedom of expression?). Both are included in this resource.
The included texts are non-fiction. Two of the texts focus on school uniforms. The other passages are written about the freedom of speech. The extended writing prompts provided are for opinion writing. Targeted reading levels are 4th - 6th.
This resource is included in both PDF and digital (Google slides) formats. The digital copies are included in both a whole file format and broken into individual pieces to make it easier for teachers to assign the pieces in an online platform.
This product is designed to help students practice for state reading and writing tests such as FSA and MACS.
Flexible Use
This resource could also be used as part of a unit on the U.S. Civics and Government. Teachers can choose how to use this product.
The Unit
Students read about the difference between dress codes and uniforms policies, as well as the pros and cons of school uniforms (recommended for 4th & 5th grade.) If teachers want to focus more heavily on civics, students would also read about freedom of speech and summaries of court cases regarding freedom of expression (recommended for 6th & 7th grade.) Students write an opinion essay stating their opinion and supporting it with text evidence. (6th & 7th grade teachers could easily have students write an argumentative essay.)
Teachers can select either 1 - 2 texts with first writing prompt, or 3 - 4 with the second prompt.
Three reading comprehension tests are included. One has 5 multiple choice questions and 1 short response. Another has 5 multiple choice questions and 1 short response. The last one is a short response question. Teachers can use these or skip them, depending on how they want to use the unit.
Easy Differentiation
Included are 4 different texts. 3 of the texts are provided on 3 different reading levels. The other text is appropriate for all levels.
In order to differentiate, the leveled passages are provided at three different reading Lexile levels:
Level A - Low, 4th grade level
Level B - Medium, 5th grade level
Level C - High, 6th grade level
Teachers can differentiate this assignment in different ways:
Use different reading levels as appropriate.
Vary the number of passages given to students. There are 4 texts that can be used for the opinion writing.
They could either the dress code passage or the pros & cons passage, or they could use both.
They could use the passages on freedom of speech or the court cases in addition to the other passages, or use all 4 passages.
What is included in this product?
Pros & Cons of School Uniforms Passage – appropriate for all levels
Dress Codes vs. Uniform Policies: What's the Difference? Passage – in 3 levels
Freedom of Speech Passage - in 3 levels
Rulings of U.S. Court Cases Related to Students' Freedom of Expression Passage - in 3 levels
3 reading comprehension and 1 short response question for Dress Codes vs. Uniform Policies
5 reading comprehension and 1 short response questions for Freedom of Speech
An extended response question for Rulings of U.S. Court Cases
Answer Key for all questions
Two Extended Writing Response Topics
Opinion Writing Rubric
Argumentative Writing Rubric
Standards Covered by this Product
Testing Cover Page
Testing Bubble/Answer Sheet
Final Essay Blank Writing Paper
Digital copies of everything in Google slides.
Please see the preview for even more information and pictures of this product.
Do you need a writing center?
If you are looking for help teaching paired passages, please see my writing center. This product discusses how to teach and organize evidence-based writing.
Paired Passages Writing Center: Citing Text Evidence Bundle Grades 4, 5, & 6
Free Teacher Resource
For more information on teaching text-based essays, please see my blog post explaining the TEACH strategy.
************************************************************************
Customer Tips:
How to get TPT credit to use on future purchases:
• Please go to your My Purchases page (you may need to login). Beside each purchase you'll see a Provide Feedback button. Simply click it and you will be taken to a page where you can give a quick rating and leave a short comment for the product. Each time you give feedback, TPT gives you feedback credits that you use to lower the cost of your future purchases. I value your feedback greatly as it helps me determine which products are most valuable for your classroom so I can create more for you. ☺
Be the first to know about my new discounts, freebies and product launches:
• Look for the green star next to my store logo and click it to become a follower. Voila! You will now receive email updates about this store. ☺
******************************************************************
Answer Key
Included with rubric
Report this resource to TPT
Standards
to see state-specific standards (only available in the US).
Refer to details and examples in a text when explaining what the text says explicitly and when drawing inferences from the text.
Determine the main idea of a text and explain how it is supported by key details; summarize the text.
Explain events, procedures, ideas, or concepts in a historical, scientific, or technical text, including what happened and why, based on specific information in the text.
Determine the meaning of general academic and domain-specific words or phrases in a text relevant to a grade 4 topic or subject area.
Explain how an author uses reasons and evidence to support particular points in a text.