Grade 1 Music Units Lesson Plans Ontario Full Year Music Curriculum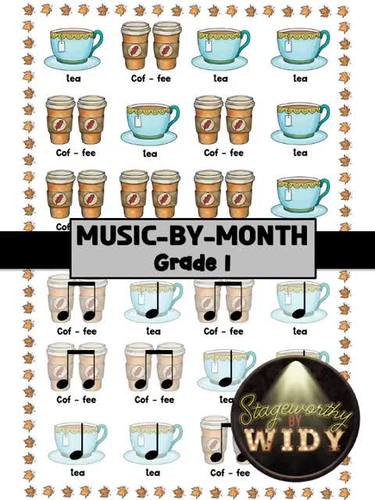 ;
What educators are saying
for someone who doesnt know music this was very easy to follow and my students enjoyed all the activities
AMAZING! This is exactly the bundle you need to teach music. No music experience? No problem! Fantiastic! Thank you!
Products in this Bundle (9)
showing 1-5 of 9 products
Also included in
Complete Elementary General Music Curriculum - Perfect for Non-Specialists Teaching music without any experience or training? YOU CAN DO THIS. Save time and stress with this whole-year bundle of music plans for Grades 1, 2, 3, 4, & 5. Each grade has four lesson plans per month for a full year of

Price $135.99

Original Price $159.49

Save $23.50

If you are teaching elementary music on rotary, this bundle contains everything you need for the entire year. Grade-specific year long lesson plans, long range plans, seasonal activities and more.This bundle includes every instructional music product in my store.

Price $241.83

Original Price $302.29

Save $60.46
Description
Grade 1 Music Lesson Plans for the FULL YEAR
If you're teaching grade 1 music in Ontario and you're NOT a specialist, this is the only resource you need. Music by Month lesson plans were created so that "regular teachers" can teach music like rock stars.
This is a full year bundle complete with lesson plans, worksheets, presentation files, sound clips and teacher explanations. So easy a sub can do it - but such high quality you'll be proud to teach it yourself.
Grade 1 Music Lessons Included:
September - Beat vs Rhythm
October - Quarter Notes & Eighth Notes
November - High, Low, & Melodic Contour
Dec/Jan - Pitch - Mi, So, La, & Melodic Contour
February - Loud & Soft Dynamics
March - Accents, Staccato & Legato Sounds
April - Timbre & Vocal Quality, Percussion
May - Texture & Form, Echo, Call & Answer
June - End of Year Review
Each Music-By-Month package includes:
a 4 lesson progression (approx. 30 min in length) with EVERYTHING YOU NEED to teach the lessons effectively
Clear, concise instructions - no long "teacher's college" style plans to wade through!
Printable instructional materials
A Powerpoint presentation file for easy delivery of lessons (individual sound files of the musical examples are included so you can easily import it into Google Slides if desired)
Assessment suggestions
Note: Lesson plans are not heavily themed so they can be used "off-time". These grade 1 music lesson plans are designed to be sequential from month to month. While originally designed for the Ontario curriculum, these lessons will meet most other music curriculum guidelines.
❤️ More Stageworthy Music Products ❤️
⭐⭐⭐⭐⭐ - ABOUT THE AUTHOR - ⭐⭐⭐⭐⭐
Stageworthy by Widy creates performing arts lessons that help non-specialists teach the arts like rockstars.
♬ - Click here for Stageworthy music lessons
➼ - Click here for Stageworthy dance lessons
❈ - Click here for Stageworthy drama lessons
Report this resource to TPT