Grade 2 Music Lesson Plans Ontario Curriculum Whole Year Bundle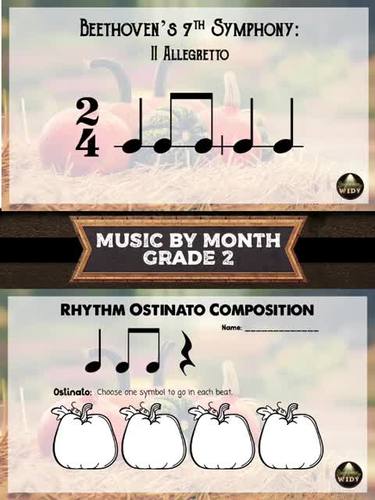 ;
What educators are saying
AMAZING! This is exactly the bundle you need to teach music. No music experience? No problem! Fantiastic! Thank you!
I am not a musically inclined person but these lessons have been simple and easy to use. You've taken the thinking out of planning!! Thank you!
Products in this Bundle (9)
showing 1-5 of 9 products
Also included in
Complete Elementary General Music Curriculum - Perfect for Non-Specialists Teaching music without any experience or training? YOU CAN DO THIS. Save time and stress with this whole-year bundle of music plans for Grades 1, 2, 3, 4, & 5. Each grade has four lesson plans per month for a full year of

Price $135.99

Original Price $159.49

Save $23.50

If you are teaching elementary music on rotary, this bundle contains everything you need for the entire year. Grade-specific year long lesson plans, long range plans, seasonal activities and more.This bundle includes every instructional music product in my store.

Price $241.83

Original Price $302.29

Save $60.46
Description
Grade 2 Music Lesson Plans for the FULL YEAR
If you're teaching grade 2 music in Ontario and you're NOT a specialist, this is the only resource you need. A full year bundle complete with lesson plans, worksheets, presentation files, sound clips and teacher explanations. So easy a sub can do it - but such high quality you'll be proud to teach it yourself.
Grade 2 Music Topics Included:
September - Beat vs Rhythm
October - Rhythm Ostinato & Composition
November - Pitch & Melody, High Do, Melodic Ostinato
Dec/Jan - Pentatonic C Major Scale Pitch & Melody
February - Dynamics, Crescendo & Decrescendo
March - Expression, Legato & Staccato
April - Timbre, Instrument Families, Tone Colour
May - Texture, Melody & Accompaniment
June - AB Form, Verse & Chorus
Each Music-By-Month package includes:
a 4 lesson progression (approx. 30 min in length) with EVERYTHING YOU NEED to teach the lessons effectively
Clear, concise instructions - no long "teacher's college" style plans to wade through!
Printable instructional materials
A powerpoint presentation file for easy delivery of lessons (sound files for music examples are also provided so you can import the powerpoint into Google Slides if desired)
Assessment suggestions
Note: Lesson plans are lightly themed for each month but can easily be used "off-time" as they do not contain any holiday-themed materials. The plans are designed to be sequential from month to month.
⭐⭐⭐⭐⭐ - ABOUT THE AUTHOR - ⭐⭐⭐⭐⭐
Stageworthy by Widy creates performing arts lessons that help non-specialists teach the arts like rockstars.
♬ - Click here for Stageworthy music lessons
➼ - Click here for Stageworthy dance lessons
❈ - Click here for Stageworthy drama lessons
Report this resource to TPT