Grade 2 Ontario Language and Literacy (FULL YEAR)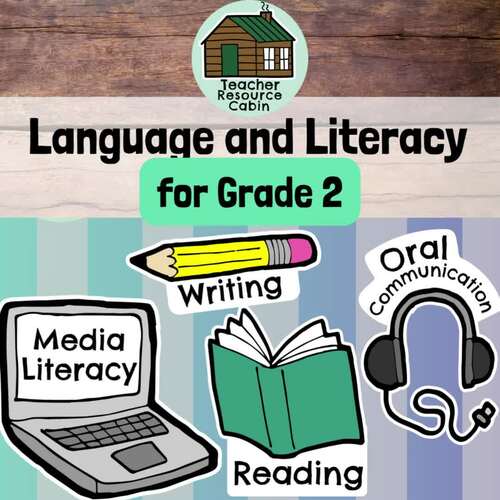 ;
Includes Google Apps™
This bundle contains one or more resources with Google apps (e.g. docs, slides, etc.).
Easel Activities Included
Some resources in this bundle include ready-to-use interactive activities that students can complete on any device. 
Easel by TPT is free to use!
Learn more
.
What educators are saying
This was an excellent resource that I used all year for both online and in-class learning. It kept me on task and organized and my students were engaged with all of the activities.
Has been very useful to pull from when teaching a new grade and just coming back from mat leave. Appreciate that a lot of the work has been done for me. Looking forward to using again next year.
Products in this Bundle (32)
showing 1-5 of 32 products
Description
Grade 2 Teachers! This Grade 2 Ontario FULL YEAR of Language and Literacy resource is FULL of amazing language resources that will help you organize and create a complete Literacy block for your Grade 2 class. There are resources available for each literacy strand!
Check out the Long-Range Plan FREEBIE to see how all of these resources work together to make a comprehensive Literacy block. Report card comments are included too- they make report card writing a BREEZE!
Please click the green "Preview Included Products" to see previews for the resources included in the bundle.
File formats included:
⭐This resource includes options for in-person, digital, and hybrid classrooms. Please see the "Products in this Bundle" heading, where the file formats are specified for each resource (PDF, Easel, or Google Drive™).
⭐ New to using Easel by TpT? All resources in this bundle are ready to go in Easel, all that's left for you to do is assign to your online classroom (Google Classroom, D2L, or any other LMS). Check out this Easel guide!
Please see our Terms of Use, which are included in the product and available on our TPT store.

©Copyright Teacher Resource Cabin 2020
Buyer Tip:
If you have purchased this product, please leave feedback! We are always looking for ways to improve our store and your input is important. You will earn TpT Credits by leaving ratings and reviews on your purchases. For every $1 you spend on TpT, you can earn 1 credit. Every 20 credits earned equals $1 you can apply to future TpT purchases.
Answer Key
Included with rubric
Report this resource to TPT