Grammar Curriculum, Ten-Minute Daily Bell Ringers/Practice, FULL YEAR Bundle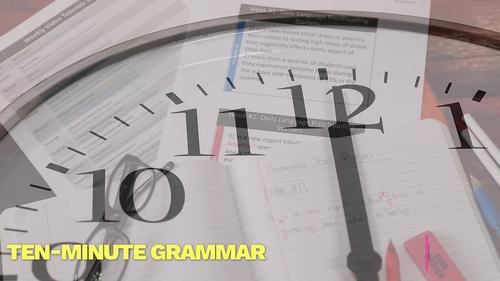 ;
Zip

Google Apps™
Includes Google Apps™
This bundle contains one or more resources with Google apps (e.g. docs, slides, etc.).
What educators are saying
My students loved this resource. It made it easy for me to teach the concept and was engaging at the same time.
This is a great resource. The video modeling the process was super helpful. There is so much in the bundle I know I won't be able to use it all.
Products in this Bundle (7)
showing 1-5 of 7 products
Bonus
Pretest, Mid-Year Text, and Post Test
Description
Teaching and covering all the grammar standards can be very overwhelming and may even seem impossible. Plus, preparing students for standardized testing like the ACT is even more daunting. Once I started implementing daily grammar practice with this program for 10 minutes a day of daily language bell ringers, worksheets, and quizzes in a systematic way in my classroom not only did my daily routine improve, but also did my students' writing and test scores.
This daily grammar program is what the teacher ordered for a daily routine and improving students' understanding and application of key grammar skills. With this resource, you are getting a NO PREP activity for EVERY day of the week ALL YEAR LONG: this program covers a wide range of grammar concepts complete with daily bell ringers, worksheets, quizzes, teacher's guides, and more! You will need nothing else to get your grammar program up and running!
About This Bundle:
- 36 Weeks of Proofreading Starters (2 per day, 3 days a week with answers) Mixed Skills; PPT/PDF
- 36 Video Tutorial Links for using as a flipped classroom, lecture materials, or teacher prep in PDF and 100% editable PPT form
- 36 Worksheets with rules and answers; one skill per worksheet, PDF and 100% editable PPT form
- 36 Weekly Grammar Quizzes; mixed skills associated with the daily jump starters; answers, 100% editable Word form AND digital self-grading quizzes via Google
- Teacher's Guide and schedule for implementing the program
- ALL answers and teaching tips are included!!
- FREE BONUS: Pretest, Mid-Year Text, and Post Test included: Multiple Choice AND Fully Digital, Self-Checking format for Google
Also, the first set of daily starter sentences and weekly worksheets are written on hot topics that teens care about, which provides cohesion and creates interested and opportunities for discussion. The second set of daily starter sentences and weekly worksheets are written about famous authors and their works. Excellent for RTI, small groups, reteaching, tutoring, whole class, and homeschoolers. Use this bundle for a full year set or grab the bundle and have tons of examples and practice for extra preps!
Here are the skills covered as well as a few other smaller skills like capitalization, end marks, spelling, etc.
Fragments
Run-Ons
Subject/Verb Agreement
Subject/Verb Agreement with Interrupters
Verb Tense and Shifts
Pronoun Antecedent Agreement
Tricky Pronouns (who/whom)
Commas
Apostrophes
Adverbs v. Adjectives
Colons
Semicolons
Dashes v. Hyphens
Misplaced Modifiers and Dangling Participles
Parallelism
Active v. Passive Voice
Types of Sentence Structure
- Demonstration video on TPT
- Highlights and Classroom Tour on Instagram Stories
- Daily Overview Explanation on Instagram IGTV
Classroom success stories from teachers who have tried this resource:
♥ "I've been wanting an grammar program to easily implement, and I found yours! Thanks for saving all of us a ton of time!"
♥ "This is a perfect quick but thorough grammar review for our 10th and 11th grade students. I bought additional licenses for my whole department to use!"
♥ "I really like this program, especially the worksheet practice and assessments. Thanks so much!"
♥ "Yes, this is expensive, but this has saved me hours of planning bell work for my students. Thank you so much!"
♥ "This is EVERYTHING I need to teach grammar and make it interesting to the students. Awesome! Thanks so much for sharing your talent with us!"
♥ "Maybe I did not read the description very well, but I had no clue I was getting video links to accompany each lesson so to create a flipped lesson. Brilliant! I HATE lecturing on grammar! This product really delivers. Thanks."
Be the first to know about my new discounts, freebies and product launches. Look for the green star next to my store logo and click it to FOLLOW ME. Voila! You will now receive email updates about my store.
For more ideas and inspiration:
Julie's Classroom Stories on Instagram
Julie's Classroom Stories on Facebook
Teaching Middle and High School English Facebook Group
Yearbook and Journalism Facebook Group

Updated 2020
*Please one classroom use only. Not to be shared online without proper security. Additional licenses sold at a discount at checkout. Art and images credited inside file.
Report this resource to TPT
Standards
to see state-specific standards (only available in the US).
Demonstrate command of the conventions of standard English grammar and usage when writing or speaking.
Demonstrate command of the conventions of standard English capitalization, punctuation, and spelling when writing.
Apply knowledge of language to understand how language functions in different contexts, to make effective choices for meaning or style, and to comprehend more fully when reading or listening.
Determine or clarify the meaning of unknown and multiple-meaning words and phrases by using context clues, analyzing meaningful word parts, and consulting general and specialized reference materials, as appropriate.
Demonstrate understanding of figurative language, word relationships, and nuances in word meanings.