Grammar Development Handouts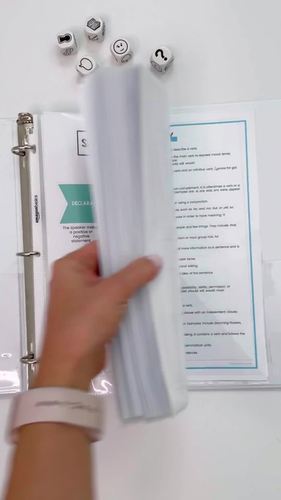 ;
36 color + 36 black and white handouts
Description
Grammar development handouts and charts! This resource outlines the big-picture of grammar acquisition in early childhood. It reviews the different aspects of syntactic structures, why they are critical for communication, and what makes them especially difficult.
Are you feeling lost on how to build language skills in older students?
Need a better grasp on grammar development?
Not sure how to listen for syntactic errors?
Want to feel more confident in grammar intervention?
Imagine having…
➜ An easy way to review grammar development with tons of definitions, explanations, and examples to simplify it all.
➜ Explanations of the roles syntax and morphology play in language development.
➜ Information to problem-solve the weak link of a student's syntactic structures.
➜ Explanations of why certain syntactic structures are difficult for our students.
➜ Functional room décor – posters, bulletin board.
35 HANDOUTS INCLUDED (COLOR + BLACK & WHITE):
Sentence Structures Types
Declarative Sentence Form
Negative Sentence Form + Supplemental Information
Interrogative Sentence Form
Embedding + Supplemental Information
Conjoining + Supplemental Information
Adverbials
Agreement
Tense and Aspect + Supplemental Information
Complement Clauses + Supplemental Information
Passive Voice + Supplemental Information
Relative Clauses + Supplemental Information
Morphology Stages + Supplemental Information
Mean Length Utterances + Supplemental Information
Pronouns
Irregular Past Tense Verbs + Supplemental Information
Narratives Development + Narrative Microstructures for Linguistically Diverse Children + Supplemental Information
Common Morphological Errors in ESL Learners
Common Difficult Syntactic Structures + Syntactic Teaching Procedures
Language Sample Checklist
The supplemental information pages further the understanding of the main handout page. They may include deeper dives on the development, clarification of terms, or more examples of the clauses and sentences types.
Black and white versions are included as a print-friendly option to hand out to teachers and parents.

The Table of Contents is hyperlinked to quickly navigate the document while on a computer or tablet.
This resource is not grade specific and includes development starting at 12 months old, although it is especially great for

ASSEMBLY IDEAS:
Place in sheet protectors in a binder
Frame as posters for your wall
Make a bulletin board
On-the-go: print 4 to a page, laminate, and put on a keyring
⭐ Purchase the original Speech-Language Development Handouts ⭐
_____________________________________________
REVIEWS:
"I have been looking for a resource like this for a long time! I have shied away from grammar as I have not felt confident in this area. I'm so pleased to have found something so comprehensive and clearly laid out. Will be using this for myself and looking forward to sharing the handouts with parents and teachers. Thank you!!"
"These are amazing. They are especially helpful to work use with older children with language difficulties to work out what to target and ensure no parts of language and grammar development are missed. It's such a complex and tricky area and these sheets give the most perfect summaries making my life much easier!! Thank you for these amazing sheets."
"This resource is so comprehensive! Not only is it perfect to show family members, it's also going to be so helpful to help me plan my own treatment programs moving forward. Plus it's BEAUTIFUL. Thank you!!"
_____________________________________________
CUSTOMER TIPS:
How to get TPT credit to use on future purchases:
• Go to your 'My Purchases' page. Beside each purchase, you'll see a 'Provide Feedback' button. Each time you give feedback, TPT gives you feedback credits that you use to lower the cost of your future purchases. I value your feedback greatly as it helps me determine which products are most valuable for you.
Be the first to know about freebies, sales, and product launches:
• Look for the green ★ next to my store logo and click it to become a follower.
Let's connect!
Newsletter • Blog • Instagram • Facebook • Pinterest
Copyright © Allison Fors, Inc. All rights reserved by author.
Permission to copy for individual use only. Please purchase additional licenses if you intend to share this resource with others. Copying any part of this product and placing it on the Internet is forbidden.
Total Pages
36 color + 36 black and white handouts
Report this resource to TPT