Grammar In Context BUNDLE: Guided notes + Readings in Spanish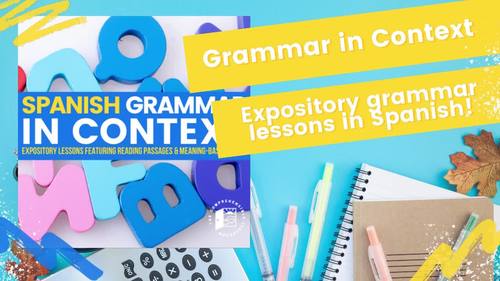 ;
Includes Google Apps™
This bundle contains one or more resources with Google apps (e.g. docs, slides, etc.).
What educators are saying
I enjoyed how in depth all of these resources are. It is a great supplement to bridge the gap between teaching traditional conjugations and more CI.
I recently purchased SOMOS and this is going to be a great add-on resource to help me align with other schools in my district.
Products in this Bundle (20)
showing 1-5 of 20 products
Bonus
Grammar In Context Bundle on Google Drive
Description
This bundle includes 19 Grammar In Context lessons intended for students in Spanish Levels 1 and 2.
All lessons feature brief guided notes in English followed by at least one Spanish-language reading that includes many instances of the pattern at hand plus activities that draw students' attention to the role it plays in creating meaning.
This bundle includes the following lessons:
GENERAL GRAMMAR:
PRESENT INDICATIVE:
PRETERITE:
IMPERFECT:
SPECIALTY VERBS:
Report this resource to TPT