Grammar & Language Interactive Notebook | 3rd-4th Grade ELA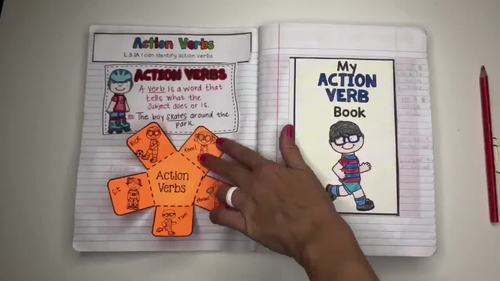 ;
What educators are saying
This resource lets my students have access to all their materials in one place. They also enjoy putting together their own notebooks and making it their own.
This is a great resource! I love starting out my grammar lessons with this interactive notebook. Each page is engaging and the students enjoy completing them!
Description
Interactive notebooks are a great learning tool in the classroom! This resource can be used as a way of keeping notes, references, skill review activities, or even as assessments! Interactive notebooks make learning meaningful, visual, and fun for our students.
This resource includes all of the Third Grade grammar/language standards. (May also be used for the majority of 4th grade standards)
**This is a ZIPPED file which includes two PDF files-- page images & printables**
Includes:
*Cover pages
*Photo Samples of EVERY skill/page
*Skill header including "I Can" statement (Standards have been removed to fit 2nd and 4th grade as well)
*Foldable Activities/ Resource Activities/ Practice Activities
Skills Included:
-Sentences & Fragments
-Types of Sentences
-Subject & Predicate
-Common & Proper Nouns
-Singular & Plural Nouns
-Collective Nouns
-Abstract & Concrete Nouns
-Compound Sentences
-Combining Sentences
-Possessive Nouns
-Action Verbs
-Subject-Verb Agreement
-Past & Future-Tense Verbs
-Linking Verbs
-Capitalizing Titles
-Contractions
-Main & Helping Verbs
-Quotation Marks
-Complex Sentences
-Irregular Verbs
-Pronouns
-Pronoun-Verb Contractions
-Abbreviations
-Adjectives
-Comparative & Superlative Adjectives
-Commas: Writing Addresses
-Adverbs
-Root Words
-Frequently Misspelled Words
-Prefixes & Suffixes
-Editing
-Commas in a Series
-Parts of Speech
>>> Click HERE to learn more about how I use interactive notebooks in the classroom!
This is a digital file in PDF format. You will need Adobe Acrobat to access the resource.
All editable files come in PowerPoint format. You will be able to change and customize text, but keep in mind that images and colors cannot be edited.
For technical issues such as downloading and opening files, please check out the Teachers Pay Teachers FAQ section.
If you have any other questions related to the resource, feel free to email me at SweetToothTeaching@gmail.com
-----------------------------------------------------------
Earning TPT Credits for Future Purchases:
After purchasing an item on TPT, go to the "My Purchases" page. Click the "Provide Feedback" button next to the item you have purchased. You will provide a quick rating and comment for the item. By providing feedback, you will gain TPT credits to use towards future purchases.
-----------------------------------------------------------
>>> Connect with Me! <<<
Report this resource to TPT
Standards
to see state-specific standards (only available in the US).
Demonstrate command of the conventions of standard English grammar and usage when writing or speaking.
Explain the function of nouns, pronouns, verbs, adjectives, and adverbs in general and their functions in particular sentences.
Form and use regular and irregular plural nouns.
Use abstract nouns (e.g., childhood).
Form and use regular and irregular verbs.