Grammar League Introductory Video and Parts of Speech Poster Set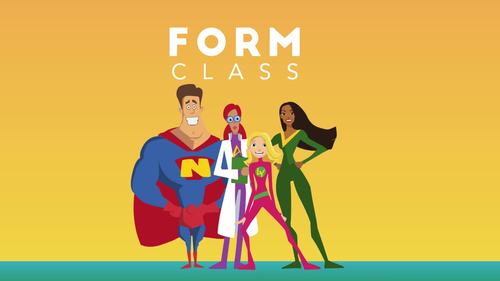 ;
Description
Welcome to the Grammar League, an original band of animated superheroes dedicated to teaching your students the English language in a way that makes sense linguistically!
This introductory video and poster set introduces your students to the basics of linguistic grammar which breaks down the English language into form and function. The parts of speech fit into two distinct classes: Form Class and Structure Class words.
Within the Grammar League©, each hero or heroine represents one of the parts of speech and is physically designed to embody the characteristics of that part. They are grounded in the linguistic philosophy of grammar, focusing on phrasal functions, relationships between words and phrases, and the changeability of form class words. 
In a comic book style, the introductory video covers the introduction of each part of speech in relation to the other parts of speech with which they combine. This is a different way to categorize the parts of speech into either the form class or the structure class based on their form and function. Students will learn that the form class words may be identified by their derivational affixes and morphability and that the structure class words are a finite group and a closed class of words. The poster set includes two posters for each of the eight parts of speech. One poster features the hero for that part of speech and the second provides students with tips and tricks for identifying each of the parts of speech. The Pronouner comes with five bonus posters because he represents such a wide variety of pronoun types. We have also developed an infographic for the teacher's use. In it, we explain some of the tenets of linguistic grammar, the Grammar League super heroes, and how to use the video and posters.
This package works well in both the classroom setting and as distance learning resources as it is fully digital and compatible with your online learning platform.
Report this resource to TPT