Grammar Second Grade Activities: Year-Long Bundle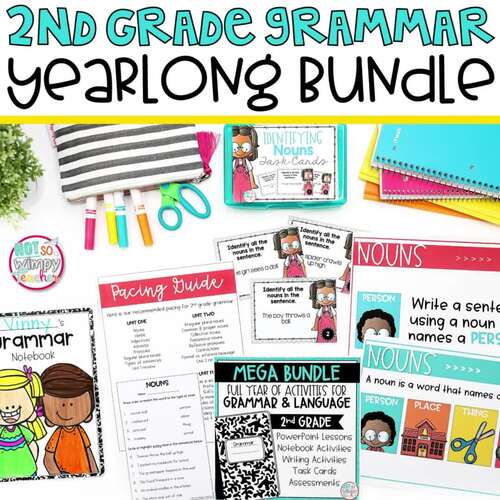 ;
What educators are saying
This resource has been a lifesaver! Grammer is not my strong suit but this resource has helped me feel confident in teaching it.
This resource is very engaging and covers all the language skills required in second grade! Excellent resource!!
Products in this Bundle (32)
showing 1-5 of 32 products
Bonus
Second Grade Grammar Yearlong Digital Assessments
Description
This has literally been a lifesaving purchase!  … It's WAY better than I thought!  My kids love it, I love it, and it's super easy, consistent, and FUN!  If you do not own it, STOP waiting!  You need this in your life =) - Loretta G. 
Our UPDATED second grade grammar full-year bundle makes teaching grammar a piece of cake. Grammar is so important for kids to understand, but it can be tough to teach. There are so many rules and exceptions. It's easy to second-guess yourself. And let's face it, grammar isn't always a ton of fun. 
But with these UPDATED & IMPROVED lessons, your students can become excellent grammarians in just 10 minutes a day! Each no-prep lesson comes complete with a full week of activities, including: a mini lesson, interactive notebook activity (NOW with answer key), writing, task cards, and an assessment. 
This mini-curriculum has a full year's worth of grammar activities for 2nd grade. It includes everything you need to teach, practice, and assess 32 weeks of skills, including review weeks to ensure your students master these skills. 
We've done all the planning and prep for you. Tricky grammar skills are broken down into bite-sized pieces. All you have to do is print and teach. And a JUST ADDED digital assessment makes weekly assessments a breeze. The digital assessment is editable, so you can customize to meet your students' needs.
This bundle is a HUGE value! If you were to purchase each of the individual weekly sets, it would cost $96! Save over $20 when you buy all 32 lessons together. 
What's Included:
Detailed teacher instructions, including a recommended schedule for the week and instructions on how to use digital assessments
32 PowerPoint presentations for the mini-lesson each week
32 student interactive notebook activities and JUST ADDED Answer Keys
32 sets of 24 task cards (NOW also in black and white) and a recording sheet (with answer key)
Assessment (with answer key)
JUST ADDED: Editable digital assessment
Skills Included:
Unit One
Unit Two
Unit Three
Unit Four
Also Included:
Student Notebook Covers
Teacher Binder Cover & Spine
Please look at the preview to see what's included. If you want to see even more, click over to the individual sets for additional pictures.
How to Use it in the Classroom: 
Each week follows the same routine. This saves time and students know what to expect:

Monday: Interactive PowerPoint mini lesson
Tuesday: Interactive notebook activity
Wednesday: Grammar writing assignment
Thursday: Task card scoot
Friday: Assessment

Choose from a printable or digital assessment.
PowerPoint lessons introduce students to a new grammar skill
Interactive notebook activities include foldables and flaps that students manipulate to deepen conceptual understanding. Great for kinesthetic learners.
Interactive notebooks feature simple cuts to keep the emphasis on grammar.
A weekly writing prompt helps students apply new grammar skills.
Digital assessment can be used with Google Classroom.
Edit the digital assessment to meet your students' needs.
Materials Needed

Notebook (composition or spiral)
Scissors
Glue
Differentiation:
There are many ways to differentiate this grammar lesson:
Complete interactive notebook activities in small groups to provide additional support
Allow students to use interactive notebooks as a reference during the writing activity or task cards
Have students complete fewer task cards
Move around the room with students who need additional support during the task card scoot
Use the edible digital assessment to customize weekly assessments
❤️ ❤️ Why You'll Love It: ❤️ ❤️
No-prep grammar resource is easy to implement
Saves class time! Only takes 10 minutes a day!
Interactive activities make grammar fun!
FAQs:
Q: Do you have grammar lessons for other grades?
A: Yes! We have grammar lessons for , , and grades.
Q: Where do you have the students do the writing activity? In the same notebook as the notebook activity? Or a different notebook?
A: I have my students do it on the page next to their notebook activity. 
Q: Do you have any suggestions for how to organize the grammar notebooks? Does this need to be a separate notebook from their writing journal?
A: My students don't generally have enough room in the writing notebook to include grammar. But I did go ahead and split my reading notebook in half and use it for grammar and reading.
Q: Will the PowerPoints open properly on Google Slides? My school does not use Microsoft.
A: Yes.
Q: Are the PowerPoint presentations editable?
A: I'm sorry. There is not an editable version of this resource at this time.
Q: How do I use the digital assessment?
A: This resource includes a PDF with links to the digital assessments. These are editable so you can customize them to meet your students' needs. Digital assessments work with Google Classroom.
Related Resources
************************
Second Grade Grammar Units:
Other Second Grade Bundles:
************************
More Language Units
Report this resource to TPT
Standards
to see state-specific standards (only available in the US).
Demonstrate command of the conventions of standard English grammar and usage when writing or speaking.
Use collective nouns (e.g., group).
Form and use frequently occurring irregular plural nouns (e.g., feet, children, teeth, mice, fish).
Use reflexive pronouns (e.g., myself, ourselves).
Form and use the past tense of frequently occurring irregular verbs (e.g., sat, hid, told).