Grammar Task Cards Bundle: Grammar Games with Posters for Kindergarten Centers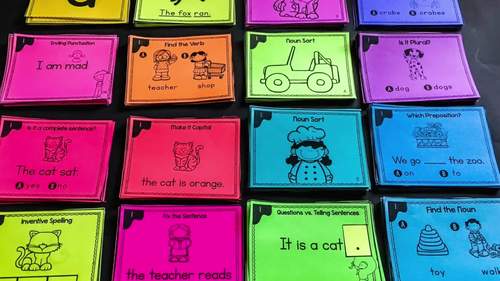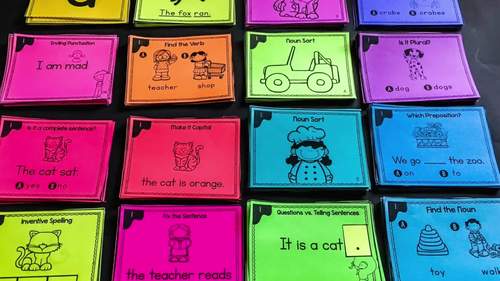 Created By
The Candy Class
Products in this Bundle (15)
showing 1-5 of 15 products
Bonus
Easy Print Task Card Labels and Anchor Charts
Description
Do you find it challenging to find grammar resources geared just for kindergarten? This bundle is going to cover you! It includes posters for introducing the concepts, task cards with plenty of recording sheet options, and optional games to add a fun element! Additionally, some of the cards include components to make it hands-on, and you can always add some counters or other manipulatives to make them more interactive. There are also recording sheets with a daubing activity option for many of the sets. Visual directions are provided.
Any cards with sentences are written on a kindergarten reading level. There is a pacing guide that recommends the order of use for these. Kindergarten is my area of expertise, and every task card was created with kindergartners in mind.
Click on the preview button to check out the preview for more details and pictures of what is included.
The individual sets total $45. Save 50% off with the bundle!
Includes the Following 15 Task Card Sets in Printable Format:
⭐ Capitalization
⭐ Complete Sentences
⭐ Handwriting
⭐ Nouns
⭐ Plural -es
⭐ Plural Nouns
⭐ Prepositions
⭐ Verbs
⭐ Ending Punctuation
⭐ Fix the Sentence
⭐ Inventive Spelling
⭐ Noun Sort
⭐ Nouns vs. Verbs Sort
⭐ Question & Telling Sentences
⭐ Subject and Predicate

Includes the Following:
•Kindergarten Grammar Posters (Color & Colorless Options)
•Visual Student Directions (Color & Colorless Options)
•15 Task Card Sets (Color & Colorless Options)
•Task Card Labels for Photoboxes (Color & Colorless Options)
•9 Games with Visual Student Directions (Color & Colorless Options)
•Recording Sheets with Options
•Answer Keys
•Connecting Standards
••••••••••••••••••••••••••••••••••••••••••••••••••••••••••••••••••••••••••••••
This resource are for personal use only and one license is a single user license for one teacher.
Thanks for stopping by the Candy Class!
Jolene :)
Report this Resource to TpT
Standards
to see state-specific standards (only available in the US).
Spell simple words phonetically, drawing on knowledge of sound-letter relationships.
Write a letter or letters for most consonant and short-vowel sounds (phonemes).
Recognize and name end punctuation.
Capitalize the first word in a sentence and the pronoun I.
Demonstrate command of the conventions of standard English capitalization, punctuation, and spelling when writing.