Grammar Wall Kit | Grammar Posters | Grammar Word Wall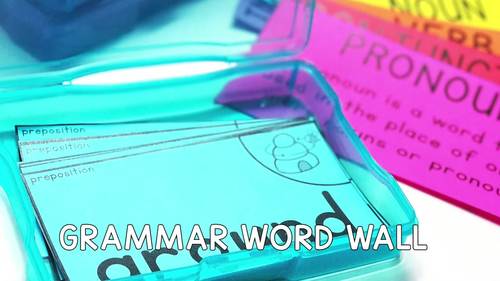 ;
What educators are saying
I do not have the wall space to make it a true word wall but I did put it on rings. My students use this during writing time to make their writing more interesting with new words.
Such a great resource! I printed out the cards and used them for a "grammar wall". Still a work in progress.... Thank you!
Description
This Color Coded Grammar Word Wall Kit Contains everything you need to get started using a Grammar Wall in your classroom. (From Education to the Core)
Grammar Wall Contents:
Guides:
● Implementation Guide
● Card Index
● Printing Guide
Parts of Speech Cards:
● Adjectives
● Nouns
● Pronouns
● Verbs
● Adverbs
● Prepositions
● Conjunctions
● Interjections
Extras:
Antonyms/Synonyms
Homophones/Homonyms
Compound Words
Prefixes/Suffixes
Note: Each part of speech does not have pictures to go with it because some cannot be described using a picture.
The ones that have pictures are: Nouns, Verbs, Adjectives, Prepositions
The ones that do not are: Conjunctions, Interjections, Pronouns, and Adverbs
Along with the Parts of Speech Cards:
● Headers
- Basic Headers
- Big Pictures with Definitions Headers
- Small Pictures with definitions Headers (coming soon)
● Editable Subcategories
● Editable Parts of Speech Cards
Organization Suggestions:
● Covers/Dividers for Containers
● Editable Covers/Dividers
Additional Resources:
● 20 Grammar Word Wall Games
● Bonus Activity #1 (Color Coding Sentences)
● Bonus Activity #2 (Sentence Writing)
● Bonus Activity #3 (Mad Libs)
This is a digital download. Containers are not Included. If you would like to purchase any of these, you can get them at Michael's or Amazon! (affiliate links below)
Click here to get the 4x6 Photo Containers
Click here to get the 4x6 Index Card Organizers
TERMS OF USE:
Thank you for your purchase! By purchasing this resource, you are agreeing that the contents are the property of Emily Garcia/Education to the Core, and licensed to you only for classroom/personal use as a single user. I retain the copyright, and reserve all rights to this product.
You May:
• Use items (free and purchased) for your own classroom students, or your own personal use.
• Reference this product in blog posts, at seminars, professional development workshops, or other such venues PROVIDED there is both credit given to myself as the author and a link back to my TPT store is included in your post/presentation.
• Distribute and make copies of free items only to other teachers PROVIDED there is credit given to Emily Liscom Garcia and a link back to my TPT store.
You May Not:
• Claim this work as your own, alter the files in any way, or remove/attempt to remove the copyright/watermarks.
• Sell the files or combine them into another unit for sale/free.
• Post this document for sale/free elsewhere on the internet. (This includes Google Doc links on blogs.)
• Make copies of purchased items to share with others is strictly forbidden and is a violation of the Terms of Use, along with copyright law.
• Obtain this product through any of the channels listed above. Thank you for abiding by universally accepted codes of professional ethics while using this product.
Customer Tips:
How to get TPT credit to use on future purchases:
• Please go to your My Purchases page (you may need to login). Beside each purchase you'll see a Provide Feedback button. Simply click it and you will be taken to a page where you can give a quick rating and leave a short comment for the product. Each time you give feedback, TPT gives you feedback credits that you use to lower the cost of your future purchases. I value your feedback greatly as it helps me determine which products are most valuable for your classroom so I can create more for you.
Be the first to know about my new discounts, freebies and product launches:
• Look for the green star next to my store logo and click it to become a follower. Voila! You will now receive email updates about this store.
If you have any questions about this resource, please contact me at customersupport@educationtothecore.com
Report this resource to TPT