Graph Art for Auditory Memory | An Art for Brains Activity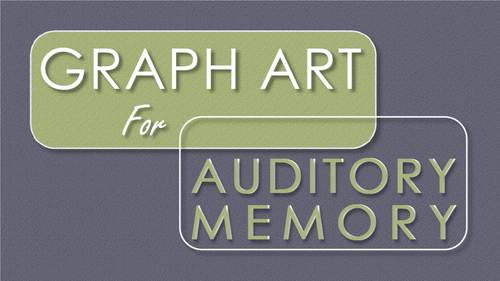 ;
Description
Auditory Memory with Graph Art
Whether you work one on one, in small groups or in a full classroom you know how important listening skills are to student learning.
Graph Art for Auditory Memory is a fun way to help strengthen memory, listening skills, and so much more.
Because of its versatility this activity is well suited for grades 2 through upper elementary. It's especially helpful in therapeutic learning environments even through higher grade levels.
HOW IT WORKS
Students listen carefully as the instructor reads pairs of graph coordinates. Some are individual coordinates and some represent groups. While remembering the oral instructions
(auditory memory)
students locate and shade in the proper graph squares
(working memory)
. When finished, students may check their work against the answer key and color their animal graph art (or save the coloring for later).
Suggestions for modifying the challenge are provided. For instance, if students do not already have a basic understanding of rows, columns, and locating the intersection, or if they are not yet able to retain 5 units of auditory input, simply adapt the task and read coordinates one at a time.
SKILLS STRENGTHENED
Auditory Memory
Listening Skills
Working Memory
Auditory Discrimination
Spatial Awareness
Fine Motor
Attention
GRAPH ART FOR AUDITORY MEMORY INCLUDES:
● Cover Page
● Introduction - Includes more about each additional skill strengthened.
● Instructor Script – Adapt as needed.
● Blank Graph
● 10 pages of Instructor Coordinates
● 10 pages of Answer Keys as follows:
Giraffe
Pig
Elephant
Lion
Monkey
Penguin
Cow
Frog
Rabbit
Owl
● A big thank you from Inner Pieces Gallery
● A few blank pages added for easy duplex printing
If you enjoy using fun art activities to help build learning power, you might also like:
Finish the Monster Drawing, An Art-for-Brains Activity
You'll also find GRAPH ART FOR AUDITORY MEMORY bundled into a money saving e-book here:
Art-for-Brains THE BOOK
Plus discover fun freebies at:
InnerPiecesGallery.com
© 2014 Inner Pieces Gallery. Not for commercial use. Available for personal or single classroom use only. (School libraries and specialist classrooms included as "single classroom.")
Report this resource to TPT