Graphing Task Cards: Line Plots, Bar Graphs and Pictographs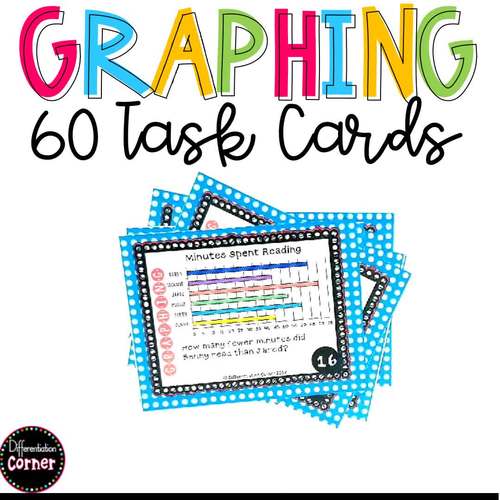 ;
Zip

Google Apps™
Includes Google Apps™
The Teacher-Author indicated this resource includes assets from Google Workspace (e.g. docs, slides, etc.).
What educators are saying
Great resource even though line plot does not have to include fractions now for 4th grade. I still used with my kids great way to reinforce and extend the standard.
This helped my students review this grade level skill. Worked well with individual and partner work.
Also included in
No prep printable and paperless activities for bar graphs, pictographs and line plots with fractions! Colorful anchor charts for bar graphs, line plots and picture graphs included in both large and student sized copies! Students will enjoy applying their graphing skills on these activities. These ac

Price $21.70

Original Price $31.75

Save $10.05

These math task card activities are great for Distance Learning with Google Classroom! Students will review graphing, multiplication, division, word problems, elapsed time, and more! The best part is that clear directions for teachers are included! Your students will love these fun and engaging m

Price $16.25

Original Price $23.00

Save $6.75
Description
This set of Graph Task Cards will help students read and interpret line plots, bar graphs, and pictographs. There are 60 unique printable & digital cards practicing Common Core Standards covering measurement and data for three types of graphs.
I have them laminated in a basket for students to use during math center time.
They work with partners, record their answer for each card and then check their answers with the answer key or turn them in for a grade. They also work great for small group reteaching or in a special education room.
________________________________________________
TEACHERS LIKE YOU SAID…
⭐️⭐️⭐️⭐️⭐️Tarez M. says "This resource was very helpful with reviewing the graphing standards. Each day I projected 3-4 questions on the board for students to answer on their dry erase boards. They would hold up their answers and then we would discuss the correct and incorrect answer choices. Loved that there were different increments for both the keys and the bars.
⭐️⭐️⭐️⭐️⭐️Krista M. says "My students and I both LOVED using this resource in the classroom! It was both engaging and easy to work with. My favorite way to use this resource was during our center activities. I recommended this to some of my colleagues to purchase also!
⭐️⭐️⭐️⭐️⭐️Kathlene R. says "These task cards are great! My class loves them, and I love how many ways they can be used in the classroom. We've used them at the beginning of class for a warmup, as a math talk, as an exit slip, and I've used them during small groups to provide more targeted instruction. Love these!
⭐️⭐️⭐️⭐️⭐️Christine H. says "My students love task cards and these are no exception! These task cards are easy to read and engaging for students. There is a variety of graphs so students get plenty of practice reading and interpreting data. Thank you!
________________________________________________
☀️So, why should you go paperless??
★ Paperless resources save time! No standing at the copy machine!
★ All changes you or students make to the resource are automatically saved!
★ Perfect for Chromebooks, IPads, Tablets and laptops!
★ It is nearly impossible for students to lose their work!
★ Students are engaged while using my interactive digital resources!
★ No more trying to read students' handwriting!
★ No more packing heavy bags home with papers to check!
******************************************************************************************************
⭐Follow me for new products and sales! All new products are 50% off for the first 48 hours!
******************************************************************************************************
⭐More GRAPHING Resources:
⭐More MATH Resources:
⭐More Digital Resources:
Report this resource to TPT
Standards
to see state-specific standards (only available in the US).
Draw a scaled picture graph and a scaled bar graph to represent a data set with several categories. Solve one- and two-step "how many more" and "how many less" problems using information presented in scaled bar graphs. For example, draw a bar graph in which each square in the bar graph might represent 5 pets.
Make a line plot to display a data set of measurements in fractions of a unit (1/2, 1/4, 1/8). Solve problems involving addition and subtraction of fractions by using information presented in line plots. For example, from a line plot find and interpret the difference in length between the longest and shortest specimens in an insect collection.
Make a line plot to display a data set of measurements in fractions of a unit (1/2, 1/4, 1/8). Use operations on fractions for this grade to solve problems involving information presented in line plots. For example, given different measurements of liquid in identical beakers, find the amount of liquid each beaker would contain if the total amount in all the beakers were redistributed equally.