Gratitude Kindness & Daily Check in Journal by the Calma Llama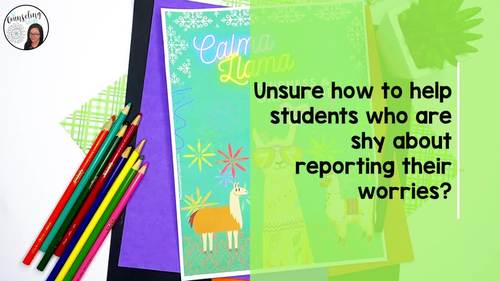 ;
What educators are saying
What an amazing resource - I love having students check-in when they come to my office. I love having a journal for the kids. Thanks.
I purchased this for my daughter to use at home. She loved it - it was a relaxing, no-tech way to process her day.
Also included in
30 Social Emotional Learning resources for 30% off. This bundle includes resources that address conversation skills, anxiety, growth mindset, friendships, drama, goal setting, gratitude, journaling, kindness, conflict resolution, mental health, mindfulness, hygiene, respect, self-confidence, self-es

Price $109.48

Original Price $156.40

Save $46.92
Description
Monitor student wellbeing with these daily check in journals with prompts for gratitude and kindness. All of the activities are created to help students practice mindful coloring to start their day or week on a positive note.
?
Research shows that daily mindfulness and gratitude journals have a positive impact on grades, mood, and attitude. It also cuts down on worry and anxiety in students.
Includes:
✅ 58 B/W pages (116 days of journaling on half pages)
✅ 1 full color cover page
✅ 1 full color inner cover page with gratitude quote
✅ 1 full color inner back cover with gratitude quote
✅ 1 full color back cover
⚡Before beginning this journey with your students, read over the key terms at the beginning of the workbook with them. Discuss the benefits of each.
Counselor uses:
Print as needed for individual counseling.
Print as a workbook and use at the beginning of each classroom counseling lesson.
Print as a workbook and show teachers how to implement it as a bell ringer journal a couple days per week or weekly.
Teachers:
Print as a workbook for each student. Use at the beginning of the day or as a transition after recess or lunch for 5-10 minutes per day. (a couple of times per week)
A closer look:
☀Kindness is the act of being friendly and considerate of others. It can also mean showing compassion and doing good deeds for others. It has been scientifically proven that we become happier when we help others.
☀Gratitude is the feeling of being thankful for the things in your life. According to Psychology Today, it has numerous benefits. Gratitude improves mood, self-esteem, empathy, resiliency, and sleep patterns. It has also been shown to reduce stress and aggression.
Report this resource to TPT