Greek & Latin Roots Card Game "Build A Word" Prefixes, Roots, & Suffixes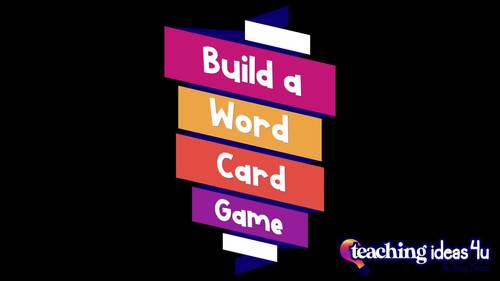 ;
What educators are saying
These were super engaging at stations! The students loved this activity, and I loved seeing them get excited about making words and challenging themselves to find more!! LOVE THIS!
Great experience for students. Very Engaging. Really helped students learn and kept them engaged. It was fun watching the groups compete for the most words created!
Also included in
Help your FIFTH GRADE students prepare for the standardized reading and language arts test with this fun resource bundle! Includes 4 games and 1 reading practice test. Bundle IncludesReading Practice Test Literature, Informational, Grammar 5th GradeVocabulary Kerplunk Review Game 5th GradeBuild A Wo

Price $20.00

Original Price $25.00

Save $5.00
Description
Looking for an educational game to help support learning Greek and Latin affixes and roots? Build A Word is an original, rummy-style card game that reinforces 8 prefixes, 8 roots, and 8 suffixes. Students of morphology will enjoy playing this game!
What's Included
Card game
Word family cards for word wall or instruction
Vocabulary worksheet for instruction
In Build A Word, 2-4 players attempt to build words and score the most points. Players need to use strategy in order to build longer words, as longer words score more points.
Root Words Included: 
struct
form
spect
do
sent
ject
duct
take
Why You'll Love It
Great for 4th Grade, 5th Grade, 6th Grade. 
Helps students learn to build different forms of a word with the same root. 
​​The prefixes and suffixes that are included can be used with more than one root word. Wild cards are also included in the game to facilitate word building. 
To enjoy the game, students should have some background in the roots. A Word Family Card is included for each key word that can be built in this game. These cards can be used to teach each the word family and then hung for a word wall. Also, a blank vocabulary worksheet is included. Students could either save these in a binder or glue them in a vocabulary notebook. 
*In test play with my children (10 and 14 years old), I noticed that they did not really understand how to build different forms of a word. For example, it wasn't easy for my 10 year old to change instruct to instruction. This helps tremendously.
Teachers Love It!
"I used this in a test-prep session. Students were highly engaged and had the opportunity to practice a variety of skills!" – Carrie M. 
"Definitely takes some extra skill to work out words and meaning. Nicely created activity. Best for more advanced language groups." – Speeching Of That (TPT Seller) 
"This was great for teaching root words. Very engaging! My only suggestion would be to add more root words or make an editable option so you could add ones you might eb required to teach specifically." – Diandra G. 
"I enjoyed using this as a center for my students and they were able to be independent, yet learn at the same time! Thanks!" Alyssa B. 
SAVE TIME & MONEY!
Love to save? The 5th Grade Test Prep Bundle includes four games and an FSA-style reading practice test. Get the whole bundle and SAVE 20% versus purchasing the activities separately! 
Bundle Includes: 
Reading Practice Test Literature, Informational, Grammar 5th Grade
Vocabulary Kerplunk Review Game 5th Grade
Build A Word Affixes Card Game
Grammar & Spelling JENGA Review Game 5th Grade
ELA Game Show & Practice Review Test 5th Grade
Already purchased a resource from the bundle? You can still save! Simply submit a ticket to TPT to refund the cost of the individual resource after purchasing the bundle.
***************************************************************************
Like this product? Here are similar resources!
**************************************************************************
Love Free Stuff?
Get TPT credit for future purchases! 
• Just leave a review! Log into your My Purchases page and find the Provide Feedback button next to each purchase you've made. For each review you leave (rating + comment), TPT gives you feedback credits you can use toward future purchases. Plus, it helps me determine the most valuable resources for your classroom so I can keep creating more great content for you. ☺
Be in the know! 
• Follow me to stay updated about new discounts, freebies and product launches! Just click the green star next to my store logo! ☺
**************************************************************************
Report this resource to TPT
Standards
to see state-specific standards (only available in the US).
Use common, grade-appropriate Greek and Latin affixes and roots as clues to the meaning of a word (e.g., photograph, photosynthesis).
Use common, grade-appropriate Greek or Latin affixes and roots as clues to the meaning of a word (e.g., audience, auditory, audible).
Use common, grade-appropriate Greek or Latin affixes and roots as clues to the meaning of a word (e.g., belligerent, bellicose, rebel).