Grimms Fairy Tale Play and Unit | The Brave Little Tailor With Large Cast!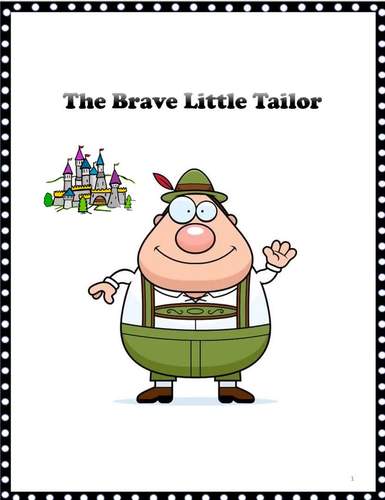 ;
Compatible with Digital Devices
The Teacher-Author has indicated that this resource can be used for device-based learning.
Also included in
BUNDLE:Created for the classroom teacher and easy to produce!20 OFF! 290 pages of 9 multicultural plays with units, (each 15 minutes in length) appropriate for a public performance, however they were created with the classroom in mind. Students strengthen their study of other cultures, reading (flu

Price $48.00

Original Price $60.50

Save $12.50

30% Discount This bundle is perfect for the new theater teacher or those looking for unique and innovative resources. This bundle (280 pages) has everything you need to teach a drama class for a semester, quarter or month (depending upon how many times you see your students.) I created these lesson

Price $43.05

Original Price $61.25

Save $18.20

DISCOUNT 30%! Are you looking for year-long theater education curriculum and help from an award winning, veteran drama teacher? I created a gigantic bundle of drama lessons, units and plays to help you! This bundle includes 49 products (NEARLY 1,500 PAGES) which were all created by me and time test

Price $199.14

Original Price $282.71

Save $83.57

20% off! This bundle contains 6 multicultural plays (Inuit, Ukrainian, Chinese, Bulgarian, German and a Jewish folk tales) and comprehensive units which are most suited for middle grade students. Students in a drama class, social studies or language arts class benefit from them the most because of

Price $30.39

Original Price $37.99

Save $7.60

BUNDLE!! 20% Off. Now you can find creative dramatic lessons for your students from a trusted, experienced source. These one or two-day lessons about tableau, chanting, movement, sound effects, storytelling, stage properties, set and costume design are the perfect blend of challenging and education

Price $32.80

Original Price $41.00

Save $8.20
Description
Talk about funny! This fifteen minute comical play (moderate or large cast depending on your needs) is suitable whether studying fantasy and fairy tales, the German culture or in a drama class. Students strengthen their reading (fluency), speaking (diction) and listening skills (restating) while learning to work cooperatively. The central themes include fate, ingenuity and cleverness.
Based on the Grimms fairy tale by the same name, students will have an opportunity to:
learn about "the director's concept" and help to create one
dramatize a fairy tale including a few puppets if you so choose
use unusual materials as stage properties
create comical characters
This product comes with:
a warm up focused on dialogue and the art of imitation
procedure or rehearsal schedule
teacher's script--how I say it and what I say
information about the Grimms Brothers and the true history of the fairy tales
eleven page script complete with stage and blocking directions (to help you stage your performance)
tips and advice
discussion questions (post performance) with a quick art assignment
costume suggestions
original song, written for this play--plenty of fun for everyone!
sound bytes which can be used as accompaniment or for rehearsing the song
stage properties list--including how to create each prop
links to puppets, hat making
sources
Comprehensive? You bet!
"The Brave Little Tailor" is a fairytale that describes the events of the main character and his outsmarting with a giant. After he killed seven flies with one hit he thought it would be a good idea to see the world instead of spending his day in his tailor shop.
This is will be a very successful teaching and learning experience created by a veteran drama teacher of thirty-eight years.
Do you follow me? If not, I hope you will. Follow Me
Need another play? Check out other Dramamommaspeaks products at:
You may also like these Dramamommaspeaks products:
Earning TPT Credits
• Do you want credit for future TPT purchases? Just provide feedback for resources you purchase. Click on the "provide feedback" button next to your purchases, rate the resource, and leave a short comment. (You need to do both to earn credits.)
You receive 1 TPT credit for each dollar you spend, and you can spend it just like cash on future Teachers Pay Teachers purchases.
Teaching Duration
2 Weeks
Report this resource to TPT