Grocery Store Math & Grocery Shopping Life Skills Special Education Activities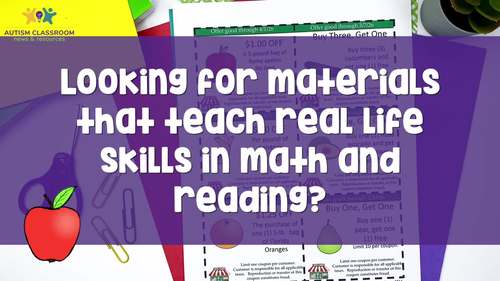 ;
What educators are saying
My students love this resource! They enjoy pretending to be at the grocery store and shopping. This is a great tool to use when teaching money, life skills, and budgeting.
This resource was great from practicing community skills for my life skills students as well as a great resource for practicing money skills in a real word context.
Description
Teach your life skills students how to go shopping and use money in this real-life grocery shopping activity. Students will practice grocery store math skills including counting money, next dollar up skills, calculating discounts, using coupons, writing checks, and more real-world money skills.
For effective independence in the community, life skills students need to be able to go shopping for themselves, and the grocery store is where they will need to shop most often. 
In this life skills & special education grocery shopping activity, your students will practice a variety of important real-world shopping skills:
Determining if they have enough money to make their purchase
Writing checks
Finding prices in the store
Understanding sales flyers  (e.g., expiration dates, limits of sales, choosing the right brand)
Applying discounts and using coupons
Multiplying prices by number of items purchased and adding prices for a total
This Grocery Store Math pack includes 174 pages of grocery shopping activities!
A grocery store with dairy, bakery, meat counter, dry goods, and frozen food areas with prices
5 worksheets with pictures for finding prices of single items in the store
84 task cards for multiplying prices of multiple items from the grocery store (e.g., 3 pears)
A 3-page sale flyer for Pete's Grocery Store
3 worksheets focusing on functional reading skills in flyers (with and without word banks)
30 coupons including discounts and buy-one-get-one-free (BOGO) offers
128 task cards for calculating and answering questions about using the coupons
A file folder activity for using coupons
10 worksheets with 2 or 3 items to find in the price in the store, the sale price and any relevant coupons and then add the total. Using the total, students will write a check and subtract the amount from a checking account balance.
10 worksheets using the same items of the worksheets above, students will circle the bill combinations they can use to make the purchase and make change from a total given to the clerk.
15 print-and-go worksheets that include 6-10 item shopping lists. Students can find the prices in the store, add any applicable sale flyer prices and coupons and find the total.
1 blank shopping list that you can fill in for the students to determine prices from the store, flyers and coupons. Students can also use this on their own to plan shopping trips.
Blank sheet of checks and registers for use with the shopping lists.
A visual set of directions for completing the shopping list worksheets.
Answer keys for worksheets
Students can also use the shopping list format to make a list for community-based trips and plan purchases before visiting the store. While not all students will be able to make change, many students can still make purchases at the grocery store by using the next dollar strategy. Next dollar strategies can be practiced on the worksheets in which the students identify what bill combinations they need to make the purchases listed.
What are teachers saying…
⭐️⭐️⭐️⭐️⭐️ "I absolutely LOVE how your products, especially this one, are versatile for any learner no matter what their age is. Thank you for creating this resource! It kept my students engaged and they LOVED learning about the grocery store :) I cannot thank you enough!!!" - Elizabeth J.
⭐️⭐️⭐️⭐️⭐️ "Love this resource! Such a great life skill for students to use coupons when shopping at the grocery store. I used this resource when teaching financial literacy, and my students had to make a budget and "buy" only what they needed." - Adrienna A.
⭐️⭐️⭐️⭐️⭐️ "Able to have students follow along easily at home through distance learning.  Easy to supplement further hands-on activities by having students bring their own grocery store flyer to the computer screen and using the flashcards and practice activities together.  Also able to easily print which activities are needed for at-home paper packets." - Kirsten R.
For other resources appropriate for students working on a life skills or functional curriculum, check out the following:
© Christine Reeve
This product is copyrighted to Autism Classroom Resources-Christine Reeve for use in
one classroom. They may not be copied for additional classes without purchasing
extra licenses.
Report this resource to TPT