Grouch Couch Game Companion for Mixed Groups Speech Therapy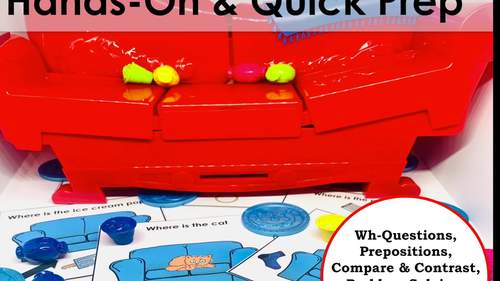 ;
What educators are saying
I loved the variety of targets with this resource! The kids love this game and your activities allowed for learning as they played!
I was a little disappointed with Grouch Couch itself when it first arrived, but this resource actually made it more fun and increased the time the kids wanted to play with it.
Description
Grouch Couch Game Companion is perfect for mixed speech therapy group sessions!
This game companion was created to provide a structured yet playful way to target various articulation and language goals.
The game Grouch Couch is NOT included in this digital product.
This fun and functional game companion includes: 36 colorful, quick prep language task cards and three print and go worksheets.
UPDATED: 3/3/21 - Lost Goodies Placemat ADDED!
36 language task cards to target the following language concepts:
Answering Wh-Questions
Ability to answer information seeking questions and engage in the small talk of social conversations
Prepositions
Identify and explain the location of an object related to a reference
Problem Solving
Use inductive and deductive reasoning to problem solve simple scenarios
Classification – What Doesn't Belong?
Identify what object doesn't belong based on the feature(s) they have in common.
Comparing and Contrasting
Use verbal and nonverbal reasoning skills to group objects or pictures and talk about the similarities and differences
Open-Ended Drawing Worksheet – My Couch
Draw a picture of your couch and then describe it to others
Articulation Word List
List of words with 13 different sounds to target while playing Grouch Couch
Lost Goodies Placemat
To visually keep track of lost goodies collected by each student when playing the game.
Additional option: color the pictures of the lost tokens.
************************************************************************************************************
Want to earn TPT credits to use on future purchases?
Go to your My Purchases page. Beside each purchase you'll see a Provide Feedback button. Click it and you will be taken to a page where you can give a quick rating and leave a short comment for the product. Each time you give feedback, TPT gives you feedback credits that you use to lower the cost of your future purchases. I greatly appreciate your feedback as it helps me improve current (and future) products to best meet your needs. Thank you!
Click the green star next to my store logo and become a follower to learn about my new products and receive discounts!
************************************************************************************************************
About the SLP:
Kimberly Scanlon, MA, CCC-SLP is an ASHA certified Speech-Language Pathologist and has earned 4 awards for continuing education (ACE). She is also the author of the best selling book, "My Toddler Talks: Strategies and Activities to Promote Your Child's Language Development", the interactive picture book, "Learning to Read is a Ball", and "My Toddler's First Words: A Step-By-Step Guide to Jump-Start, Track, and Expand Your Toddler's Language".
Follow me for updates, giveaways, freebies, inspiration, and fun therapy ideas!
★My Toddler Talks Blog ★ Scanlon Speech Therapy Blog ★PINTEREST ★INSTAGRAM ★FACEBOOK★
Report this resource to TPT