Groundhog Day Coloring Pages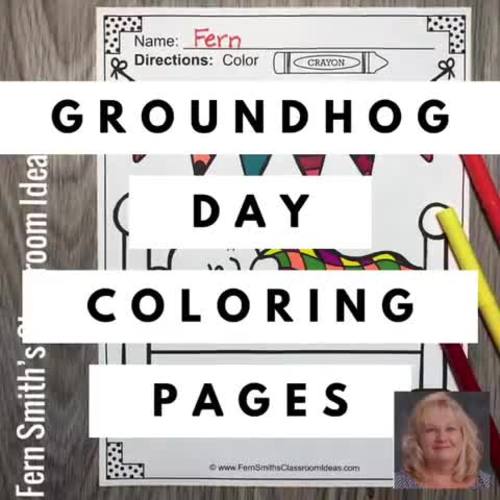 ;
Also included in
You will LOVE the 87 coloring pages that come in this Four Pack Bundle of Fun February Coloring Book Pages resource! Use these February Coloring Book Pages for indoor recess, staggered morning arrivals, early finishers, Parent Conference Events, St. Valentine's Day parties, writing prompts and so mu

Price $6.75

Original Price $8.44

Save $1.69

You will LOVE the coloring pages that come in this BIG SECOND SEMESTER of Winter, Spring and Summer Bundle of Fun Spring Coloring Book Pages resource! With pages, and pages, and pages of pure coloring joy for your students and their families during this time of DISTANCE LEARNING, this PRINTABLE DIST

Price $37.64

Original Price $53.77

Save $16.13

You will love this DISCOUNTED Big Bundle of Coloring Pages for Back to School, Meet the Teacher, Indoor Recess, Homework, Your Treasure Box, Early Finishers, Pre-K Visits, and much, much, much more! It comes with a SUBSTANTIAL DISCOUNT compared to purchasing each resource separately. You will LOVE t

Price $77.89

Original Price $111.27

Save $33.38
Description
You will LOVE the 20 Groundhog Day Coloring Pages that come in this Groundhog Day Coloring Book Pages Resource! Terrific for a daily coloring page OR have a parent volunteer bind them into a GROUNDHOG DAY COLORING BOOK for your students. Your students will ADORE these coloring pages because of the cute, cute, cute Groundhog Day graphics!
Your students can also draw in a Groundhog Day background and write about their coloring book page on the back. Use these coloring pages for all sorts of jumping off points for older students to use during their Groundhog Day creative writing lessons! Add it to your plans to compliment any Groundhog Day Unit! Download these 20 Groundhog Day Coloring Book Pages for some INSTANT Groundhog Day Coloring Joy in your home or classroom!
THESE COLORING SHEETS ARE PDFs AND YOU ARE ABLE TO UPLOAD THEM TO YOUR CLASSROOM PHONES OR TABLET APPS. SOME RECOMMENDED COLORING APPS ARE
PIGMENT
PROCREATE
PAPER BY 53
AUTODESK SKETCH BOOKS
* Free apps change frequently, please search Google Play or the Apple Store for current coloring pages apps.
*** CLASSROOM IDEA ***
Print all the pages and bind together for your students to have an independent Groundhog Day coloring books at their desk for any downtime.
A Groundhog Day Party
Substitute teacher folders
Fine motor skills work
Indoor recess
Morning work
Emergency sub tubs
Rewards
Homework packets
Art centers
Watercolor painting
Story starters
Fast finishers
Early morning students
After school tutoring
Church groups
Boy scout meetings
Girl scout meetings
And so much more!
*** Grab These Groundhog Day Coloring Pages for Your Classroom Students or Personal Children to Color TODAY! ***
Use a coloring page as morning work to work on fine motor skills.
Place a coloring page at a center to work on fine motor skills.
Coloring pages are great story starters.
Staple one or more coloring pages into your weekly homework packet for a little at home fun and joy!
Staple all the coloring pages together for a literacy center writing journal where the students can write on the back of the left page about the picture on the right side.
Coloring Pages are PERFECT for INDOOR RECESS!
Use a coloring page as a reward for your students weekly homework packet being turned in on time.
Use a coloring page as a story starter.
Use a coloring page on Fun Friday if everyone finished their work on time.
Staple one coloring page into your weekly homework packet for a little fun and joy at home!
Staple 5 to 10 coloring pages together for a treasure box coloring book prize.
Click here to see all of my Coloring Pages Resources!
*** CLASSROOM IDEA ***
Terrific for your Emergency Sub Tub for morning work, let the substitute teacher have a few minutes to read your plans while the children color!
Emily Wolfe said: My kids had fun with this on groundhog day!
Meghan Jones said: I will continue to use this on groundhog day each year. My students loved this as a morning work packet!
Michelle J. said: I love all that you have created...thank you!
Lori D. said: Kiddos are going to love the Groundhog Day Color for Fun!
*** Teacher Feedback Idea for My Coloring Pages ***
Regina shares a great idea, let your student PAINT these!
How fun Regina, thank you for sharing!
Terrific Teacher Feedback
Regina Phelps, "These were amazing!!!!! The kids loved coloring and painting them through out the week and really enjoyed the characters."
♥♥♥Thank you Regina for such great feedback!♥♥♥
The possibilities are endless!
Click here to be ready for Spring with my Easter and Spring Coloring Pages Bundle - 75 Pages of Spring and Easter Bundle fun!
Don't forget that all my new products are 40% off for 48 hours.
Click this LINK to follow my shop & you'll be notified of these huge savings.
Thank you,
Fern Smith
*Store * Blog * Pinterest * IG * FB *
© Fern Smith's Classroom Ideas
Special Permission for the graphics in the Color For Fun series has kindly been granted by the following artists. I invite you to follow their blogs and TPT Stores with the links below.
Melonheadz Illustrating
Educlips
Whimsy Clips
Teaching Duration
3 Weeks
Report this resource to TPT