Group Work vs Team Work Collaboration: Life / Learning Skills For 2023 (6Cs)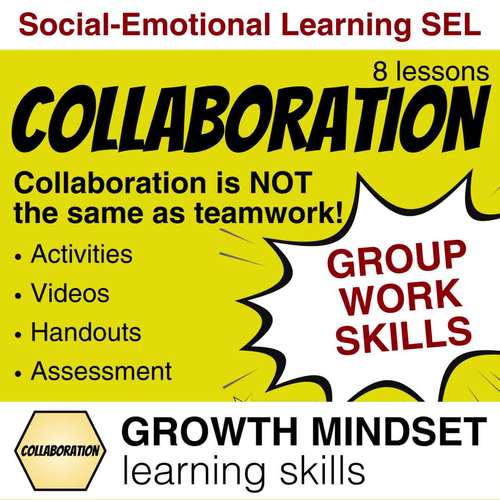 ;
Zip

Google Apps™
117 slides, 35 pages of handouts, 49 pages of lesson plans
Includes Google Apps™
This bundle contains one or more resources with Google apps (e.g. docs, slides, etc.).
Easel Activities Included
Some resources in this bundle include ready-to-use interactive activities that students can complete on any device. 
Easel by TPT is free to use!
Learn more
.
What educators are saying
Thorough and a great resource for coming back in person where students are not familiar with working together yet. Thank you!
I have utilized this bundle in a work skills course that I teach. I appreciated how thorough the resources were!
Products in this Bundle (3)
Bonus
6Cs Collaboration START HERE
Also included in
90 LESSONS to help students survive and thrive in a world with ChatGPT! NEW: Use the ChatGPT NO PREP Debate Lesson to get students excited about Social-Emotional Learning and 6Cs life skills! ChatGPT is the ultimate LEARNING tool and CHEATING tool. And it's just the beginning! In May 2023, Google i

Price $71.75

Original Price $143.50

Save $71.75

This bundle includes every resource in my TPT store. ⭐ GET EVERYTHING so you don't have to worry about missing out! If you agree with this video at 2:09and you agree with my ideas about EFFORT at 15:52then you will love my stuff⭐ 38 teachers have INVESTED in this bundle so far! As I add resources,

Price $164.25

Original Price $328.50

Save $164.25
Description
8 LESSONS to build SOCIAL-EMOTIONAL LEARNING skills and IMPROVE GROUP WORK!
Collaboration and Teamwork are NOT the same things!
Your students may be working worked in groups but that doesn't mean they're working well.
Students need to recognize there are different teamwork styles (collaboration, coordination, and cooperation).
Teach fun, meaningful, and transferrable skills that students need to succeed in the 21st Century: at school, in relationships, at work, and in life!
Want to see exactly what you get before you buy this bundle?
Want to see what the handouts and lesson plans look like?
Use the life-long tool over and over again!
Perfect to reboot your class. Make it to the END OF THE SCHOOL YEAR!
Use this when students get stuck in certain roles: being aggressive, passive, or a mindless follower!
Teach important lessons if you ever need to fill a period.
Use this right before you start a group project to get more out of your students.
Use it again during the start of a new unit, semester, or year to set the tone.
Leave detailed lesson plans for a substitute teacher to use.
⭐ The best time to plant a tree was 25 years ago. The second best time is now.
Save HOURS of PREP.
Includes examples of collaboration to help your students see the difference between just co-operating, or coordinating others, and real collaboration.
The teamwork styles handout is DIFFERENTIATED for different abilities in your class.
⭐⭐⭐⭐⭐ TEACHER FEEDBACK ⭐⭐⭐⭐⭐
"Thorough and a great resource for coming back in person where students are not familiar with working together yet. Thank you!"
(⭐⭐⭐⭐⭐ Extremely satisfied - Mary S)
"Very helpful in getting students to know and understand expectations of learning while being remote."
(⭐⭐⭐⭐⭐ Extremely satisfied - Jennifer D)
"Fantastic! I use this with my eighth grade and they cant get enough of the interaction!"
(⭐⭐⭐⭐⭐ Extremely satisfied - Cara C)
Collaboration is about working together to produce or create something. Teamwork is a bigger umbrella term that includes 3 different styles: collaboration, cooperation, and coordination. 
Teamwork could be
1. COLLABORATION
A group of students is working on an assignment.
They're all contributing to the discussion as equals.
Finally, they have a collective aha moment and figure out something they didn't realize before.
2. CO-OPERATION
A group of students is working on homework questions together.
They're sharing information with each other.
But, they each are working on their own separate goals (get their work done.) 
3. CO-ORDINATION
A group of students is working on questions
The kids who are stronger tell the kids who are struggling what to do or write down on the assignment page. 
Someone takes on more of a leadership role and tells others what to do.
Build a growth mindset in your students. Teach them strategies to get better at collaborating. 
✅ The NO PREP slideshow lesson teaches the concepts.
✅ You can EDIT THE FILES to fit your classroom needs.
✅ The slideshow lesson is comprehensive and teaches the concepts:
DISTANCE LEARNING, BLENDED LEARNING or 1:1 LEARNING in Google Classroom
IN-PERSON LEARNING in your real classroom
..... ⭐ THU May 11, 2023 - Oops, you just missed a sale!
Should ChatGPT be allowed in schools? (or is this cheating?)
ARE YOU (or your students) BURNING OUT?
What do your students struggle with the most?
(PS - These are lifelong resources that you can use year after year.)
✅ Option 1: Trying (when they've given up)
✅ Option 2: Standing up for others (when things aren't fair)
✅ Option 3: Working in groups (not the same as teamwork)
✅ Option 4: Getting their point across (when upset and things matter)
✅ Option 5: Coming up with ideas (instead of copying others)
✅ Option 6: Thinking logically (and making informed decisions)
✅ Option 7: ALL OF THE ABOVE 
My name is Michael Fuchigami. I'm the teacher behind Educircles. 
I taught English Language Arts for 13+ years in middle school.
I want to help you SAVE HOURS of PREP because bathroom breaks are important!
⭐⭐⭐ Teachers around the world have DOWNLOADED 87,506 Educircles resources in over 42 countries!
THANK YOU to everyone who has purchased an Educircles product.
I donate 10% of everything I earn to STUDENT MENTAL HEALTH organizations. It's a promise I made to get through some dark times.
✅ SAVE HOURS OF PREP (and money) with a bundle!
⭐ This is the TED talk that I will give one day. If you like this, then you will love my resources.



You can also read more about Collaboration Skills Lesson Plans on our website.

SINGLE PDF update - v2022-07-19
The individual products in this bundle now have a Single PDF to print (with a File Table of Contents and all handouts)
I added a digital learning version (Easel by TpT)
I added Microsoft versions for all files
NO CHANGES to teaching content in sections A, B, or C.
Updated teaching content in section D. (Updated the Handout - Student Self-Evaluation)
Other changes
Files are now packaged by section (A. Word Jumble, B. Teamwork Styles, C/D Video + Consolidation) instead of splitting Google Drive folders by use (i.e. Print and Teach, Edit the documents, Google Classroom)
Simplified file names using descriptive words (handout, slideshow).
Minor changes to formatting / layout
Combined all handouts into a single PDF to print (for individual products)
Removed Google Slides versions of handouts (and replaced with Easel by TpT)
If you have any questions, please ask in the Question section or email me at Mike@educircles.org
Total Pages
117 slides, 35 pages of handouts, 49 pages of lesson plans
Report this resource to TPT
Standards
to see state-specific standards (only available in the US).
Determine a central idea of a text and how it is conveyed through particular details; provide a summary of the text distinct from personal opinions or judgments.
Determine two or more central ideas in a text and analyze their development over the course of the text; provide an objective summary of the text.
Determine a central idea of a text and analyze its development over the course of the text, including its relationship to supporting ideas; provide an objective summary of the text.
Determine a central idea of a text and analyze its development over the course of the text, including how it emerges and is shaped and refined by specific details; provide an objective summary of the text.
Write informative/explanatory texts to examine a topic and convey ideas, concepts, and information through the selection, organization, and analysis of relevant content.