Growth Mindset BUNDLE Activities Anchor Chart Sticky Notes Printables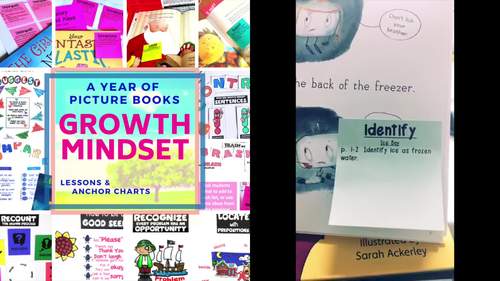 ;
Description
Infuse growth mindset and higher order thinking (H.O.T.) vocabulary with read aloud activities every month, and here's the ultimate bundle that provides everything you need! Anchor chart printables make meaningful bulletin boards promoting growth mindset.
Each month, you will get the plans for a picture book, printables for sticky notes to do an interactive read aloud, and an anchor chart activity with teacher notes and printables to cut and paste to your own chart paper--for those of us who don't have the time to design our own cute lettering and pictures.
BUY NOW AND SAVE! As this bundle grows, the price increases.
The picture books featured are not included. See book covers here.
Easy and educational: reading, growth mindset themes lending themselves to character education, with the most critical vocabulary found in 85% of standardized tests! Your principal and literacy coach will be super impressed!
Monthly bundles will be added. August and June will have 1 featured picture book, and all other months will have 2 featured picture books.
Vocabulary word featured will be listed after each picture book title below.
-----------------------------------------------------------------------------------------
June
What Do You Do With A Chance? | suggest
August
The Girl Who Never Made Mistakes | distinguish
September
Your Fantastic Elastic Brain | contrast
Bubble Gum Brain (CCSS L1.1j) | connections
October
What Do You Do With A Problem? | recognize
Little i | compare
November
The Bad Seed | explain
The Most Magnificent Thing | recount
December
Santa's Underwear | locate (prepositions)
The Nutcracker in Harlem | demonstrate (action verbs)
January
After the Fall | draw (conclusions oviparous animals)
Where Oliver Fits | category (shapes/colors)
February
Be A King | support (anti-bullying, stand up for what is right)
Not Yet | describe (how I can practice to get ready to do grown-up things, learn responsibility)
March
Ice Boy | identify (water cycle, states of matter)
April-May forthcoming!
This resource is part of a series of other critical vocabulary resources:
Related Products
⭐ Academic Critical Vocabulary Readers/Books Tier 2
⭐ Academic Critical Vocabulary Sticky Note Reminders GROWING!
⭐ Academic Tier 2 Vocabulary Anchor Charts Sentence Frames FARMHOUSE shiplap
⭐ Academic Vocabulary Goldilocks and the Three Bears Bundle
⭐ Vocabulary Bundle Sampler FREE WEEK
⭐ Ultimate Vocabulary Bundle Year-Long
If you like this product, please direct your other grade-level teacher friends to my TPT store for other downloads geared toward oral vocabulary at First Grade Frame of Mind.
~~~~~~~~~~Purchase + Fair Feedback/Comments = TpT Credits!~~~~~~~~~~
You get one TpT Credit for every $ you spend on TpT, for both a fair rating and a fair comment on the items that you purchase.
Every 100 Credits is worth $5 that you can apply towards future TpT purchases!
~~~~~~~~~~~~~~~~~~~~~~~~~~~~~~~~~~~~~~~~~~~~~~~~~~~~
Report this resource to TPT
Standards
to see state-specific standards (only available in the US).
With prompting and support, ask and answer questions about key details in a text.
With prompting and support, identify characters, settings, and major events in a story.
With prompting and support, describe the relationship between illustrations and the story in which they appear (e.g., what moment in a story an illustration depicts).
Ask and answer questions about key details in a text.
Describe characters, settings, and major events in a story, using key details.