Growth Mindset Lessons & Activities - Social Emotional & Character Education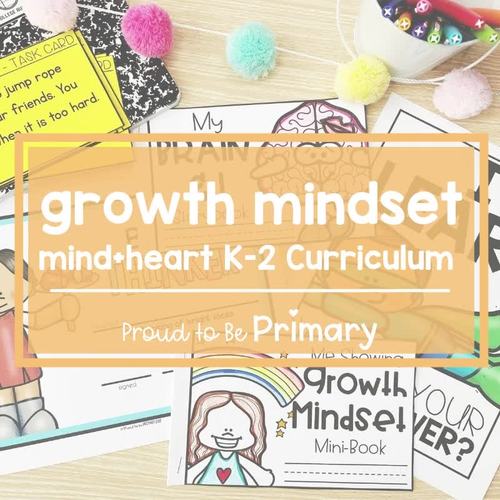 ;
Also included in
The mind + heart Social Emotional Learning Curriculum includes 8 units (40+ detailed, character education LESSONS) filled with hands-on and mindful activities that encourage children in Kindergarten, first grade, and second grade to build important social skills and emotional awareness.Teach childre

Price $69.00

Original Price $118.00

Save $49.00

Help kids in Kindergarten, first grade, and second grade develop a growth mindset, perseverance, and grit with this Social Emotional Learning (SEL) and character education DIGITAL & PRINTABLE  curriculum. Teach children about their elastic brain, a fixed mindset versus growth mindset, learning f

Price $17.00

Original Price $25.00

Save $8.00

This mind + heart Social Emotional Learning Curriculum for K-2 includes the PRINTABLE VERSIONS & DIGITAL VERSIONS of all 8 units. Each unit consists of 5+ detailed, character education LESSONS filled with printable and digital, interactive activities that encourage children to express themselves

Price $99.00

Original Price $198.00

Save $99.00

The mind + heart Social Emotional Learning Curriculum BUNDLE includes 8 units for K-2 and 8 units for 3-5 (That's 80+ detailed character education LESSONS) filled with hands-on and mindful activities that encourage children in Kindergarten, first, second, third, fourth, and fifth grade to build impo

Price $118.00

Original Price $236.00

Save $118.00
Description
Help kids in Kindergarten, first grade, and second grade develop a growth mindset, perseverance, and grit with this Social Emotional Learning (SEL) and character education curriculum. Teach children about their elastic brain, a fixed mindset versus growth mindset, learning from mistakes, failures, challenges, and the power of YET using 5 detailed social skills lessons filled with classroom tools (bulletin board, quote posters and coloring pages) and engaging activities to use for classroom lessons, guidance, or counseling.
♥♥The mind+heart Social Emotional Learning Curriculum for K-2 is available for a SPECIAL LOW PRICE DISCOUNT. Get your entire year's worth of lessons (40+ included) and activities to help young children to develop emotional literacy, self-control, and social competence TODAY! ♥♥
Through a variety of thought-provoking lessons, discussions, community building ideas, and tons of engaging activities…
Children will learn about their elastic brain and how their brain changes.
Children will learn that mistakes and challenges help them learn and grow.
Children will learn the differences between a fixed and growth mindset.
Children will learn the power of YET and perseverance.
What does this unit cover?
The Elastic Brain. Lesson 1 teaches children about the brain and its capabilities. They will understand what the brain does, that it can change and stretch, and it can get stronger by learning new things.
Fixed vs. Growth Mindset. Lesson 2 teaches children to understand what a fixed and growth mindset are, and to identify examples of each. Children are encouraged to build a growth mindset through discussions and activities.
Mistakes, Failures, & Challenges. Lesson 3 teaches children to identify and describe how mistakes, failures, and challenges are positive and help them learn new things.
Effort & Perseverance. Lesson 4 teaches children to understand what growth and perseverance are and the power of YET. They will learn different strategies that can help them persevere when things are difficult.
Having a Growth Mindset Everyday!. Lesson 5 teaches children to understand and show determination and confidence in order to stretch their brain, show a growth mindset, and learn difficult, new things.
Activities included in the Growth Mindset unit:
Discussion Starters cards
Anchor Chart pieces
Mantra posters & coloring sheets
Act out scenarios on task cards
Boardgame
"I Can" strategy posters
Tons of literature connections & writing activities
Mini-Books
Reflection Journal
Grow Your Brain crown
Goal sheet
Student awards
& more!
PLUS A BRAND NEW BONUS: Family Partnership Guide
Connect with and encourage families to take part in the social-emotional learning development of their child and the concepts you are teaching at school. Each unit includes a printable guide with a letter to families, strategies and activities they can try at home, and a book guide with video links.
WHY this is the ONE Social-Emotional Learning resource you need to teach kids about having a growth mindset!
Each lesson and follow-up activities can extend to cover your SEL time for a month! This is a flexible SEL curriculum that can be taught when teachers have time, while the recommendation is to teach a lesson once a week and extend it throughout the week with the follow-up activities.
You will have what you need to facilitate meaningful discussions and impactful activities that build important social and emotional skills and grow your classroom community.
You will save time as the planning is done for you.
Since this is research-based and follows the CASEL framework for SEL, you know that you are covering the most important lessons kids need!
It provides a TON of variety and includes activities that will engage students and help them build important emotional awareness skills.
The lessons and activities work great for morning classroom meetings or end of the day lessons, for school counselors, classroom teachers, and in a homeschool setting.
♥♥Teach the printable version of this unit with the digital version of the Growth Mindset unit. Buy them together in THIS $$ saving bundle! ♥♥
Try the SEL program that is needed in ALL classrooms!
mind+heart Social Emotional Learning curriculum for K-2
mind+heart Social Emotional Learning curriculum for 3-5
Need digital and printable SEL lessons and activities?
♥♥The DIGITAL & PRINTABLE Social Emotional Learning Curriculum COMBO BUNDLE for K-2 is available NOW at a HUGE discount (45% OFF buying the units separately)! Use both bundles together (DIGITAL & PRINTABLE) to offer a well-rounded SEL program in your classroom! ♥♥
Check out the other SEL units for K-2:
Self-Regulation & Self-Control
Responsibility, Goal Setting, & Conflict Resolution
Check out the *DIGITAL* SEL units for K-2:
Self-Regulation & Self-Control
Responsibility, Goal Setting, & Conflict Resolution
Related Products
Kindness Classroom Challenge Pack with Calendars
Stay connected with Proud to be Primary
Questions, suggestions, and feedback are always welcome.
Just use the "Product Q&A" tab and I will get back to you as fast as I can!
Please ask all questions before purchasing or email me at elyse@proudtobeprimary.com.
Terms of Use: This product is licensed for personal classroom use ONLY unless multiple licenses are purchased. Your purchase grants you a license to use in a secure, password-protected online platform (such as Google Classroom) with your students only. You may not transfer or share with another teacher or use it for commercial purposes (Outschool, etc.).
©2013 to Present - Proud to be Primary - Elyse Rycroft
Teaching Duration
2 months
Report this resource to TPT