Growth Mindset Life / Learning Skills for 2023: Class Challenge! (6Cs)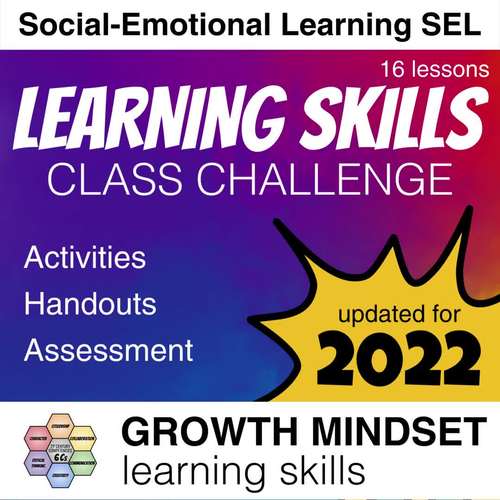 ;
6

th

- 10

th
,
Homeschool
,
Staff
147 slides, 64 pages of handouts, 95 pages of lesson plans
Includes Google Apps™
This bundle contains one or more resources with Google apps (e.g. docs, slides, etc.).
Easel Activities Included
Some resources in this bundle include ready-to-use interactive activities that students can complete on any device. 
Easel by TPT is free to use!
Learn more
.
Products in this Bundle (3)
Bonus
6Cs Challenge Task START HERE (links to all of the files)
Also included in
90 LESSONS to help students survive and thrive in a world with ChatGPT! NEW: Use the ChatGPT NO PREP Debate Lesson to get students excited about Social-Emotional Learning and 6Cs life skills! ChatGPT is the ultimate LEARNING tool and CHEATING tool. And it's just the beginning! In May 2023, Google i

Price $71.75

Original Price $143.50

Save $71.75

This bundle includes every resource in my TPT store. ⭐ GET EVERYTHING so you don't have to worry about missing out! If you agree with this video at 2:09and you agree with my ideas about EFFORT at 15:52then you will love my stuff⭐ 38 teachers have INVESTED in this bundle so far! As I add resources,

Price $164.25

Original Price $328.50

Save $164.25
Description
CHALLENGE your class to
USE Social Emotional Learning / Life Skills
WHILE LEARNING ABOUT Social Emotional Learning / Life Skills
(6Cs / growth mindset life skills.)
16 lessons to INTRODUCE 21st Century Learning Skills that students can use throughout the school year (and their lives.)
Handouts explain the 6 Cs Learning Skills: Character, Citizenship, Collaboration, Communication, Creativity / Innovation, and Critical Thinking.

Want to see exactly what you get before you buy this bundle?
Look at the BUNDLE PREVIEW PDF.
(It is a watermarked version of the entire PDF resource. TpT will call this "BONUS" PDF when you download the zip file for this bundle.)
Want to see what the handouts and lesson plans look like?
Note: you need all 3 sections as they build on each other.
IMPORTANT: Answer Key not provided
Student answers will vary based on class discussions.
The point of the Challenge Task is to have classes collaborate and generate new ideas based on their evolving understanding of 21st Century Skills / Competencies / Learning Skills
Use this life-long tool over and over again!
REBOOT YOUR CLASS. Make it to the END OF THE SCHOOL YEAR!
Use this at the start of a unit, semester, or school year to build valuable learning skills with your class.
Have students work in groups and co-create learning expectations.
This group challenge can be used at any time to reboot your classroom community.
Leave detailed lesson plans for a substitute teacher to use.
⭐ The best time to plant a tree was 25 years ago. The second best time is now.
2020 reminded us that CHANGE IS HARD.
2021 and 2022 showed us that the only constant thing in life... is CHANGE
2023 continues to be UNPREDICTABLE!
Look at how a global pandemic or Russia's invasion of Ukraine can change the world.
You can't Google everything. Chat GPT is changing the way we work!
Sometimes, bad things happen to good people.
It doesn't matter what you teach:
critical and creative thinking
Any subject-based specialty class
Social-Emotional Learning
Encourage Social-Emotional Learning and a GROWTH MINDSET by exploring transferable skills that students can apply
in an ever-changing world.
⭐⭐⭐⭐⭐ TEACHER FEEDBACK ⭐⭐⭐⭐⭐
"This has been great to use with my 6th grade advisory. Thanks!"
(⭐⭐⭐⭐⭐ Extremely satisfied - Rachel W, February 11, 2021)
..... ⭐ THU May 11, 2023 - Oops, you just missed a sale!
Should ChatGPT be allowed in schools? (or is this cheating?)
ARE YOU (or your students) BURNING OUT?
What do your students struggle with the most?
(PS - These are lifelong resources that you can use year after year.)
✅ Option 1: Trying (when they've given up)
✅ Option 2: Standing up for others (when things aren't fair)
✅ Option 3: Working in groups (not the same as teamwork)
✅ Option 4: Getting their point across (when upset and things matter)
✅ Option 5: Coming up with ideas (instead of copying others)
✅ Option 6: Thinking logically (and making informed decisions)
✅ Option 7: ALL OF THE ABOVE 
My name is Michael Fuchigami. I'm the teacher behind Educircles. 
I taught English Language Arts for 13+ years in middle school.
I want to help you SAVE HOURS of PREP because bathroom breaks are important!
⭐⭐⭐ Teachers around the world have DOWNLOADED 87,506 Educircles resources in over 42 countries!
THANK YOU to everyone who has purchased an Educircles product.
I donate 10% of everything I earn to STUDENT MENTAL HEALTH organizations. It's a promise I made to get through some dark times.
✅ SAVE HOURS OF PREP (and money) with a bundle!
⭐ This is the TED talk that I will give one day. If you like this, then you will love my resources.

Read more about How to teach 21st Century Skills to students on the Educircles website.
SINGLE PDF update - v2022-08-03
This product has been simplified into a Single PDF to print.
The PDF has all of the handouts, and a "FILE Table of Contents" with one-click links to get individual files.
Files are now packaged by section
A. What are the 6 Cs
B. Co-creating criteria for learning skills
C. Compare and contrast learning skills
instead of splitting Google Drive folders by use
Folder 1 Print and Teach
Folder 2 Edit the documents
Folder 3 Google Classroom
Folder 4 Google Classroom
I added a digital learning version (Easel by TpT) 
I added Microsoft versions for all files
For a complete list of changes, please see the changelog at the end of the Single PDF.
If you have any questions, please ask in the Question section or email me at Mike@educircles.org
Total Pages
147 slides, 64 pages of handouts, 95 pages of lesson plans
Teaching Duration
3 Weeks
Report this resource to TPT
Standards
to see state-specific standards (only available in the US).
Determine a central idea of a text and how it is conveyed through particular details; provide a summary of the text distinct from personal opinions or judgments.
Analyze in detail how a key individual, event, or idea is introduced, illustrated, and elaborated in a text (e.g., through examples or anecdotes).
Determine the meaning of words and phrases as they are used in a text, including figurative, connotative, and technical meanings.
Determine two or more central ideas in a text and analyze their development over the course of the text; provide an objective summary of the text.
Analyze the interactions between individuals, events, and ideas in a text (e.g., how ideas influence individuals or events, or how individuals influence ideas or events).