Guided Phonics + Beyond UNIT 2 CVC WORDS: SCIENCE OF READING BASED CURRICULUM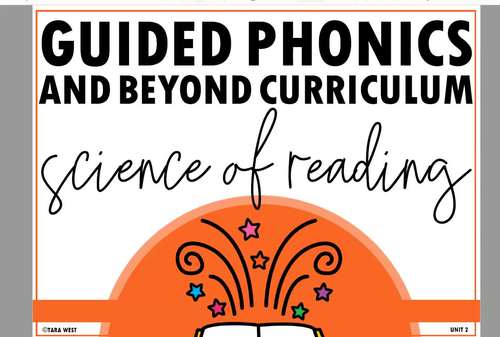 ;
What educators are saying
Awesome resource for my Jr. K class. So much material and alined with SOR. Love Tara West's stuff. Easy to use.
I loved using this resource with my students last year. I did not get to purchase it until April but I did use it with my students who were struggling with learning their letters and sounds.
Description
* * * SAVE BIG, BIG, BIG WITH THE GUIDED PHONICS + BEYOND CURRICLUM BUNDLE! THIS BUNDLE IS ON SALE! * * *
* * * Questions? Click HERE to Instant Message me! * * *

* * * VIEW A DETAILED OVERVIEW VIDEO OF UNIT 2 HERE * * *
* * * VIEW A DETAILED BLOG POST OF UNIT 2 HERE * * *

> > > NEW DIGITAL UPDATE! ALL DECODABLE BOOKS ARE NOW PRE-LOADED TO SEESAW AND GOOGLE SLIDES FOR A DIGITAL VERSION!

What is the Guided Phonics + Beyond Curriculum?



The Guided Phonics + Beyond Curriculum was written with special detail to every lesson and every included component. This curriculum was designed to include the best practices for the Science of Reading. The unit was heavily researched and vetted by a team of educators.

The Guided Phonics + Beyond Curriculum is designed to include all needed material to lead your whole-group phonics block and your small-group learning block. Each lesson plan has designated components and routines for both whole-group learning and small-group learning. The program includes a scope and sequence. This scope and sequence can be applied to any time frame. You can teach a new lesson every day, a new lesson every two days, and so on. Adjust the units to fit your students at that moment in time.

In Unit 2: , students will progress through the alphabet a second time. Students will learn letters the second time through in an order that lends itself to building and reading words right away. Let's get started on this journey!

This units includes 25 lessons (each lesson includes material for 2 days so this unit can last 25-50 academic days). The letter sound are reviewed and students begin to build, write, and read CVC words. The scope and sequence spirals so students are only exposed to sounds and high frequency words that they have been introduced to.

Lesson 1: a (/ă/), m (/m/), s (/s/)
Lesson 2: t (/t/)
Lesson 3: p (/p/)
Lesson 4: f (/f/)
Lesson 5: d (/d/)
Lesson 6: i (/ĭ/)
Lesson 7: n (/n/)
Lesson 8: o (/ŏ/)
Lesson 9: c (/k/)
Lesson 10: k (/k/)
Lesson 11: u (/ŭ/)
Lesson 12: ck (/k/)
Lesson 13: b (/b/)
Lesson 14: g (/g/)
Lesson 15: e (/ĕ/)
Lesson 16: h (/h/)
Lesson 17: s (/z/)
Lesson 18: r (/r/)
Lesson 19: l (/l/)
Lesson 20: w (/w/)
Lesson 21: j (/j/)
Lesson 22: y (/y/)
Lesson 23: x (/ks/)
Lesson 24: qu (/kw/), v (/v/)
Lesson 25: z (/z/)

UNIT 2 CVC WORDS: BULLET POINT COMPONENTS
detailed scope and sequence (editable)
50 lesson plans ( 2 lessons per skills - editable)
26 sound cards
high frequency cards (2 versions)
25 decodable review drill sheets
map it mats template
dictation mats template
25 decodable text drill sheets
25 decodable all-in-one decodable sheets
25 decodable readers
PRE-LOADED DIGITAL DECODABLES - SEESAW + GOOGLE SLIDES
25 home connection sheets
25 printable practice sheets
25 nonsense word drill sheets
sound blending strips
25 word chain mats (2 versions)
25 word chain letter tile sets
25 lesson word/picture match-up cart sets
25 vocabulary practice sheets
rime cards
vowel stick cards
word building letter cards (multiple sizes)

*** MULTIPLE VERSIONS OF THE DECODABLES INCLUDED: Standard 2-sided fold books, 1-sided cut & staple books, MINI one page readers, ONE PAGE READERS, and digital readers (Seesaw & Google) ***
Phonemic Awareness: Each lesson contains built-in phonemic awareness oral routines. The routines are set up as an I do, we do, you do. They are found in the whole-group and small-group learning.
Sound Card Drill: Each lesson contains a corresponding sound introduction. The sound card contains the sound icon and the matching letter. Varying styles and sizes are included.
High Frequency Words: Each lesson contains decodable and/or irregular high frequency words. Students will map the high frequency words. Flashcards are including for high frequency word fluency drills.
Focus Skill Decodable Mat: Each lesson contains a decodable all-in-one review mat. This mat will cover only previously taught sound words.
Blending Drills: Each lesson has built-in opportunities for students to practice blending words. Included letter cards and blending strips are used to practice and master the skill.
Word Mapping: Each lesson contains word mapping routines for decodable/irregular high frequency words and skill-based words. Students will map and write each word.
Dictation Practice: Dictation practice is embedded into the lesson. Students will listen and write the letter sounds, skill-based words, and skill-based sentences.
Decodable Pre-Reading: Decodable pre-reading practice is embedded into the lesson using the all-in-one mat. Students will review letter sounds, high frequency words, and skill-based words.
Decodable Reader: Decoding and reading fluency is embedded into the lesson using the printable decodable book. Option: Use the All-in-One Decodable Text Sheets in place of the decodable books.
Home Connection: Each lesson contains a home connection sheet. This sheet can be sent home with students to review skills from within the lesson. Home Connections also contain the typed texts.
Nonsense Word Drills: Nonsense word drills are embedded into the lesson. Students will be introduced to a nonsense word and follow-up with the nonsense word drill mat.
Rime Hunts: Rime drills are embedded into the lessons. Students will be introduced to a new rime and/or review previous rimes. Wall display cards will be printed and displayed.
Vocabulary Practice: Each lesson contains a vocabulary practice sheet. The students will review a vocabulary word from the day's lesson.
Word Chains: The lessons contain word chain mats and letter tiles. Students will follow your oral cues to build and manipulate sounds in words.
Word Match-Up Cards: The lessons contain word match-up cards for additional blending and fluency practice.
Vowel Sticks: The unit vowel sticks are used for identifying the matching vowel sound in oral vowel fluency drills.
Handwriting Mats: The unit contains a variety of styles and sizes for handwriting mats. The mats can be laminated or placed into a dry-erase pouch.
Alphabet Charts: The unit contains a variety of sizes and styles for alphabet charts. The charts can be used whole-group, small-group, or for independent work.
Pre and Post Assessment: The unit contains an assessment tracker. This tracker is used for pre and post assessing of the unit.
Handwriting Practice: The unit contains writing handwriting practice sheets. The practice sheets follow the unit's scope and sequence of letters.

Questions?
Please email me at littlemindsatworkllc@gmail.com
Would you like to receive notifications for my newly released packets and upcoming sale? Be sure to FOLLOW ME here on TPT!
**Join my private Facebook Group to join fellow Pre-K, Kindergarten, First Grade and Second Grade teachers that use my curriculum! Collaborate, chat and share ideas with like-minded teachers! Join the private Facebook group H E R E!
Visit my blog Little Minds at Work
Follow me on Facebook

science of reading, SOR, guided phonics, kindergarten science of reading, first grade science of reading, second grade science of reading, Tara West science of reading

Teaching Duration
2 months
Report this resource to TPT