Guitar Worksheets and Lessons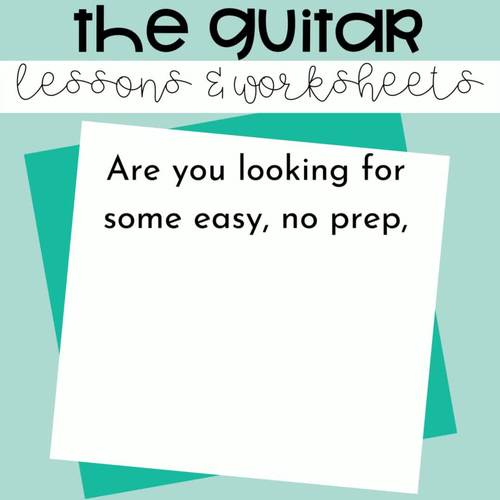 ;
Also included in
This Music Mega Bundle 1 includes all the resources you will need to teach Middle School and General Music for a whole year! Everything you need is included to keep your students learning with fun lessons, activities and games.Click here to stay up to date with latest product releasesIncluded in th

Price $60.00

Original Price $105.50

Save $45.50

This Music Worksheets and Lessons Mega Bundle 2 includes all the resources you will need to teach Middle School and General Music for a whole year! Everything you need is included to keep your students learning with fun lessons, activities and games.Click here to stay up to date with latest product

Price $68.76

Original Price $111.00

Save $42.24

This Guitar Music Worksheets and Lessons Mini Bundle is the perfect collection of products to save you time and money. These resources are designed for the Middle School and General Music classroom.Click here to stay up to date with latest product releasesIncluded in the Guitar Music Worksheets and

Price $10.80

Original Price $19.50

Save $8.70

The Rock Music Worksheets & Lessons Mega Bundle is perfect for the Middle School and General Music classroom. These lessons, worksheets, assignments, projects, music classroom decor kits and listening activities are the culmination of a few years' hard work and effort in creating resources that

Price $96.00

Original Price $159.50

Save $63.50

Your music students will love learning to play the 12 Bar Blues Chord Progression on the guitar with this Bundle of low prep resources. Everything you need to teach the 12 Bar Blues Chord sequence in FIVE different keys on the guitar is included for your middle school and general music classroom.Th

Price $22.00

Original Price $39.50

Save $17.50

This Beginner Guitar Lessons Bundle is a great teaching resource for introducing the guitar in the music classroom. The bundle includes music teaching resources such as worksheets and activities, a guitar bulletin board display, guitar chord charts, and includes the 12 Bar Blues Play-a-long Bundle.

Price $26.00

Original Price $44.50

Save $18.50
Description
This collection of Guitar Lessons and Worksheets has been created with the Middle School and General Music student in mind. It is a music classroom resource with a focus on learning about the history of the guitar, types of guitars and an introduction on how to play the guitar. Use it as a stand-alone unit or as independent lessons on the guitar.
Click here to stay up to date with latest product releases
Included in the Guitar Lessons and Worksheets:
TWO versions of the Guitar and Lessons and Worksheets– one printable and one classroom/display
History of the Guitar worksheet
Types of Guitars worksheet
Parts of the Guitar worksheet
Reading TAB Music
Reading Guitar Chord Windows worksheet
Music Spelling words and vocabulary activities
Literacy and Reading Strategies
Suggested classroom guitar performance pieces with links
BONUS 14 Large Guitar Chord Charts
BONUS 3 guitar coloring in pages
This Guitar Lessons and Worksheets unit is a great way to introduce your students to understanding and appreciating where the guitar has its origins. Your students will have fun learning to play the guitar with the suggested performance pieces.
Suggested uses for the Guitar Lessons and Worksheets resource include:
as a stand alone unit
as an introduction to learning how to play the guitar
as a part of a larger learning how to play series of lessons
many of the lessons can be used by non-music substitutes
Happy Teaching
Julia from Jooya
_________________________________________________________________
Save money by purchasing any of the $$$ saving bundles
Guitar Music Worksheets & Lessons Mini Bundle
Music Worksheets & Lessons MEGA Bundle 1
Music Worksheets & Lessons Mega Bundle 2
Rock Music Worksheets & Lessons Mega Bundle
_________________________________________________________________
Get value for money with TPT credits
After logging in, go to your My Purchases page. Beneath the title of each of your purchases you'll see a "Provide Feedback" link. Simply click on the link and you will be taken to a page where you can give a rating and leave a short comment on how much you love the product. Each time you give feedback, TPT gives you 5 feedback credits, 20 credits equals $1 off your purchase!
Become a follower by clicking the "Follow Me" green star near the Store Logo, this will let you know about any sales I am throwing, new products and freebies!
Teaching Duration
1 month
Report this resource to TPT