Halloween Activities Ghost Craft & Spooky Writing Prompts Halloween Party Fun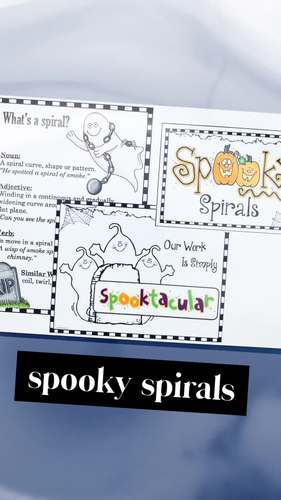 ;
Description
"Spooky Spirals" is a quick, easy, & super-fun little craft that's perfect for Halloween week or Halloween party day.
This (print & go) craft can be done as is, or add a writing extension, by having students write on the spiral before they cut it out.
There are also some "spooky" writing prompts, complete with several options of cool paper to jot down final drafts on. (These patterns come in black & white for students, as well as full color, so that teachers can quickly & easily make examples to share.)
So that you can easily diversify the activity, there are an assortment of ghost patterns to choose from; which include templates with & without faces, various sizes of spirals & ghosts, as well as patterns for the kiddos in your class.
* A poster, to introduce this term & the activity; and…
* Since completed projects look awesome suspended from the ceiling, I've also included 2 additional posters to enhance your display.
* As an additional time saver for you, I've included my writing prompt examples.
I've put this at a 1st-4th grade level, but I have done the easier spiral pattern with my kindergartners, and have friends who have done this activity with their 5th graders as well.
I'm Diane from Teach With Me, wishing you a fun-filled Halloween.
Click here to see more Halloween activities.
Come join the fun on Facebook for my exclusive FREEBIES & Monthly Giveaways.
Check out my educational Pinterest boards.
Don't forget that all of my new products are 40% off for 48 hours.
Click this LINK to follow my shop & you'll be notified of these huge savings.
Report this resource to TPT