Halloween Activities - Middle School ELA - A Ghost Story by Mark Twain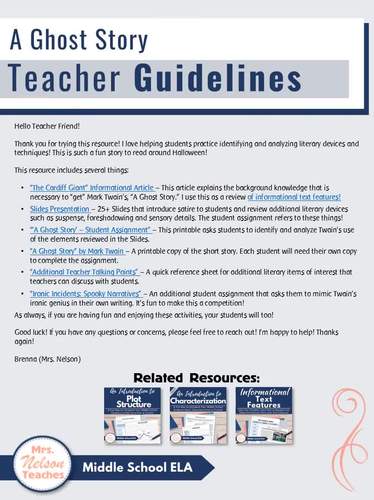 ;
Also included in
Engage your middle school Language Arts classes with these spooky short stories! Students will learn about suspense, foreshadowing, characterization, satire and more with these fun Halloween lessons! Short stories include "A Ghost Story" by Mark Twain, "The Tell-Tale Heart" by Edgar Allan Poe, and "

Price $12.00

Original Price $15.00

Save $3.00
Description
What Middle School student doesn't love a fun and scary Halloween story? Mark Twain's "A Ghost Story" is the perfect short story to engage your class along with these No-Prep activities and resources! Through Twain's masterful use of suspense and satire, students will feel frightened and will laugh during this lesson!
I love activities that capitalize on the holiday season and put students' excess energy to good use while still teaching them important ELA content! Begin this lesson with an that will teach students all about satire! The Slides will also review with students suspense and discuss two ways that authors create suspense in their writing: foreshadowing and sensory details. Tone and mood are also briefly reviewed!
An informational article is included to help build students' background knowledge regarding the famous Cardiff Giant which will help them comprehend the story. I love using this as an opportunity to review informational text features with students!
Students will then read the short story and complete an assignment helping them identify and analyze the elements reviewed in the Slides Presentation. Following the story, challenge students to write their own creepy story with an ironic ending! It's a fun and easy way to incorporate creative writing! Answer Keys and Grading Rubrics are Included!
Teacher Guidelines and Instructions
Basic Lesson Outline
Instructional Slides Presentation (25+ Slides)
"The Cardiff Giant" Informational Article (2 pages)
"A Ghost Story" Printable Short Story
"A Ghost Story: Satire & Suspense" Student Assignment
"Ironic Incidents: Spooky Narratives" Creative Writing Assignment
Additional Teacher Talking Points sheet
Grading Rubric
Answer Keys
Instructions for Accessing Slides Presentation
:
Satire
Suspense
Foreshadowing
Sensory Details
Tone
Mood
Reading Fiction
Reading Informational Texts
Plot Structure (exposition, rising action, climax, falling action, resolution)
Irony
More Spooky & Suspenseful Short Stories:
"The Tell-Tale Heart" - Edgar Allan Poe: Symbolism and Annotation Practice
The Legend of Sleepy Hollow" by Washington Irving: Worksheets & Activities
Buy the Bundle and Save 20%!!
The Witch of Blackbird Pond - Complete Novel Unit
Informational Text Feature Unit
Free Stuff!
Did you know that TpT gives you credits towards future purchases when you leave feedback? Your feedback is so important to me as I try to provide the best products possible! Please go to your "My Purchases" page (you may need to log in). Next to each purchase, you'll see a "Provide Feedback" button. Simply click on the button and it will take you to a page where you can give a quick rating and leave a short comment. Thank you so much for providing valuable feedback!
Connect with Me!
Click on the "Follow Me" button on my store page to see all my latest products and updates!
Follow me on Instagram @mrs.nelson.teaches.
Follow me on Pinterest! Brenna Nelson
Check out my NEW Blog: mrsnelsonteaches.com
Answer Key
Included with rubric
Teaching Duration
3 hours
Report this resource to TPT
Standards
to see state-specific standards (only available in the US).
Cite several pieces of textual evidence to support analysis of what the text says explicitly as well as inferences drawn from the text.
Determine a theme or central idea of a text and analyze its development over the course of the text; provide an objective summary of the text.
Analyze how particular elements of a story or drama interact (e.g., how setting shapes the characters or plot).
Analyze how an author develops and contrasts the points of view of different characters or narrators in a text.
Compare and contrast a fictional portrayal of a time, place, or character and a historical account of the same period as a means of understanding how authors of fiction use or alter history.