Halloween Bundle! Haunted House Literacy Centers | Morning Work | Motivators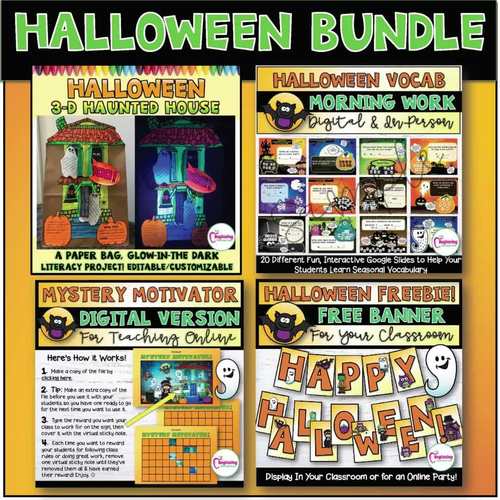 ;
Products in this Bundle (3)
Bonus
Happy Halloween Banner (for In-Person or Online Class Party)!
Also included in
⭐️⭐️⭐️ SPECIAL TIME-LIMITED PRICE! ⭐️⭐️⭐️Balancing instruction with a busy Halloween season can be tricky - especially if you're a new teacher! Grab imagination station activities, jokes of the day, Halloween literacy centers, Halloween party decorations, informational writing unit, and more in my New Tea

Price $29.99

Original Price $34.50

Save $4.51
Description
Make this Halloween spooktacular with this fun bundle!
Here's what is included in this Bundle:
3-D, Glow-in-the-Dark Haunted House Literacy Centers
Students create their very own haunted houses using a large paper bag and a hand-drawn haunted house (by yours truly), decorated with glow-in-the-dark paint, and then complete reader-response challenges at six centers to add to their creation.

Students can fill their houses with any goodies they want to take home on Halloween, add the top to their house (which is just stapled on) and voila! They now have their very own, custom haunted house that glows in the dark!

The 6 centers that come with this product are designed for 2nd grade (CCSS.RL.2.1), asking students to answer "Who, what, where, when, why, and how" questions in response to text.
However, this resource can easily be adapted for any grade and topic (I also used these centers in 4th grade for reader response to a novel study, which worked really well!)

I have included a variety of reader-response templates and blank center templates so that you can customize and adapt these centers for any grade and using any books/text selections you'd like to from K - 5.

These activities can also be adapted to be completed as whole-class activities if you prefer not to do them as centers, and can easily be used with non-Halloween books as well.
Morning Meeting Halloween Morning Work Google Slides | Vocabulary & Jokes
This resource includes:
20 Google Slides with movable letters so students can solve the riddles.
Related seasonal vocabulary page of words (and nonsense words) to support younger students or students who need more support.
20 answer key slides so students can check their work.

When you purchase this product, you will be given access to a link that will allow you to open the file in Google Slides. You'll then share that file (or individual slides in that file) with your students. If you are teaching in the classroom, you can project each slide on the board for students to print and solve in their notebook.
Halloween Mystery Motivator (Print and Digital Versions Included)
Print Version:
Get this poster printed as an Engineer print (be sure to order in the larger size (24 x 36 inches) at Staples, laminate, and then print your customized class reward in dry erase marker. I've done all of the measuring for you - this poster perfectly fits sixty 3 x3 inch sticky notes.
Now, you have a super fun way to motivate your students to earn a mystery reward for this spooky (and often WAY high energy) time of the school year!
Full instructions are included with this purchase. I can't wait to hear how the Halloween Mystery Motivator works with your students!
Digital Version:
When you purchase this product, you will be given access to a link that will allow you to open the file in Google Slides.

Simply make a copy of the file, type in the reward you want your students to work for (or let them vote for a class reward they love), and then let your students "remove" digital sticky notes until they have earned them all... and their special class reward is revealed!
No printing, no prep - just a whole lot of fun. :-)
BONUS: FREE Happy Halloween Banner for Your Classroom!
Whether you're teaching online or in the classroom this October, why not add a little special touch to your classroom by displaying an adorable "Happy Halloween!" banner?
These letters are half-page in height and make the perfect addition to any space to make it spooktacular (sorry, couldn't resist...)
Report this resource to TPT