Halloween Math Centers | Printable and Digital Halloween Math Activities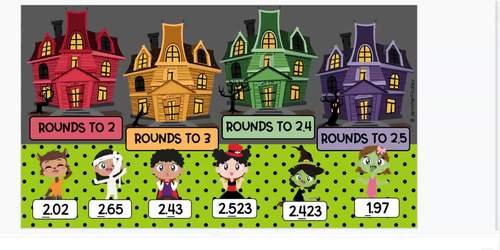 ;
PDF

Google Apps™
25+ Math Activities + Digital Activities
Includes Google Apps™
The Teacher-Author indicated this resource includes assets from Google Workspace (e.g. docs, slides, etc.).
What educators are saying
These are so much fun and very engaging! My students love them and it is a great way to practice a variety of skills.
As a former kindergarten teacher, I was looking for more hands-on, themed activities for my 5th graders and this was it! I love it and my students enjoyed them too!
Also included in
4th and 5th grade holiday and seasonal math centers and activities for the ENTIRE year!Note: The math activities and centers included in this resource are available in printable, color versions AND digital versions.About the Math Activities and CentersThis HUGE holiday math center bundle includes 18

Price $54.00

Original Price $99.50

Save $45.50
Description
Don't fight the excitement of Halloween! Embrace it with Halloween math activities and centers. This set of 25+ math activities/math centers for Halloween is sure to put your students in the Halloween spirit AND sharpen their math skills.
This resource contains 25+ Halloween math activities for 4th and 5th grade math. The Halloween math activities are now available in digital versions as well! See pages 6-18 of the PDF for the details and links.
I tried to balance the skills for the Halloween math activities so that it would work with all classrooms and students (regardless of pacing). You will find some that will be too easy and some that will be too difficult for your students. Pick and choose the ones that work with your students at this point in the year (the price reflects that you will not use all of the math activities).
Each Halloween math activity comes with a teacher notes page, student directions, recording sheets, and answer keys (if applicable).
Download the preview to see all of the printable Halloween math activities that are included in this resource.
Here are the specific Halloween math activities included:
Flipping for Whole Numbers
Flipping for Decimals
Ghostly Number Match-Up
Ghostly Decimal Match-Up
Candy Corn Sorting by Place Value (Whole Numbers)
Candy Corn Sorting by Place Value (Decimals)
Which House? Rounding Numbers
Which House? Decimals
Potion Top-It
Whole Number Review
Decimal Review
Spooky Decimals
Halloween Word Problems
Monster Café
Halloween Potions
Frightful Delights (3 Tasks and Task Cards)
Halloween Count and Solve
Potion Ingredients
Spooky Foods
Spooky Cupcake Review: 2-Digit by 1-Digit Multiplication
Spooky Cupcake Review: Drawing Arrays
Spooky Cupcake Review: Simple Division
Spooky Cupcake Review: Prime or Composite
Spooky Cupcake Review: Fraction Computation
Monster Mash: Equivalent Fractions Printable
Candy Corn Decimals Printable
Trick or Treat Patterns Printable
Witch's Brew Printable
Spooky Coordinate Grids Printable
4th Grade Math Skills:
1. Writing whole numbers (through millions) in word form, standard form, and expanded form.
2. Identifying place value through millions
3. Rounding numbers (through millions)
4. Adding and subtracting numbers
5. Equivalent fractions
6. Multiplying and dividing whole numbers word problems
7. 2-Digit by 1-digit multiplication
8. Multiplication basic facts
9. Multi-step operations
10. Division facts
11. Prime and composite numbers
12. Adding and subtracting fractions with like denominators
5th Grade Math Skills:
1. Writing decimals in word form, standard form, and expanded form.
2. Identifying place value through thousandths
3. Rounding decimals (through thousandths)
4. Comparing decimals
5. Decimal operations
6. Order of operations
7. Numerical expressions
8. Multiplying and and dividing whole numbers word problems (4th Grade Review)
9. Coordinate grids (Very Simple Practice)
10. Multiplying fractions and mixed numbers
•The digital Halloween math activities are available for use with Google Slides. Click here for a step-by-step guide for assigning Google Slides in Google Classroom.
•Each digital math activity includes a direction page with an image of the center.
•Recording sheets are not included since the students do all of the work on the slides.
*The content for the digital math activities is the SAME as the printable math activities. It has been modified for optimal digital use and engagement.
•For answer keys, please refer to the printable activities.
Hope you and your students have fun with these spooky Halloween math activities!
Halloween Reading Activities - Digital + Printable
Halloween Writing Prompts - Digital + Printable
Halloween Just Print 5th Grade Math
Halloween Just Print 4th Grade Math
Halloween Paired Passages - Digital + Printable
Halloween Differentiated Math Tasks
Thanks!
Jennifer Findley
Total Pages
25+ Math Activities + Digital Activities
Teaching Duration
1 month
Report this resource to TPT