Halloween Math Project | Halloween Math Activities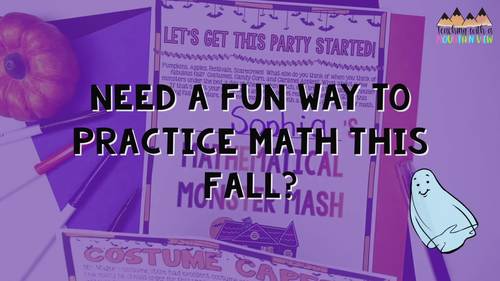 ;
Zip

Google Apps™
Includes Google Apps™
The Teacher-Author indicated this resource includes assets from Google Workspace (e.g. docs, slides, etc.).
What educators are saying
My students loved using this the day of our holiday party! It was a great transition into the holiday break so we didn't introduce new content.
This was great skills practice for my students. It was engaging and a fun change from workbook practice.
Also included in
NINE in-depth, engaging, and differentiated skill review math projects to use throughout the year! I have designed by math projects to be highly engaging, student-driven, real-world, and enriching. This bundle of nine digital and printable math projects is perfect to use during math centers, as a

Price $29.99

Original Price $40.43

Save $10.44

Are you looking for a way to celebrate HALLOWEEN in upper elementary and still meet important academic standards? Look no further! These Halloween Math and Literacy activities are perfect for 3rd, 4th, and 5th Grade classrooms. They are engaging, fun, and rigorous! They're the perfect way to add s

Price $10.99

Original Price $17.52

Save $6.53

Take engagement and rigor to the next level with these high-interest math projects for upper elementary. I have designed my math projects to be highly engaging, student-driven, real-world, and enriching. You'll have a project for every occasion all year long! This bundle of THIRTY digital and printa

Price $89.99

Original Price $126.20

Save $36.21
Description
Halloween Activities don't have to be scary! This Halloween Math Project for the Upper Grades, called The Mathematical Monster Mash, is the perfect way to spend the days leading up to (and after) Halloween in the classroom. It includes a wide variety of skills to easily differentiate your content.
Fall is in the air, and students are already buzzing with excitement! This 12-page Halloween math project will keep your kids engaged in learning, BEFORE and AFTER they have gone Trick or Treating!
NOTE: Although Halloween themes are used, the term "Halloween" is never used in the project. Many of these pages have only a fall theme (Fall Festival, Apple Picking, etc.) and can be used in the weeks leading up to Thanksgiving Break as well!
What skills are reviewed in this Halloween Math Project?
Place Value
Operations (Addition, Subtraction, Multiplication, Division)
Includes Multi-Digit Multiplication & Long Division
Perimeter & Area
Measurement & Distance Measurement
Money (Decimals)
Fractions
Problem Solving
Multi-Step Problems
Elapsed Time
Data and Graphing
Patterns (Including Number Patterns)
Factors and Multiples
Line Plots
What's included in your purchase?
Printable version of the Halloween Math Project
DIGITAL version in Google Slides
Answer Key
METRIC versions of both the printable and digital projects!
There are several pages that involve student choice, creating incredible student buy-in. Haven't covered all of the topics? Use what you need, toss what you don't!
*JUST PRINT!* Everything you need is here, and you need no additional supplies. I have also included a cover page to make this a personal project for each student.
You can use this Halloween Math Activity individually, in partners, while working in centers, etc.
Answer Keys Included
(Note: Some open-ended components do not have answer keys)
*Grades 4 and up
What are real teachers saying about this Halloween Math Project?
⭐⭐⭐⭐⭐"My students and I loved this activity. It's adorable and a great review for lots of skills themed around the Halloween holiday. It's exactly what we needed to review and get out of the textbook for a little while. Great resource!" - Stephanie D.
⭐⭐⭐⭐⭐"My students loved this project and would work hard to complete their lesson problems so that they could work on completing this project. " - Kelly H.
⭐⭐⭐⭐⭐ "This. Is. Incredible. My students are so excited for Halloween so I've been searching for ways to bring some Halloween fun into our classroom. I've been using these activity pages for morning work and my students are loving every one of them. This activity provides an excellent, broad review of a number of skills, and my students are having so much fun that it doesn't feel like "work". Great resource!" - Julie S.
****YOU CAN ALSO PURCHASE THIS MATH PROJECT IN A HUGE DISCOUNTED MATH PROJECTS BUNDLE! ****
**More Halloween Resources!**
Halloween Adding & Subtracting Decimals Word Problem Task Cards
Halloween Inference Task Cards
Fall Multi-Digit Multiplication Word Problem Task Cards
Report this resource to TPT
Standards
to see state-specific standards (only available in the US).
Recognize that in a multi-digit whole number, a digit in one place represents ten times what it represents in the place to its right. For example, recognize that 700 ÷ 70 = 10 by applying concepts of place value and division.
Read and write multi-digit whole numbers using base-ten numerals, number names, and expanded form. Compare two multi-digit numbers based on meanings of the digits in each place, using >, =, and < symbols to record the results of comparisons.
Use place value understanding to round multi-digit whole numbers to any place.
Fluently add and subtract multi-digit whole numbers using the standard algorithm.
Multiply a whole number of up to four digits by a one-digit whole number, and multiply two two-digit numbers, using strategies based on place value and the properties of operations. Illustrate and explain the calculation by using equations, rectangular arrays, and/or area models.