Halloween Movement, Freeze Dance, Bean Bag and Scarf Activities Bundle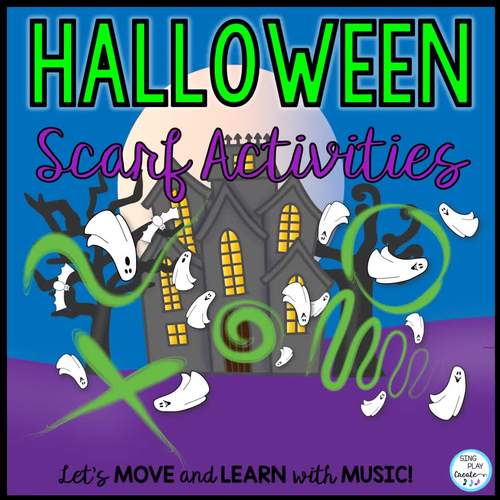 ;
Products in this Bundle (4)
Bonus
Halloween Creative Movement Bonus Activities
Also included in
VIDEO RESOURCESHooooooowl! Your students will be Howlin' for more activities from you when you share these Halloween movement, scarf, bean bag, freeze dance movement activities this year. You get the activities and Halloween Music! Not only will they have a scary time in your classes, but they'll

Price $17.32

Original Price $19.25

Save $1.93
Description
Halloween Movement, Freeze Dance, Bean Bag and Scarf Activities Bundle for elementary students including PE, Special Needs and Music classes. You'll have your students attention focused on moving and tossing, moving and waving scarves along with Halloween characters. Move and learn with music this October! Great for supporting literacy skills and making strong brain connections! Best for PreK-3rd Grade classes. You'll need your own playlist for a spooky class time.
RESOURCE INCLUDES:
Spooky Scarf Directional Presentation, Posters, Cards: Play your own music and students move their scarves like the shapes.
Freeze Dance Posters, Presentation: Play your own music. Students move according to the directions on the cards.
Halloween Bean Bag Activities: Presentation, Posters, Cards- Activities that 1 student or child can do alone.
"Spooky Moves" Movement Activity Video Freebie- students use scarves or free movement to express the music and pictures.
BONUS FILE!
Quick Games:
Spooky Moves
Hide the Pumpkin
Play the Pumpkin
Halloween Improvisation station
Station Activity
Station Cards (Use with the resource)
HALLOWEEN MUSIC AND MOVEMENT RESOURCES:
PUMPKIN PUMPKIN CHANT AND GAME
***********************
ABOUT SING PLAY CREATE LLC.
All products and works are copyrighted by Sing Play Create LLC. Buyers may get Free store credit by going to "my purchases" and click on "Provide Feedback". Ratings and helpful feedback are welcomed.
QUESTIONS? Please use the "ASK A QUESTION" section. Or email Sandra@singplaycreate.com
CONNECT WITH ME HERE
Let's Move and Learn with Music!
Sandra
Report this resource to TPT