Halloween Paired Passages - w/ Digital Halloween Paired Passages Google Slides™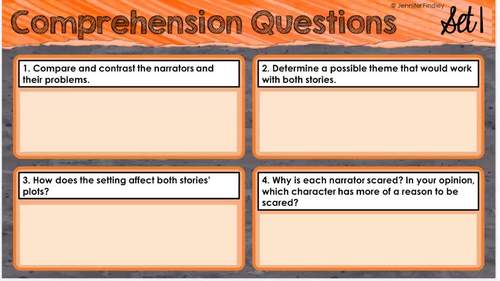 ;
PDF

Google Apps™
Includes Google Apps™
The Teacher-Author indicated this resource includes assets from Google Workspace (e.g. docs, slides, etc.).
What educators are saying
I had my sub use this resource while I was out with COVID. My sub said it was easy to follow and the students had no problems with following directions. Thank you!
I loved using this resource! The paired passages were very well written and my students really understood how to use text evidence to answer the questions! Thank you!
Also included in
Paired Passages ready to use in your classroom! This BUNDLE contains 12 sets of paired passages (24 total passages) that have a seasonal or holiday theme to keep your students interested and expose them to a variety of paired texts.Note: The paired passages and comprehension activities now include D

Price $12.00

Original Price $21.00

Save $9.00

If you are required to teach paired passages, this is a must-have resource! This MEGA bundle includes 14 of my Paired Passage Resources, for a total of 32 sets of paired passages! This resource will provide you with an entire year's worth of paired passage practice!NOTE: All of the paired passages i

Price $38.00

Original Price $61.50

Save $23.50
Description
Are paired passages a huge part of your state test? Do your students struggle engaging with and mastering paired passages? These Halloween paired passages and paired comprehension printables are just what you (and your students) need!
Note: The Halloween paired passages and comprehension activities now include DIGITAL versions for use with Google Slides. See page 4 for the details and link to access.
Click here to see the BUNDLE of all of my seasonal and holiday paired passages.
Many state assessments have started using paired passages and texts instead of single passages. This resource will provide with the necessary resources you need to tackle paired passages in your classroom in an engaging, seasonal way.
This resource includes two sets of paired passages (four passages total) with a Halloween theme.
Here is a snapshot of the passages:
Set 1: Two narrative texts with a setting of Halloween. Both texts have the same theme.
Set 2: Two informational texts with tips for staying safe on Halloween. One text focuses on costume safety and one focuses on trick or treating safety.
Each paired passage set includes the following:
4 constructed response questions that require information or knowledge from both texts.
A "Highlight Your Evidence" printable that requires the student to dig deeply into both texts to find evidence to support a conclusion.
A writing prompt that requires the students to integrate details from both texts.
The paired passages and the activities are available in THREE versions:
Traditional Worksheet Version
Interactive Notebook Version
Digital Version for Google Slides (see more details below)
The digital Halloween paired passages have been created for use with Google Slides.
The paired passages and practice pages have been redesigned in a horizontal format and with color.
The students will type their responses directly onto the slides. They will also use moveable semi-transparent yellow rectangles to highlight text evidence.
See the video preview for more details about the digital Halloween paired passages.
Want more paired passages? Click here to see all of my resources for paired passages!
Halloween Math Centers for 4th and 5th Grade
Halloween Just Print 5th Grade Math
Halloween Just Print 4th Grade Math
Halloween Differentiated Math Tasks
Want MORE paired passages? Check out these bundles and the MEGA bundle:
Seasonal Paired Passages Bundle
Teaching Duration
2 Weeks
Report this resource to TPT