Halloween STEM Challenge Activity - Bat Wings Wanted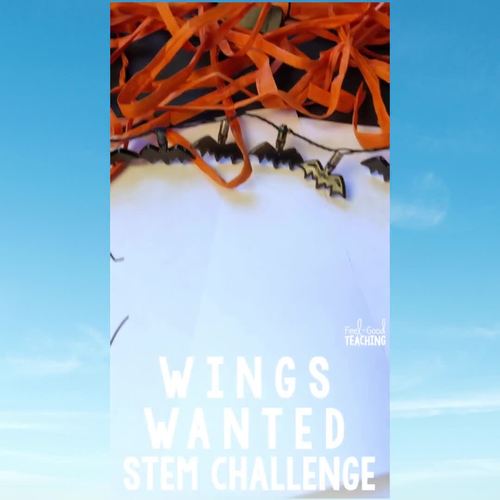 ;
What educators are saying
I used this resource with my 5, 7, and 8th grade science classes and everyone had fun with it! Will definitely be using again next year.
This is the second time I did the project. I love how you can adapt it for students with all needs and for your time period.
Also included in
Halloween STEM Challenge Activities will keep your kids engaged in brain-busting work disguised as fun!This bundle includes the following 6 Halloween STEM activities:⭐ Halloween STEM Challenge: Bone Bridge® ⭐ Halloween STEM Challenge: Creature Catcher ⭐ Halloween STEM Challenge: Ghosts in the G

Price $8.98

Original Price $17.50

Save $8.52

Super-charge your STEM class with 52 high-engagement, critical thinking, problem-solving, NGSS-aligned challenges to take you through the entire year! Modifications are included to make these activities engaging and challenging for students in grades 2 - 8. The basic premise: Students work in partne

Price $95.00

Original Price $186.36

Save $91.36

Learning about bats? Have students design bat wings in this paper airplane STEM Challenge from Bone Bridge® STEM Challenges. It's the perfect Halloween activity.Basic Premise:Students design and engineer a new set of bat wings, with the goal being to achieve maximum flight distance and/or accuracy.

Price $5.98

Original Price $7.96

Save $1.98

Two Halloween STEM activities to engage your students in the 4 C's of engineering!Halloween STEM Activity 1: STEM ImprovA quick STEM activity to work on creativity, mental flexibility & the planning step of the Engineering Design Process (EDP).Here's how it works:1. Students will randomly select

Price $5.50

Original Price $7.00

Save $1.50
Description
Halloween STEM activities keep your kids engaged & learning! Not doing Halloween activities this year? No problem! Just add this to a unit on bats, life science, or as a supplement to Stellaluna.
Basic Premise:
In this Halloween STEM Challenge, students design and engineer a new set of bat wings, with the goal being to achieve maximum flight distance and/or accuracy. You can even throw in style points, if you like! It's a paper airplane challenge with a twist!
~~~~~~~~~~~~~~~~~~~~~~~~~~~~~~~~~~~~~~~~~~~~~~~~~~~
Note: This is the printable version, but you can upload the editable student handouts directly to Google Slides if desired. However, if you are in a 1:1 / paperless classroom, you may prefer the digital option designed specifically for use with GOOGLE SLIDES (TM).
If you have questions about which version is right for you, please feel free to leave me a question using the product Q&A below.
~~~~~~~~~~~~~~~~~~~~~~~~~~~~~~~~~~~~~~~~~~~~~~~~~~~
Materials you'll need to do the activity are easily modified.
Sample/suggested materials:
For each student or group:
Bat Body copies
Scissors
Tape measure
– Optional:
~~~~~~~~~~~~~~~~~~~~~~~~~~~~~~~~~~~~~~~~~~~~~~~~~~~
Product includes:
NGSS aligned standards, Grades 2 – 8
Teacher Tips
Links to a video walk-through of the challenge & my STEM Challenge PD video series
Premise & Set-up
Materials and timing
Modifying Criteria & Constraints to adjust challenge difficulty
Measuring results
Post-design extension activities list
Student Handouts
Wingless bat body handouts (2 options provided)
Criteria & Constraints List (editable version provided)
Design Analysis Handouts (2-page regular spacing and 4-page expanded spacing for primary students included)
Discussion Questions
Extension templates
Process Flow Map
Math Extension
~~~~~~~~~~~~~~~~~~~~~~~~~~~~~~~~~~~~~~~~~~~~~~~~~~~
What are teachers saying about the Wings Wanted Halloween STEM Challenge?
"Easy to implement engineering project- great to keep kids engaged before Halloween!"
"GREAT activity! Bought this to use as a "pop-in parent" activity in a 2nd and 4th grade classroom - it worked so well I'm going to use it in my adult education classroom too! Very adaptable for differentiation!"
"I used this activity with the 1st graders at my school. They loved designing their bat and giving them all different types of wings. [They] loved when we tested the bats to see how far they would fly!"
"I, as a teacher, loved everything about this resource! I haven't done much STEM work in my classes before so this was a perfect introduction for me. It was the first time a lot of my kids encountered something like this, and most were really into it and a small handful found a few frustrations. I was looking for productive struggle, and it was hard for me not to tell the kids what kinds of wings would work! We revisited the activity again after Halloween and I gave them some more info and they were more successful in wing-making. Thank you for this thoughtful activity!" (2nd grade teacher)
"This was a great resource to use with multiple grade levels during Halloween as a stem challenge. Thank you for making it so easy to use!" (2nd - 4th grade teacher)
"I loved the videos included with this project. The amount of material included was wonderful, and the fact that it is all editable made this project well worth it! I did it twice, and my 6th graders loved [it] both times!"
"LOVE! I add in STEM every day - my students had a blast with the Bat Planes. I appreciate the detail and thought that went into these packets. AWESOME RESOURCE!!" (feedback left in the Halloween 5-in-1 Bundle)
"We used this in our STEM club and all the students enjoyed it." (5th-7th grades)
"Love this holiday twist on the paper airplanes challenge. I'm incorporating it into my ratios unit by asking the students to calculate their bat's speed in meters per second and comparing their designs to one another."
~~~~~~~~~~~~~~~~~~~~~~~~~~~~~~~~~~~~~~~~~~~~~~~~~~~
You may also like these resources:

See more Bone Bridge® Halloween STEM Challenges
Thanksgiving STEM Challenge 5-in-1 Bundle
Twilight Zone Plot Diagram, Summary, and Writing Activities (5th– 8th)
Halloween Parts of Speech Activity (2nd – 3rd)
Report this resource to TPT
Standards
to see state-specific standards (only available in the US).
Develop a simple sketch, drawing, or physical model to illustrate how the shape of an object helps it function as needed to solve a given problem.
Analyze data from tests of two objects designed to solve the same problem to compare the strengths and weaknesses of how each performs.
Evaluate competing design solutions using a systematic process to determine how well they meet the criteria and constraints of the problem.
Ask questions, make observations, and gather information about a situation people want to change to define a simple problem that can be solved through the development of a new or improved object or tool.
Plan and carry out fair tests in which variables are controlled and failure points are considered to identify aspects of a model or prototype that can be improved.