Halloween STEM Challenge Activity - Creature Catcher Spider Web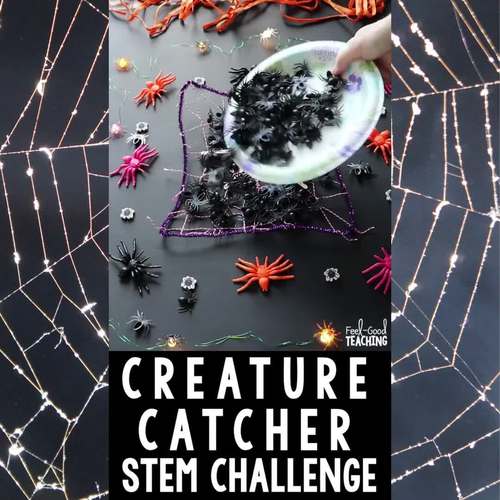 ;
What educators are saying
My students loved this activity! It was a little challenging too, but it gave them opportunities to work as a team and problem solve.
This was awesome. It engaged all grades and was very easy to set up and clean up. Great for Halloween stem days!
Also included in
Halloween STEM Challenge Activities will keep your kids engaged in brain-busting work disguised as fun!This bundle includes the following 6 Halloween STEM activities:⭐ Halloween STEM Challenge: Bone Bridge® ⭐ Halloween STEM Challenge: Creature Catcher ⭐ Halloween STEM Challenge: Ghosts in the G

Price $8.98

Original Price $17.50

Save $8.52

Super-charge your STEM class with 52 high-engagement, critical thinking, problem-solving, NGSS-aligned challenges to take you through the entire year! Modifications are included to make these activities engaging and challenging for students in grades 2 - 8. The basic premise: Students work in partne

Price $95.00

Original Price $186.36

Save $91.36

Halloween STEM Challenges are collaborative, brain-busting work disguised as fun! Creature Catcher is from Bone Bridge® STEM Challenges!The basic premise:Students work in partners or groups against a criteria and constraints list to design a device to catch as many "creatures" as possible. The often

Price $5.98

Original Price $7.96

Save $1.98

Two Halloween STEM activities to engage your students in the 4 C's of engineering!Halloween STEM Activity 1: STEM ImprovA quick STEM activity to work on creativity, mental flexibility & the planning step of the Engineering Design Process (EDP).Here's how it works:1. Students will randomly select

Price $5.50

Original Price $7.00

Save $1.50
Description
Halloween STEM activities are collaborative, brain-busting work disguised as fun! While spider web designs definitely come to mind, there are many ways to catch a creature. Let your students' imagination and creativity shine by leaving the challenge open-ended.
The basic premise:
Students work in partners or groups against a criteria and constraints list to design a device to catch as many "creatures" as possible.
If you aren't allowed to do Halloween activities, you can use this to start off a unit on spiders, food chains/webs, energy pyramids and more!
~~~~~~~~~~~~~~~~~~~~~~~~~~~~~~~~~~~~~~~~~~~~~~~~~~~~~~~~~~~~~~~~~~~~~~~~~~~~~~~~~~~~~~~~~~~~~~~~~~~~~~~~~~~~~
Note: This is the printable version, and the editable versions of student handouts can be uploaded to Google Slides™. However, if you are in a 1:1 / paperless classroom, you may prefer the digital option designed specifically for use with GOOGLE SLIDES™.
If you have questions about which version is right for you, please feel free to leave me a question using the product Q&A below.
~~~~~~~~~~~~~~~~~~~~~~~~~~~~~~~~~~~~~~~~~~~~~~~~~~~~~~~~~~~~~~~~~~~~~~~~~~~~~~~~~~~~~~~~~~~~~~~~~~~~~~~~~~~~~
Materials you'll need to do the activity are easily modified.
Sample/suggested materials for each student or group::
Yarn, string, or twine (3 – 5 yards)
Pipe Cleaners (4 – 6)
Scissors
Creatures: plastic bugs, bats, spiders, etc. (one set per class or per testing station will do)
~12 x 12 in. mat or bucket
Optional:
Additions or substitutions for string:

ribbon
cable ties
shoelaces

Coffee filters, foil, or paper (makes the challenge easier for younger students)
Tape
Mix-ins (if adding increased-difficulty criterion for some objects to pass through the creature catcher)
~~~~~~~~~~~~~~~~~~~~~~~~~~~~~~~~~~~~~~~~~~~~~~~~~~~
Product includes:
NGSS aligned standards, Grades 2 – 8
Teacher Tips
Links to a video walk-through of the challenge & my STEM Challenge PD video series
Premise & Set-up
Materials and timing
Modifying Criteria & Constraints to adjust challenge difficulty
Measuring results
Post-design extension activities list & links
Student Handouts
Criteria and Constraints List (editable version provided)
Results and Design Analysis Handouts (editable; 2-page regular spacing and 4-page expanded spacing for primary students included)
Discussion Questions (editable)
Extension templates
Process Flow Map
Task card template (editable; 12 sample questions ranging age/skill level provided as well as editable versions and blank versions for students to create their own questions)
Task card template for answer key (note: answers are not provided as questions will be generated based on student designs.)
~~~~~~~~~~~~~~~~~~~~~~~~~~~~~~~~~~~~~~~~~~~~~~~~~~~~~~~~~~
What are teachers saying about Creature Catcher?
"This was a favorite for my students:)"
"I have adapted this for use with Kinders through 8th graders and they all loved it! Thanks for providing such a fun and useful resource!"
"Extremely thorough and well written! Can't wait for more of your STEM resources!"
"Modified this for my 1st graders to work with the 8th graders. Both the classes loved it!"
"My second graders had so much fun! We used this as a science/STEM center. Easy to implement and very engaging."
"One of the best things I have ever purchased on TPT! It was awesome and still very educational! Kids loved having fun while learning! I am buying more STEM from her now!"
"My class LOVED this activity and enjoyed comparing their creature catchers. They were surprised by the different ways a group could be successful. Thank you for sharing."
"Fun stem activity for students. I added information about different types of spider webs and how spiders catch prey. Students then tried it out and found out it was a little harder to be a spider than they expected!" (7th grade teacher)
"I love your STEM challenge formatting and wonderful ideas. Thanks!" (6th and 8th grade teacher)
~~~~~~~~~~~~~~~~~~~~~~~~~~~~~~~~~~~~~~~~~~~~~~~~~~~~~~~~~~
You may also like these products:

See more Bone Bridge® Halloween STEM Challenges
Thanksgiving STEM Challenge 5-in-1 Bundle
Twilight Zone Plot Diagram, Summary, and Writing Activities (5th– 8th)
Halloween Parts of Speech Activity (2nd – 3rd)
Teaching Duration
90 minutes
Report this resource to TPT