Halloween Theme Day Activities Classroom Party Google Slides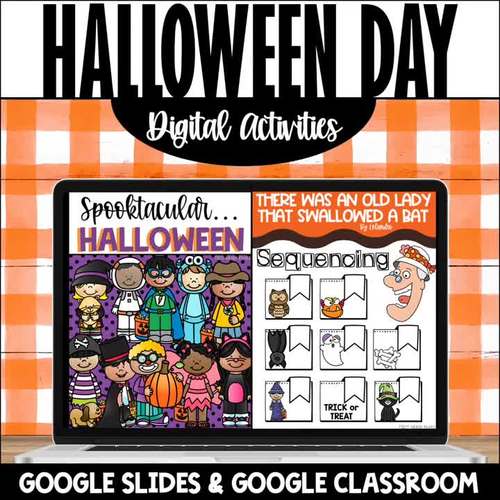 ;
PDF

Google Apps™

Internet Activities
Includes Google Apps™
The Teacher-Author indicated this resource includes assets from Google Workspace (e.g. docs, slides, etc.).
What educators are saying
This was such a fun resource to use for centers the week of Halloween. I loved that I could split the slides up to put in different centers throughout the day.
This helped me build my digital lessons during October. The students loved the theme and had a lot of fun.
Description
Are you trying to find a way to keep your student's engaged and learning? Themed days may be just for you. I am so excited to use this digital version of Halloween day. With the holiday excitement, this themed day will be a perfect activity to review all they have learned and still keep your students engaged. There are writing activities, math, and phonics activities. I will be sending these through Google Classroom. Students will work on reviewing concepts from the first grade common core state standards. I have also included a paper/pencil copy but it is in color and will not be in black and white.
Sequencing for There was an Old Lady who Swallowed a Bat by Colandro
Spooktacular Halloween Poster
Digital Writing Extensions
Adopt a Ghost- decorate and write
Make a List of Candy
Make a List of Costumes
Sorts/Word Work Extensions
Halloween Vocabulary 2 pages
Fact or Opinion
Syllables
ABC Order
Word Search
Unscramble
Punctuation (. Or ?)
Nouns, Adjectives, or Verbs
Costume Matching
Rhyming CVC Words
Digraph Sort
Math Activities
Greater or Less than 50
Count by 5's
Count by 1's
Witchy Subtraction
Spooky Doubles
Monster Ten Frames
You may also like...
END OF THE YEAR DIGITAL THEME DAYS
<<<2nd Grade Teachers>>>
2nd Grade Winter & Holiday Theme Days
What is so great about this product!
★ It is NO PREP
★ It is PAPERLESS
★ On Google, their work SAVES AUTOMATICALLY
★ Technology = ENGAGING
★ 1:1
★ Can practice ANYWHERE
★ Students are working independently on their individual file
★ You can DIFFERENTIATE by sending different assignments to individual students.
★ You are working on MATH STANDARDS
★ TECHNOLOGY STANDARDS
★ Students LOVE it!
**IMPORTANT NOTES**This resource is in Google Slides format. You will NEED TO HAVE ACCESS to GOOGLE SLIDES to use this resource. It is also helpful to have GOOGLE CLASSROOM but not necessary. It will help you easily send the activities to your students.
Please note: I am not affiliated or associated with Google, nor do they endorse this resource. 
Check out ALL of my GOOGLE RESOURCES HERE!
©Megan Mitchell
Report this resource to TPT
Standards
to see state-specific standards (only available in the US).
Count to 120, starting at any number less than 120. In this range, read and write numerals and represent a number of objects with a written numeral.
Use addition and subtraction within 20 to solve word problems involving situations of adding to, taking from, putting together, taking apart, and comparing, with unknowns in all positions, e.g., by using objects, drawings, and equations with a symbol for the unknown number to represent the problem.
Distinguish between defining attributes (e.g., triangles are closed and three-sided) versus non-defining attributes (e.g., color, orientation, overall size); build and draw shapes to possess defining attributes.
Ask and answer questions about key details in a text.
Retell stories, including key details, and demonstrate understanding of their central message or lesson.