Halloween Writing Activities & Craft w Instructional Writing about Witch's Brew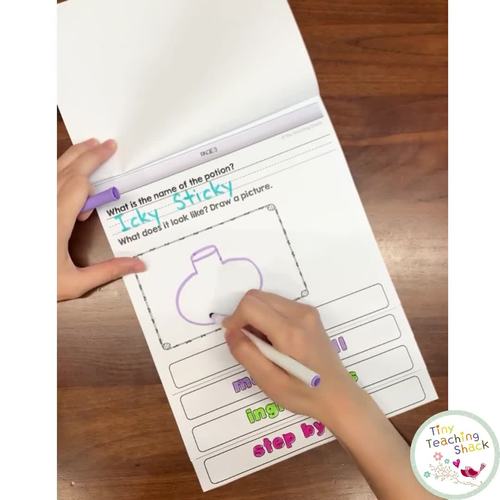 ;
Description
Do you need a fun and engaging activity for your students to practice procedure writing? This witch's brew Halloween craft and instructional writing activity will get your students to think creatively as they come up with a magic potion and its spell. Your students will LOVE completing these Halloween writing activities. 
I always try to add a fun writing activity in every season, and this one is a great way to practice procedure writing skills! Your students can make the witch's cookbook into a flipbook, and then make a witch craft to go along with it. Students can complete this any time of the year, but this is always a big hit close to Halloween.
Included with these Halloween writing activities:
Step by step directions 
Flipbook
Witch's potion word bank with pictures 
Witch craft template 
❤️Your students will LOVE how easy this witch craft is to make! Plus, they will fly through their instructional writing as they refer to the witch's brew reference sheet to come up with the ingredients for the potion and complete the graphic organizer to write the recipe for the potion.
❤️You will LOVE the quick and easy setup that comes with these Halloween writing activities for instructional writing. Simply print the flip book templates and word banks for each student. 
Set up this Halloween craft and Witch's Brew writing activity for:
⭐️Literacy Lesson to practice procedure writing. 
⭐️Halloween Centers to get into the Halloween spirit. 
⭐️Art lesson to create the craft!
✅ Check out the preview and video preview for a closer look at how to use this witch craft!
What are teachers saying about this Halloween craft?
⭐️⭐️⭐️⭐️⭐️ "This is so cute and such a great writing activity. Great for how to writing. The students were really engaged!" - Lauren H.
⭐️⭐️⭐️⭐️⭐️ "Love it! Had seen 'witch's brew' being made before, but these writing pages make it so much more visual and fun for my kiddos. Thanks!" - Melissa D.
⭐️⭐️⭐️⭐️⭐️ "Thank you! I love the different ideas for the last page. I have a few students who need the easier one. This will be fun this week before Halloween." - Marci C.
You may also be interested in:
MATH RESOURCES
LANGUAGE RESOURCES
CLASSROOM POSTERS
If you have any questions, please feel free to contact me at mschloesclass@gmail.com.
Thank you for visiting my store!
Tiny Teaching Shack
This work is licensed under a Creative Commons Attribution-NonCommercial-NoDerivatives 4.0 International License.
Report this resource to TPT