Hands On Blending - CVC Words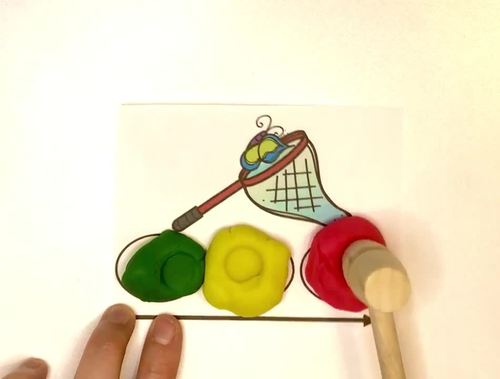 ;
Also included in
Are you looking for fun and engaging activities for your students to practice blending and segmenting? These are exactly the fun hands on CVC and Initial and Final Blends activities for your students to practice phoneme segmenting and blending! Whether you have students working on this crucial skill

Price $19.00

Original Price $33.00

Save $14.00
Description
Are you looking for a fun and engaging way for your students to practice blending and segmenting? This is exactly the fun hands on CVC activity for your students to practice phoneme segmenting and blending! Whether you have students working on this crucial skill, or students struggling, this is the perfect engaging resource! Whether students are working on beginning sounds only or are ready to blend words, this resource has got you COVERED! Plus, not only do students LOVE blending with Play Doh and Mallets, but it also helps students get moving and work on that kinesthetic learning!
Grab The GROWING Bundle HERE and save 25%
RESOURCE INCLUDES:
All Vowels Included
Sets of 12 Vowel Cards (for each vowel)
Color & Black and White Versions
OTHER HANDS ON LITERACY ACTIVITIES TO LOVE:
TRY BEFORE YOU BUY!

Click here to try a FREEBIE!
QUESTIONS OR CONCERNS
Email me at lindsaynsauer@gmail.com if you have any questions or concerns about this product. If you are not sure that this product will work for you, please check out one of the freebies. Keep in mind that the preview shows you what the game is going to look like.
Click the Green ★ to follow my store and get notifications when new resources arrive including freebies! New products are always 50% off for the first 24 hours they are posted!
I'd Love to Connect!

CUSTOMER TIPS

How to get TPT credit on future purchases:
Please go to the MY PURCHASES page. Under each purchase, you will see a PROVIDE FEEDBACK button. Click on it, leave feedback, and then you will receive credits for your purchase that you can use on future items (AS IN FREE MONEY to use on TPT)! I do read all the feedback! I can't respond to all of them, but I do value your feedback!

Thank you!
Lindsay Sauer ❤️
Report this resource to TPT
Standards
to see state-specific standards (only available in the US).
Recognize that spoken words are represented in written language by specific sequences of letters.
Demonstrate understanding of spoken words, syllables, and sounds (phonemes).
Count, pronounce, blend, and segment syllables in spoken words.
Blend and segment onsets and rimes of single-syllable spoken words.
Isolate and pronounce the initial, medial vowel, and final sounds (phonemes) in three-phoneme (consonant-vowel-consonant, or CVC) words. (This does not include CVCs ending with /l/, /r/, or /x/.)